Tartan Top Tracks: 5 Beloved Scottish folk artists in memory of Bruce Guthro from Runrig
Scots band Runrig are revered as an epic blend of rock and folk. After the news that their frontman (Bruce Guthro) died, we were inspired to take a look at Scotland's folk scene.
Quintessentially Scottish tracks like "I'm Gonna be (500 Miles)" or "Ye Canny Shove Yer Grannie" are without a doubt songs that every Scot knows. From traditional examples like our 'national anthem' to others that have been globally adopted like "Auld Lang Syne" - attributed to the famous Scots poet Robert Burns - Scotland's legacy as a musical nation is a powerful one.
This can be felt especially in the folk genre as it often prominently features our heritage languages such as Scots and Gaelic. Much like how television such as Outlander has been praised for its Scottish language inclusion, when listening to traditional Scottish folk decorated with its own mother tongues it elevates the listening experience to another level.
Last week, we mourned the loss of Mr Guthro (Runrig's lead singer) and reflected on his life as well as the band's best songs. Now, in honour both of Runrig and the wider folk scene in Scotland, here are five recommended artists.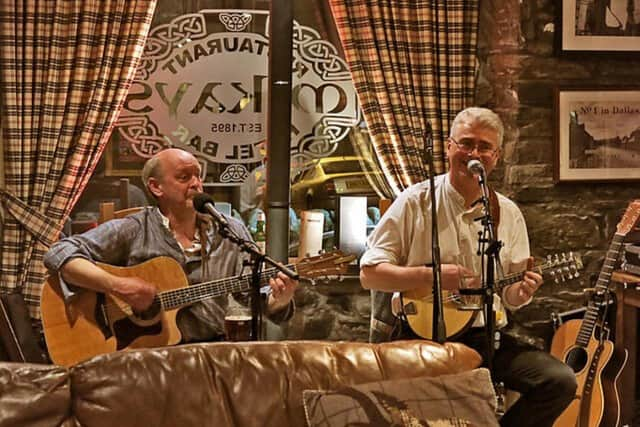 Runrig
Described as a 'Scottish Celtic rock band', Runrig was originally formed on the Isle of Skye in 1973. To appreciate their Gaelic repertoire we recommend "Tìr an Airm", for - mostly - English lyrics, listen to "Loch Lomond".
The Corries
Emerging from the Scottish folk revival of the 1960's, the band was largely represented by Roy Williamson and Ronnie Browne. Their song "The Portree Kid" is well worth a listen.
Gillebrìde MacMillan
MacMillan is a native Gaelic singer from South Uist, he starred as Gwyllyn the Bard in Outlander. Any song from his 2023 album "Sèimh: The State of Calm" will delight your ears.
Sam Shackleton
Born in Stirling and raised all over Scotland, Shackleton is a singer-songwriter and folk artist who draws inspiration from the 1960's folk revival. His recent performance of "The Overgate / Rovin' Eye" in Edinburgh was simply excellent.
Ossian
Formed in 1976, Ossian is widely regarded as Scotland's best-loved folk revival band, with many beautiful tracks in both Gaelic and English. In appreciation of the Scots Celtic tongue, we recommend giving "'S Gann Gunn Dirich Mi Chaoidh" a listen.
Comments
 0 comments
Want to join the conversation? Please or to comment on this article.