Interview: Alisha Fuller-Armah, founder of Deer Manor Gourmet Mushrooms
Alisha Fuller-Armah tells of the moment she found out that her gourmet mushroom firm had won Start-Up Business of the Year at the recent Women's Enterprise Scotland (WES) Awards 2023, saying she was pleased – to say the least.
"I was absolutely thrilled, absolutely flabbergasted," she states, laughing that she yelped with delight on the news of taking the trophy. Her business, Deer Manor Gourmet Mushrooms, was one of those being celebrated across ten categories at the awards – and she was also pleased that her organic agri-business, which supplies "the finest restaurants, farm shops, foodies and families" from a remote 15-acre estate in Dumfries and Galloway, was recognised for having inspired others.
Indeed, Hugh Lightbody, chief officer at Business Gateway, which sponsored the Start-Up Business of the Year award, praised her win, stating: "It is important to mark the achievements of those female entrepreneurs who serve as role models, and who inspire the next generation of business leaders with their skills, vision, and ambition."
Fuller-Armah says regarding Deer Manor: "We're trying to not just enrich ourselves – a rising tide lifts all boats. We're hoping to be good for the environment, good for the community, but good for the industry as a whole. And so to be recognised by the judges for that is so wonderful, we're really grateful."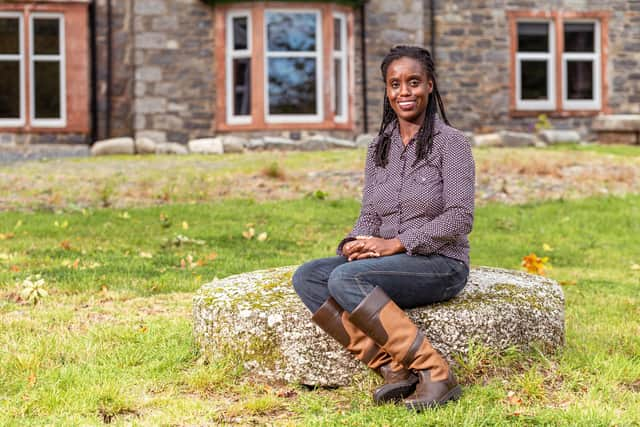 She explains that gourmet mushrooms can be grown "pretty much anywhere", but adds: "We're particularly niche because we're growing them in almost the conditions that they would be in the wild. And that's pretty cool." Noting that wild fungi enjoy protected species status in Scotland, she says people are "quite excited" about her firm's – which include varieties of widely varying appearances and textures, including Lion's Mane, Nameko, and Coral Tooth – "because they are almost as pure as if you'd get them outside".
Her path to creating the firm spans oceans, with the British entrepreneur moving to Jamaica after university – she has a degree in art history and anthropology, and a PhD in business management – and along with her mother founded wedding venue Hummingbird Hall. It enjoyed a rapid growth trajectory, becoming one of the top five luxury boutique venues in the Caribbean island, but found it difficult to compete with rivals run by global giants, so to differentiate itself as a real foodie destination, Fuller-Armah set out learning how to grow gourmet mushrooms.
The resort was then sold, and Fuller-Armah relocated from Jamaica in 2019 to South-west Scotland equipped with her new fungi-growing skills, looking to carve out growth in what she says is a real niche market in the UK. "It's a growing industry, but it's still really tiny," she explains, adding that it is, unlike other industries, very collaborative.
Word-of-mouth has been a major growth driver, for example among chefs working at the many local private estates; helping secure deals with key wholesalers supplying Michelin-starred restaurants and high-end farm shops; and providing produce for luxury hotels such as Glenapp Castle. It is also seeing mushrooming demand including internationally for its retail arm, including fungi-growing kits.
Her firm is also more broadly tapping into several trends, including increased appetite for vegetarian and vegan dishes – Fuller-Armah says some mushroom types have a "lovely sort of umami, meaty flavour", for example. It is also seeing its products used for dietary supplements, where Lion's Mane takes a starring role, and capitalising on the fact that mushrooms are rich in nutrients.
"They contain many beneficial nutrients like riboflavin, potassium, vitamin D, and selenium," according to a report from Straits Research that expects the global mushroom market to reach the equivalent of about £91 billion by 2030.
Fuller-Armah also hails help from other women in business. "The support of female entrepreneurs and female groups has actually been invaluable for a number of reasons," she says, explaining that this helps with finding out how others have pursued their own successful path when it comes to, say, putting yourself out there to secure contracts. "The female community has been really, really important."
She also sees much interest from other women in mushroom-farming, while she praises WES's online Women's Business Centre directory ("if you want to try and support a female-owned business, there's a way to do so through [that] – its a lovely organisation"). And WES board member Yvette Hopkins said on Deer Manor's award win: "Our judging panel were impressed by Deer Manor's commitment to sustainability and community, the clear vision for growth, and Alisha's real acumen for business."
On the topic of sustainability, Fuller-Armah says fungi have been found to be able to break down toxins in a process called mycoremediation, while in terms of social benefit, she has created a community interest company called Altrufungi that aims to bring the "benefits of deeply nourishing mushrooms" to everyone in society, including the unemployed, carers, people with dementia, and rehabilitating prisoners. She also believes mushroom-farming is a cost-effective way to improve people's diets. "A lot of different projects around the world show how mushroom-farming can empower a lot of people – so hopefully we can help facilitate that transformative [role]."
And Deer Manor itself is proving desirable as an employer. "Whenever we advertise for positions, we are flooded. And I was really surprised by that, because we're very rural. But there are so many people who are interested in this area, who want to contribute, who want to work for a company like ours. It totally blew my mind."
The firm, which is part of Scotland's £15bn-a-year food and drink industry and £39bn-a-year rural economy, is eyeing growth at its current site – and potentially beyond. And she stresses her vision for growth beyond the balance sheet. "In three years, [hopefully] we'll be a further success with gourmet mushrooms that we eat, definitely [contributing] in the community, but also helping to use mushrooms to solve some environmental problems too. If I can achieve that, I will be a happy person."
Comments
Want to join the conversation? Please or to comment on this article.