Dundee printing firm Winter & Simpson embarks on new growth chapter after support from Business Gateway
A business billed as Dundee's oldest commercial printer whose origins include the inventor of the postage stamp is looking to deliver accelerated growth after receiving support from Business Gateway.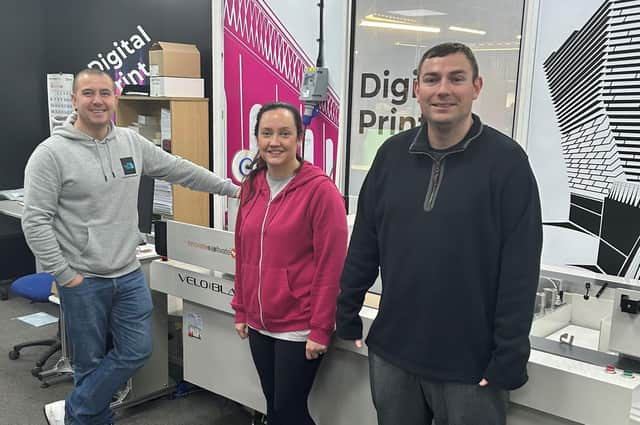 Family firm Winter & Simpson, known locally as Winters, provides printing and packaging services for clients including universities, government organisations, and travel companies. It says the Winter & Simpson name has been around since 2011 and reflects the merger between Trendell Simpson of Dundee and David Winter & Son. Both companies have a long history of printing in the city, tracing their roots back well over a century, with the original Winters business dating back to the 1700s and to James Chalmers, who invented the postage stamp.
Stephen Simpson, who had run the family business since 1998, during the pandemic handed the reins to son Kenny, who approached Business Gateway for help. He then benefited from the offering of Scotland's business advisory service, such as support from a one-to-one adviser, and a review of his business plan that helped highlight opportunities available through an expansion into the packaging market.
Business Gateway also enabled the new MD to get help from Scottish Enterprise and the Scottish Manufacturing Advisory Service, while he was able to work on his leadership style through Workplace Innovation support. Winter & Simpson additionally received funding support to enable a faster expansion into the packaging market, and since it approached Business Gateway, it has won local packaging contracts previously being printed in Europe and shipped across the country. These include an engineering firm that required protective packaging for a small but valuable component.
Kenny Simpson said: "As the fourth generation from the Simpson family to take over the running of the business, I was determined to uphold our reputation as one of the best litho, digital, and wide format printers in Scotland. Business Gateway has been a fantastic source of guidance. I really can't thank [its] team enough and would encourage any other [small firms] to reach out to their local branch and find out what support is available."
Michelle Shepherd, Business Gateway adviser, said: "Taking on a new challenge can always be daunting, but the success of Winter & Simpson over the last few years is testament to Kenny's hard work and determination. I look forward to watching [the firm] continue to grow."
Comments
 0 comments
Want to join the conversation? Please or to comment on this article.