Talk To Me Movie 2023: DVD release date, streaming, BluRay release date of RackaRacka horror film
YouTube duo RackaRacka shocked audiences with scary new horror film Talk To Me earlier in the year and became one of the biggest Box Office's biggest hits of 2023. Here is when you can watch it via streaming, DVD and BluRay.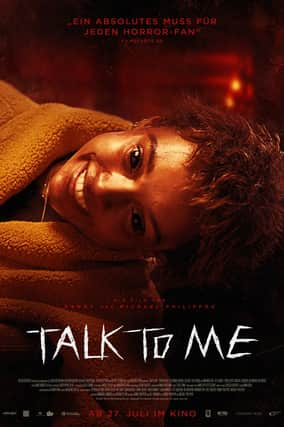 It has been billed as one of the scariest horror films of the last decade and despite coming out at the same time as Box Office monster hits Barbie and Oppenheimer, Talk To Me has become one of the most talked about films of the year.
Brought to the big screen by popular Australian YouTube pair RackaRacka, Talk To Me follows the intriguing tale of a grieving young woman who discovers a severed, embalmed hand that can help her connect with the dead.
The big screen debut from Danny & Michael Philippou, Talk To Me won plenty of fans when it was screened at 2023 Sundance Film Festival and began a bidding war between some of the major players in the cinema scene.
Talk To Me delighted audiences on release and was given a near perfect rating of 95% on highly respected film review site Rotten Tomatoes, with critics citing stating the film will "holds you in its grip until it's over" and praising its "tremendous promise" as it shot to the top of many viewers must watch lists.
If you want to know a little more before you buy the film, we would recommend taking a look at the terrifying trailer here.
Talk To Me run time, Talk To Me age rating
The terrifying Australian horror has such a feeling of anticipation and dread that it feels far longer than its actually run time of one hour and 35 minutes.
One of the shorter horror releases of 2023, the film will still keep you on the edge of your seat throughout. The film received a rating of 15 by the BBFC for strong bloody violence, injury detail, horror, and very strong language.
When will Talk To Me be available to stream in the UK, where will Talk To Me be streaming
Luckily, the 2023 scary blockbuster is already available for streaming via two platforms. The film is currently available to rent on Sky Store as a Premiere film, while Amazon Prime Video are also currently offering streaming options for the film.
At present, Sky Store are offering only rental options with HD Digital priced at £15.99 on Sky Store Premiere. You can watch via Sky Store here. Amazon Prime Video are also offering the same deal, which can be rented here.
Talk To Me BluRay and DVD release date
Want more than just a digital copy and want to purchase a physical copy of Talk To Me? Well, you're in luck as there is an official release date for both the DVD and BluRay - and it is right in time for Halloween.
The film is available on pre-order via Amazon and HMV with an official release date confirmed for Tuesday 3 October.
There are several options available with both Amazon and HMV offering the DVD (£9.99), BluRay (£14.99) and 4K Ultra HD (£19.99) on pre-order.
However, if you would like the limited edition steel book version of Talk To Me, this is available for £29.99 and can be pre-ordered on the HMV website here.
Comments
 0 comments
Want to join the conversation? Please or to comment on this article.