Nothing Phone Prime Day price slash: Get one of the best looking phones for less than £300
There's currently a massive Prime Day sale for the spectacular Nothing Phone 1, one of the best-looking handsets on the market.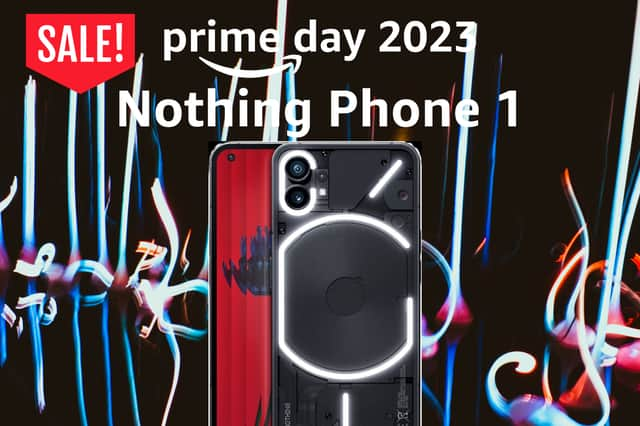 Part-smartphone, part-fashion statement, part-conversation starter, the Nothing Phone 1 caused one heck of a stir when it hit the market less than a year ago, its unusual design making it one of the most visually striking phones on the market. If that appeals to you, we've got good news. It's the cheapest it's ever been for Prime Day.
There are three different discounts to choose from.
The Nothing Phone with 8GB of RAM and 128GB of internal storage is down to £289.99 from £399. That's a 27% reduction – or in real-world terms, a saving of £109.
The Nothing Phone with 8GB of RAM and 256GB of internal storage, meanwhile, is now available for £329.99, having previously cost £449. Again, that's a 27% discount, or £119 off.
Finally, the Nothing Phone with 12GB of RAM and £256GB of internal storage has been reduced to £389.99 from £499, a saving of 22%, or £109.
Unless you've got your hands tied by a strict budget, we'd recommend plumping for the model with 8GB of RAM and 256GB of storage, as the Nothing Phone doesn't include a microSD card slot for expanding storage space. You'll also get to take advantage of its biggest discount by percentage.
If you're not familiar with the Nothing brand, it was created by the OnePlus co-founder Carl Pei.
The best looking phone you can buy?
Now, back to the eye-catching design we mentioned. The Nothing Phone has a transparent back panel, which encases a cluster of LEDs that can light up to alert you to incoming notifications, battery life levels, amongst other things.
Officially branded the Glyph Interface, it's undeniably spectacular, though its usefulness is up for debate. Fortunately, you can turn it on or off.
Nothing Phone specs and features
The Nothing Phone backs the bells and whistles up by excelling in more traditional departments. It's an impressive all-rounder that has drawn comparisons with Google's Pixel 7, despite being hundreds of pounds cheaper.
It features a 6.55-inch, 2,040 x 1,080 OLED screen with a high 120Hz refresh rate and an embedded fingerprint scanner, wireless charging, a dual rear camera system combining a 50-megapixel wide lens with a 50-megapixel ultrawide lens, the latest version of Android, and 5G connectivity. Oh, and it also promises all-day battery life despite the light show.
The sheer scale of this price drop is partly down to Prime Day, and partly because the Nothing Phone 2 came out this week. Either way, this is going to fly off the shelves.