Turkey earthquake donations Scotland: How to donate as Turkish community rallies to support victims
More than £3 million has been raised in the first 24 hours of a Scottish appeal to send help to victims of the earthquake, which killed more than 20,000 people in Turkey and Syria.
The Disasters Emergency Committee Scotland (DEC) said its Turkey-Syria Earthquake Appeal raised £3.2 million in its first day, with nearly £33 million raised across the UK.
The total includes £500,000 from the Scottish Government, £5 million in Aid Match from the UK Foreign, Commonwealth and Development Office as well as donations from members of the Royal Family.
This comes as the Turkish community in Scotland rallied to set up a grassroots network to send aid to those affected by the disaster.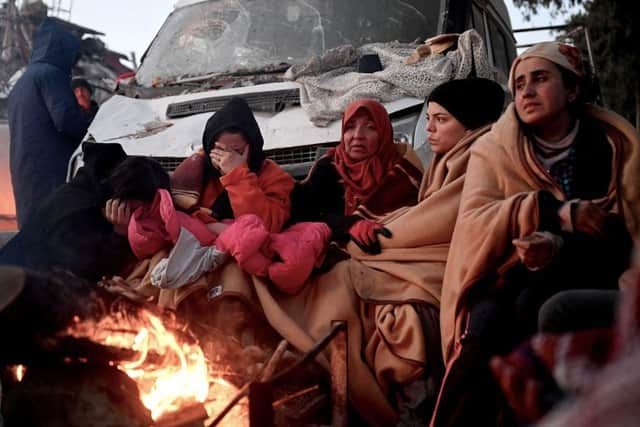 Backed by the Association of Turkish Alumni and Students in Scotland (ATAS), businesses with connections to the country are collecting essential supplies to be sent to the disaster-hit country and neighbouring Syria, which was also devastated by the quake.
Thousands of buildings, including hospitals and schools, have collapsed and infrastructure has been badly damaged. Local responders are still searching through the rubble for survivors.
Many people in Turkey and Syria have been left without shelter in freezing winter conditions, with humanitarian needs expected to grow in coming days. Access to clean water is likely to be a challenge, bringing the risk of waterborne diseases. There was already an outbreak of cholera in north-west Syria before the earthquake.
DEC charities and their local partners are working with locally led relief efforts. Immediate priorities are medical treatment for the injured, shelter for those who have lost their homes, as well as blankets, warm clothes and heaters for safe spaces. They are also ensuring people have enough food and clean water.
Sally Foster Fulton, from Christian Aid Scotland, who is leading the Scottish DEC appeal, said one of the DEC's members, Tearfund and their partner in Aleppo, in Syria has opened three shelters for 1,000 people who have lost their homes, providing warmth, shelter, hot meals, water and other essential items such as soap and toothpaste, blankets and warm clothing.
"We're so grateful to everyone across the country who may have already donated to the DEC Turkey-Syria Earthquake Appeal," she said.
"The stories we're hearing from the survivors who have managed to escape the ruins of flattened and crumpled buildings without shoes and coats in the depths of winter are desperately sad.
"It is hard to grasp what they and their families are going through. But what we do know is that thanks to hugely generous support so far, help is already being delivered by 14 of our member charities in the region. They are providing hot meals, blankets, and medical aid."
She added: "We can do more with further donations. If you are able – please help."
The owners of cafe Krem Karamel in Edinburgh said it had acted as a drop-off point for vital supplies such as winter clothes, tents and sleeping bags. Other businesses and cultural venues in Edinburgh, Glasgow, Stirling and Aberdeen have also been taking donations – although ATAS has asked for a pause in people donating physical goods due to a huge response. Instead, they have requested that people donate money.
The cafe owners said: "Thousands of people, including our close friends and their families, are still waiting to be rescued, even after more than 30 hours. Those who manage to get out of their homes spend the night on the streets in harsh winter conditions, in the hope of reaching their families under the rubble. Their most basic needs are tents, bread, water, blankets, diapers, coats, boots, scarves, gloves, medical aid etc.
"In this difficult time, we are reaching out to ask for your support. Any donation, no matter how small, will help us provide much-needed aid to those affected by the earthquake. Your generosity will help provide shelter, food, and medical supplies to those in need."
First Minster Nicola Sturgeon said: "The scenes over the last few days from Türkiye and Syria are heart wrenching. This earthquake has caused a huge amount of damage and significant loss of life that will be felt for some time to come.
"There is an urgent need to support the humanitarian efforts being made to help those affected in Türkiye and Syria. The Scottish Government is committed to supporting efforts in the region and members of our emergency services have already been deployed to help the search and rescue operation on the ground."
Comments
 0 comments
Want to join the conversation? Please or to comment on this article.