Turkey earthquake: British rescue crew joins search operation in Türkiye as death toll nears 16,000
Nearly 16,000 people are now known to have died after Monday's earthquakes in southern Turkey and northern Syria
Around 70 members of the UK International Search and Rescue Team have arrived in Turkey to assist with the search operation as the death toll from the 7.8 magnitude earthquake surpassed 15,000.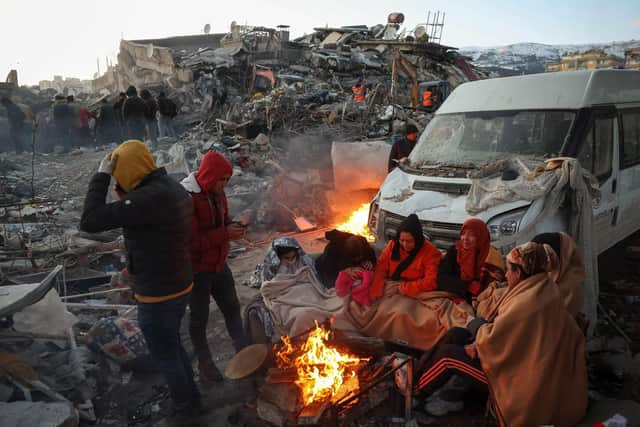 "Transportation is very difficult here, so it took a lot of organisation to get enough vehicles to bring us," he told the Associated Press.
"It took a long while to get a lot of the equipment over here on the vehicles, on buses. (We had) a lot of help from the local people as well – from bus companies."
Mr Davey explained the crew would conduct an assessment of the destroyed area street by street before sending the information back to the rescue team's command and control.
"The whole area has already been sectorised by our team and the other teams, (including) Italy (and) Istanbul – there's many teams here. I believe there is 33 or 40 search and rescue teams here," he said.
"We are logically going through the area. Street by street, gathering as much information as possible so we can send that back to our command and control, so we organise the teams to come back with specific tools and actually prioritise each of the areas.
"Hopefully, (we'll) have some good news and get those people back and, repatriate, obviously with their loved ones, with their families."
Another British aid worker assisting the search operation in Antakya had captured on his phone the incredible moment a nine-year-old girl was pulled uninjured from the rubble of her home where she had been trapped for 60 hours.
Atiqur Rahman, from Stoke-on-Trent, had been working for Global Relief Trust when the earthquake struck. He described the current situation in the southern Turkish city as "Armageddon".
"Now it's 64 or 65 hours since the earthquake, the chances of people coming out alive is very low," he told the Daily Mirror.
"But you have these amazing cases where, because the buildings have collapsed layer by layer, people manage to get into gaps.
"There was some noise coming from this family under the rubble, and some relatives stood outside as they knew the family was there.
"When they were carried out they were conscious and moving, obviously traumatised, but physically they were unharmed. One of our guys carried them out and the girl was responding to him."
The first 7.8-magnitude quake hit the Turkish city of Gaziantep in the early hours of Monday, reducing thousands of homes and buildings across the south of the country and northern Syria to rubble as people slept.
A series of aftershocks has left tens of thousands injured and survivors are feared trapped under thousands of collapsed buildings.
Relief efforts have been hampered by damaged infrastructure, freezing winter temperatures and limited medical facilities.