Grassroots campaigns have begun to raise funds for friends and family members caught up in the disaster, while charities have launched major appeals.
The 7.8-magnitude earthquake hit near the city of Gaziantep in Turkey on Monday morning, followed by another quake just hours later. More than 5,000 people in Turkey and Syria have been killed and many more injured.
On top of the devastating shocks, harsh winter weather, with snow and icy winds expected, make conditions even more challenging.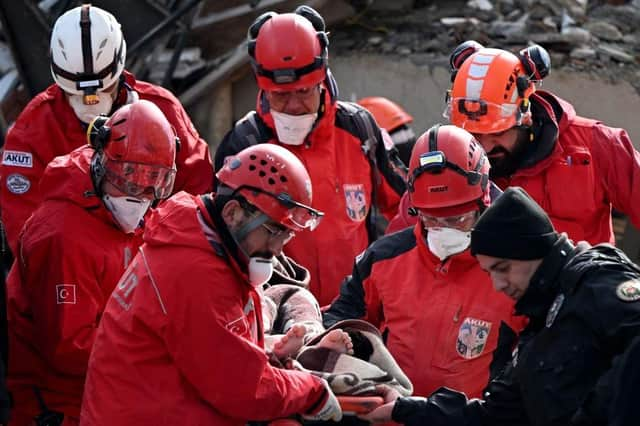 The Scottish Catholic International Aid Fund (SCIAF) launched an emergency appeal for funds, after immediately releasing £20,000 to go towards the aid effort.
SCIAF is to provide aid through its charity partners, Caritas Syria and Caritas Turkey, which are already working in the two countries.
Alistair Dutton, director of SCIAF, said: "It is heart-breaking to see the scale of destruction caused by the earthquake and the level of suffering it has caused. Once again SCIAF's local partners are responding as soon as the crisis happens. We have immediately released £20,000 for partners and are liaising closely with them to determine how best to help. Please support this response through SCIAF's appeal."
The Turkish Consulate General in Edinburgh has urged people to donate to funds, including the Disaster and Emergency Management of the Government of Turkey, Turkish Red Crescent and Türkiye Diyanet Foundation.
Meanwhile, the Association of Turkish Alumni and Students also launched a fundraising drive for the disaster.
The organisation said it would ask Scottish universities to make funds available to help Turkish students in Scotland who are affected by the earthquake.
Pascale Harvie, president and general manager at social platform JustGiving, said British people had donated generously to funds set up in the wake of the disaster.
She said: "Since this dreadful news, we've seen an outpouring of generosity from people across the world wanting to help.
"In one day, over £750,000 has been raised through JustGiving to support with immediate relief, food, shelter as well as long term recovery for survivors."