British Gas report 'obscene' profits as SNP accuses UK Government of 'sitting on its hands' as household energy bills continue to soar
The SNP and the Scottish Greens have slammed the UK Government for allowing British Gas to have record profits during the cost-of-living crisis
The UK Government has been accused of "sitting on its hands" after British Gas announced it had posted a nine-fold increase in profits that were described as "obscene" and "dirty".
Earnings at British Gas, the largest household energy supplier in the UK, have risen from £98 million last year to £969m this year. This is a surge of almost 900 per cent, giving British Gas record profits.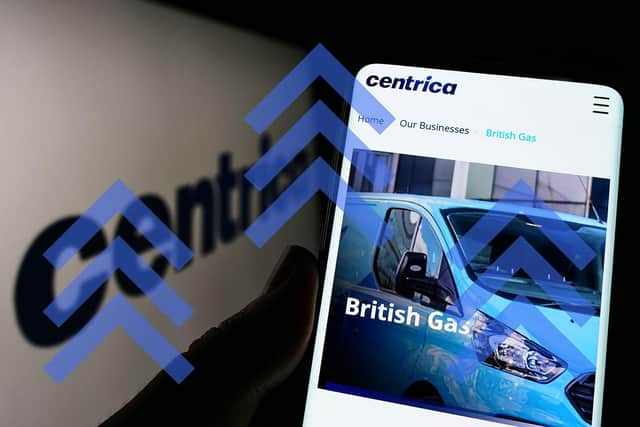 Two other major energy suppliers also announced large increases in profits. Scottish Power's retail division has seen profits of £576m and France's EDF's British operations, which includes nuclear and wind power generation, saw earnings rise from £740m last year to £1.95bn.
Political parties in Scotland blasted the UK Government for allowing these profits to happen, saying Westminster's failure to deal with the problem would result in soaring energy bills.
These profits come as rising global temperatures have seen scorching heatwaves and wildfires rip through the Mediterranean, and as household bills are expected to be 90 per cent higher this winter than they were in 2021.
Centrica says the bulk of the growth in profits is not actually down to a trading windfall from high energy prices – instead, it is because of a reduction in debt-related costs. Last year energy companies saw a reduction in their profit margins after the price of wholesale oil and gas skyrocketed following the Russian invasion of Ukraine.
The energy price cap, set by energy regulator Ofgem, provided companies with an allowance to account for debt on energy bills that couldn't be recovered and was ultimately written off. This allows suppliers to recoup some of last year's losses in a bid to prevent a wave of supplier failures.
The company said: "This meant all suppliers had to purchase a portion of their electricity and gas at levels above the price cap. Allowances to recover this cost were introduced into the price cap from April 2022, with recovery continuing into H1 2023."
Alan Brown MP, the SNP's energy and industrial strategy spokesman, has accused the UK Government of "sitting on its hands" by allowing energy companies to rake in these record profits.
He said: "Wholesale energy prices have fallen significantly, but we know that the broken UK energy market means bills this winter will stay around 90 per cent higher compared to 2021. Once again consumers are paying the price because of Westminster control.
"Instead of withdrawing support from those who need it most, the UK Government should follow the example of the Irish Government who have committed to energy support for businesses and consumers this upcoming winter. Direct government support was needed last winter and it will be desperately needed this winter too."
The announcement has also been heavily criticised by the Scottish Greens, who say the record profits are pushing the environment to "breaking point". Mark Ruskell MSP, the party's climate spokesman, said: "This is obscene. Our world is on fire while fossil fuel giants are raking in billions of pounds worth of dirty profits and drilling us into climate catastrophe.
"The oil and gas company executives may be patting themselves on the back, but our environment is at breaking point. We can all see the devastating and dealing impact all around us, with brutal heatwaves and wildfires across Europe and beyond.
"For far too long these companies have been cheered on and supported by complicit and climate-wrecking governments like the one in Westminster."
Mr Brown said there needed to be an "immediate end" to fossil fuel exploration, and a windfall tax urgently needed to be introduced.
Sir Ed Davey, leader of the UK Lib Dems, said this showed it was time for a general election and a windfall tax, claiming the Government "do not seem to care".
The profits have, however, been defended by Centrica's CEO, who says the extra funds will help them move to renewable energy.
Chris O'Shea said: "Nothing is more important than delivering for our customers – it's why we are here. Today's results allow us to increase our customer support package to more than £100m, and our new green investment strategy will see us invest several billion pounds in the energy transition."
Amanda Solloway, the UK Government's minister for energy consumers and affordability, said: "We have stood by consumers as Putin's illegal attack on Ukraine sent wholesale prices to record highs, covering half a typical household energy bill this winter. Now prices are falling, from this month a typical household will save £426 a year on their bills.
"The Government will always ensure that the energy market is working for consumers to protect them from sky high bills.
"But we also want to see some of these profits invested in better customer services and crucial protections for vulnerable households, and companies work with us as we work to create a market fit for the future."
Prime Minister Rishi Sunak said said: "I know that the number one challenge families are facing up and down the country is the cost of living and, in particular, their energy bills.
"That's why I took a decision back when I was chancellor to introduce a windfall tax on energy companies, so we are now taxing these windfall profits of energy companies and we are using that money to help us pay around half of a typical family's energy bill, particularly over the last winter.
"That support has been worth £1,500 to a typical family. So that's what we're doing, taxing the windfall profits of energy companies and helping to pay around half of a typical family's energy bill."
Comments
 0 comments
Want to join the conversation? Please or to comment on this article.