Greece wildfires: Where are the wildfires in Greece, what has happened and what is official advice?
Holidaymakers have been stranded as the largest evacuation in Greece's history takes place.
Greece has launched its largest evacuation ever as around 82 wildfires burn across the country.
For almost a week, wildfires have swept across the island of Rhodes forcing 19,000 people to flee, many of whom tourists, as the flames spread uncontrollably. The country has been grappling with extreme heat, with temperatures exceeding 40C.
Now, Corfu and Evia have become the latest islands to evacuate and holidaymakers are facing disruption.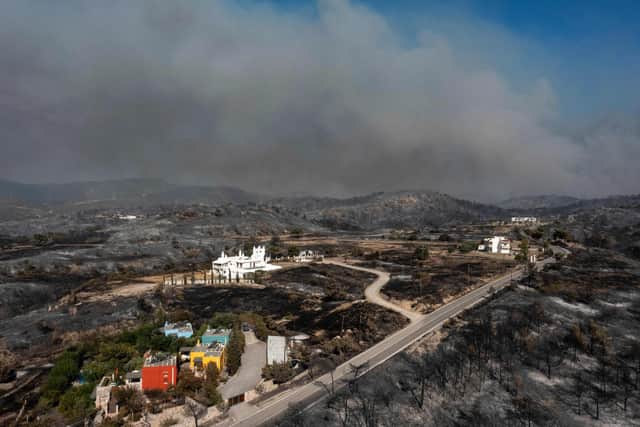 Where are the wildfires in Greece?
Corfu has become the latest Greek island to face extreme wildfires, with people in the Santa, Megoula, Porta, Palia, Perithia and Sinies areas told to evacuate. Hundreds of thousands of British people visit the island each year on holiday - though the wildfires don't appear to be impacting tourist areas.
On Sunday July 23 wildfires also broke out on Evia, Greece's second-largest island, and four villages have been told to evacuate as a precautionary measure.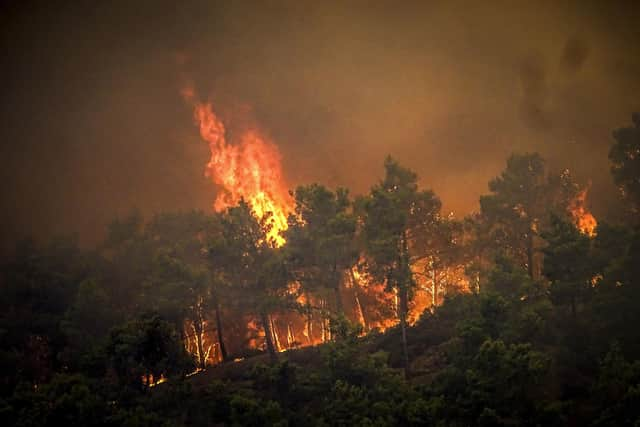 Central Greece Vice Governor Giorgos Kelaiditis said: "The fire may be 2 kilometres (1.25 miles) away, but the wind is strong, the growth is low, the smoke thick and the air is hard to breathe."
For the past week wildfires have been raging on Rhodes; the first island to be evacuated. The Greek government says 19,000 people have been evacuated - 16,000 by land and 3,000 by sea.
Have holidays to Greece been cancelled?
Most major airlines have cancelled flights to Rhodes in the wake of the wildfires.
Tourists have been left in limbo, as resorts and hotels evacuated over the weekend, and many of those impacted have been sleeping in airports, museums, sports halls and more.
At the moment, Jet2 and TUI have cancelled all flights to Rhodes with EasyJet and Thomas Cook having cancelled package holidays. Rescue flights to repatriate tourists are in operation.
Some operators, such as Ryanair, are continuing flights as normal.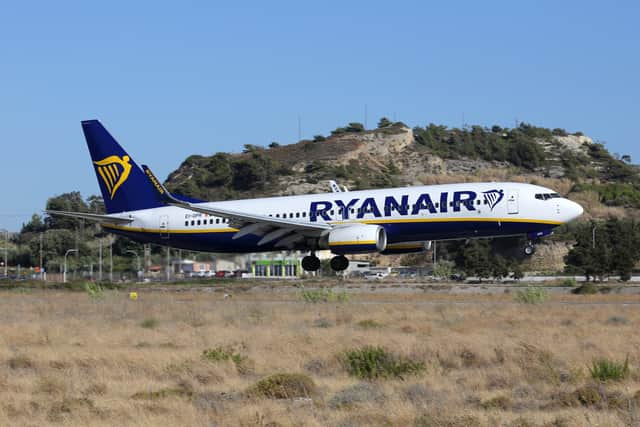 What is happening on Corfu?
"We had some evacuation from houses, but nothing like the evacuation that took place in Rhodes," she claimed.
Theofanis Skembris, deputy mayor of North Corfu, said he believes "everything will be over soon" and the mayor of North Corfu, Giorgos Mahimaris, has alleged that these fires were a result of arson.
"There were four fires that started simultaneously," Mr Skembris told the BBC. "We have to wait for the investigation, but their [the fire department's] first unofficial assumption is that it was arson – fires can't start simultaneously in four different places.
"The situation in the island is better now. Most of the fires are under control. There are firefighting airplanes helping. I believe that everything will be over soon."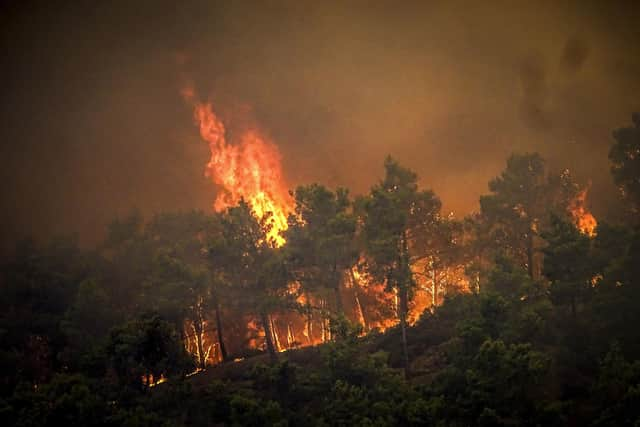 What is the official guidance on travelling to Greece?
Foreign Office minister Andrew Mitchell has advised that holidaymakers should listen to local Greek authorities and tour operators' advice.
The UK Government has sent a "rapid deployment team," made up of six government representatives and four Red Cross experts, to Greece where they are stationed at airports and in contact with the Foreign Office.
When are temperatures expected to drop?
Temperatures in Greece should dip slightly on Monday July 24, but temperatures aren't expected to fall to low to mid-30s until Thursday July 27.
Comments
 0 comments
Want to join the conversation? Please or to comment on this article.