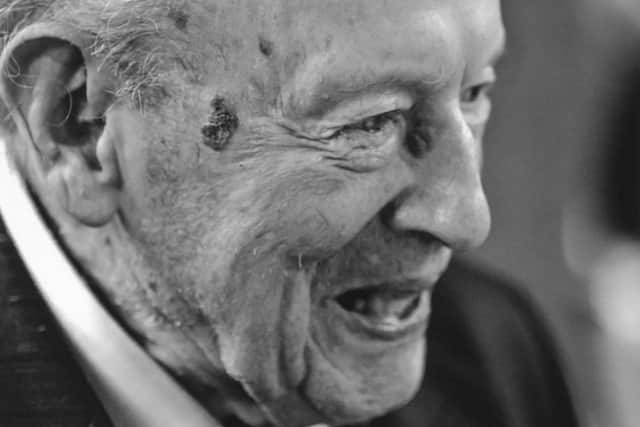 Lockhart Frain-Bell was a talented painter and sailor
Born in 1921 into a wealthy Dundee family whose fortunes, like those of so many others, were badly affected in the aftermath of the 1929 Wall Street Crash. His father, Edward, won an MC in the Royal Flying Corps during the First World War and was twice shot down in flames in his SE5, surviving both, including one courtesy of the infamous Baron von Richthofen's "Flying Circus".
In 1938, aged 17, Lockhart won a scholarship from the High School of Dundee to study medicine at the University of St Andrews. University life was very different then and included fire watching (The Bute Medical School losing its roof during one bombing raid) and membership of the Officer Training Corps. In the summer of 1940, a large trench was dug across the Ochil Hills as a deterrent to the expected German invasion. In front of the trench were placed the "more expendable" UOTC units, armed with Lee Enfield rifles and three rounds of ammunition each. Behind the trench was placed the "less expendable" regular army.
The Germans who were expected to land in front of the trench fortunately never did. Following the family home narrowly missing a direct hit from a Heinkel bomber (the neighbouring house was flattened) Lockhart volunteered for the RAF and was accepted for fighter pilot training. This plan was soon scotched by the university authorities, who told him that the armed forces needed qualified doctors more than pilots. This intervention may well have saved Lockhart's life, as each and every one of his 52 friends and acquaintances who joined the RAF were killed at some point during the war.
Graduating MBChB in April 1944 at the age of 22 with commendation, he was immediately commissioned as a Lieutenant in the Royal Army Medical Corps having passed Certificate B in the OTC. On the evening of D-Day, 6 June, 1944 he was in Bradford Royal Infirmary, treating casualties (both British and German) from the Normandy landings who had been sent by train from the Channel ports as part of the pre-planned rail network designed to send the wounded from the coast to hospitals all over the UK as soon as they had been returned from the Normandy battlefield. Lockhart was then sent on an intensive and exacting course at the London School of Tropical Medicine, with a view to being posted to S.E. Asia. Leaving the Savoy after a good lunch to celebrate the end of the course, Lockhart saw a V1 rocket flying over the Strand. He threw himself onto the pavement in order to prepare for the explosion. Looking up from the pavement he was told by an unconcerned passer-by that there was, "nothing to worry about as long as you could still hear the rocket's engines. It was only when it fell silent that trouble was coming".
Lockhart was promoted to Captain and posted as Regimental Medical Officer (RMO) with the Royal West African Frontier Force in Burma and was posted to the 30th West African Casualty Clearing Station within the 82nd West African Division. Volunteers to this division came from Nigeria, the Gold Coast (Ghana) and Sierra Leone.
They were well suited for jungle terrain and warfare and as part of the 14th Army, saw much action in the Arakan and Central Burma. Respected for their courage, strength and loyalty, they were never given, according to Lockhart, the due credit and recognition they so deserved in enabling the British and Indian armies to defeat the Japanese in their attempt to reach and enter India. This was the last of Hitler's grand strategies, hence the inclusion of the Burma Campaign in the annals of the Second World War, which flawed ambition ended in August 1945, following the dropping of two atomic bombs on Hiroshima and Nagasaki.
The West African Division provided a reliable and dedicated nursing team, setting up casualty clearing stations, transporting the wounded, hacking their way through virgin jungle. They were also chosen, if the need arose, to become among the first ever recipients of the "wonder treatment", namely the antibiotic penicillin, which drug went on to save the lives of millions across the globe. The West Africans were chosen to be the first, in recognition of the vital role that they played in enabling the British and Indian armies to achieve their objectives.
Lockhart's boyhood days in the Cairngorms, which he loved all his life, climbing, ski-ing, logging as a student (no National Parks, ski roads or ski tours in those days!) served him well when he found himself in the Burmese jungle advancing across the River Brahmaputra, the Irrawaddy and crossing the mountainous virgin jungle of the Arakan Yomas into Central Burma pushing the retreating Japanese army out of the country.
At constant risk from Japanese fire, grenade-based booby traps, pro-Japanese bandits known as "dakoits", not to mention man-eating marauding tigers (and it did sadly happen), monsoon rains, oppressive heat, marshes, open paddy fields and appalling mud, they were never free from the endemic diseases: malaria, cholera, dysentery, typhoid, scrub typhus and bubonic plague. Many injuries were also caused by the British army issue Sten machine gun that was liable to set itself off in the jungle heat, often with tragic consequences.
Food, ammunition, medicines – indeed all supplies – were dropped by Dakota aircraft, a life-line and key factor in the whole Burma Campaign. Years later, Lockhart had the opportunity to say thank you to one of the engineers who serviced those aircraft who was a patient in one of the local Dumfriesshire Community hospitals.
After the official end of hostilities in 1945, the West African Division, along with Lockhart and his commanding officer, Lieutenant Colonel Albert ("Bart") Cook, an orthopaedic surgeon in Epsom, Surrey, set sail from Rangoon in HMT Derbyshire to Lagos, an arduous sea journey over more than 10,000 miles with their Nigerian soldiers, not all of whom returned to their families, some of which learned of their sad loss for the first time at Lagos harbour on disembarkation.
The West African Division was repatriated; the recovery of their morale and well being greatly helped by Lockhart and Bart, who remained in Nigeria for several months, Lockhart teaching them the Latin he remembered from his classics master at the High School of Dundee. His students were eager and diligent learners, they loved it, one becoming the Bishop of Lagos in later life.
On return to the UK, Lockhart was posted to Fort George as RMO to the Seaforth Highlanders, arriving there from Nigeria to enjoy, in due course, the winter of 1947, still one of the coldest ever recorded.
Having been demobbed at the end of 1947, he worked in Bradford Royal Infirmary gaining medical and surgical experience prior to further training in Radiology at Edinburgh Royal Infirmary and St Thomas's Hospital, London from where he was appointed Consultant Radiologist in administrative charge (at 40 the youngest in the country) to South West Scotland, based at Dumfries and Galloway Royal Infirmary. A rural, agricultural dairy farming, fishing and forestry area, extending from Langholm to the Mull of Galloway and embracing several community cottage hospitals, each with its own X-ray department and staff; Lochmaben Chest Hospital, Cresswell Maternity Hospital, the Garrick, Stranraer and the esteemed Crichton Royal Hospital, Dumfries.
He also developed the General Practitioner Reference Service which proved of great benefit to the GPs and their patients.
In 1975, he was awarded a Council of Europe Medical Fellowship to look at District Hospitals and Health Centres in Norway and Sweden, which, by reason of geographical and communication challenges, had much in common with South West Scotland and indeed also with even more remote parts of Scotland too. Travelling the length and breadth of Norway and Sweden by car and train, Lockhart met by prearrangement, his counterparts in Scandinavia for whom he had huge admiration. His report on this study was immensely valuable and he was grateful for the co-operation he had received to make the challenge a positive reality, with a positive outcome, reaching as far afield as South America and Iceland.
Always curious and interested in the late 1970s whilst attending a conference in West Berlin, Lockhart set out to visit East Berlin, which involved crossing the Berlin Wall at Checkpoint Charlie. Unfortunately for him, his job description in his passport of "Radiologist" raised alarm bells with the Stasi (East German police) who subjected him to a lengthy interrogation before allowing him passage to the East with sufficient time for a cup of tea - forget your Glasgow teashops - with orders that he was to report back before nightfall, "should he wish to see West Berlin again". Lockhart duly did so.
In his main department in Dumfries and Galloway Royal Infirmary, Lockhart was helped and respected by his able team of radiographers under the late Anne Webb. He was valued by his clinical colleagues and GPs in the area for his skilled judgement and commitment. A stickler for protection from ionising radiation for patients, staff and environment, he was regularly in touch with Chapelcross Power Station and with his radiology colleagues in West Cumbria who lived and worked in close proximity to Sellafield.
After retirement, which he found difficult to accept, he continued to assist his colleagues at Edinburgh's Mammography Unit at the Longmore Hospital, in West Cumbria, Dumbartonshire, Lanarkshire and Argyll. Between times he managed to obtain an BA (Hons) degree in Arts from the Open University, its Vice Chancellor being none other than his old High School of Dundee classmate Sir Walter Perry. He also started a law degree with the OU at the age of 80 and only had to give up on it when he found it impossible to write fast enough in the exams.
Lockhart, who was a member of the Burma Star Association, also gave much time and thought to The Royal British Legion, becoming its local President for some years. He had much respect for the work of S.S.A.F.A., doing home visiting whilst still in possession of his driving licence, which he had until he was 95! On a few of these visits he would meet former Japanese prisoners-of-war as of course he had done during his time in Burma and Rangoon. He was particularly keen to champion the veterans of the wartime Airborne Divisions and Bomber Command, whose roles he felt were often forgotten about or overlooked.
In 1969, Lockhart flew to Japan by way of reconciliation. He spent the first week with his Japanese counterparts in Radiology and diagnostic imaging, discussing methods, equipment, technique and protective protocol, which knowledge he was able to share with his colleagues and suppliers back at home base in Dumfries. He also visited Tokyo, Nagasaki and Hiroshima where he was privileged to toll the Peace Bell as all Japanese are asked to do once in their lifetime. He often recalled with awe how he felt seeing colour TV in the back of a taxi in Tokyo for the first time and travelling in the Bullet train.
A great traveller and adventurer. He almost made it to what would become Everest base camp whilst on leave in 1945, became President of the Galloway Mountaineering Club and helped install the first ski-lift at Glenshee, which was powered by a tractor embedded in concrete. He also enjoyed sailing right into his early 80's. A keen dinghy racer in his GP14 "Chindit" on the Solway in Kippford and on Castle Loch at Lochmaben and later in his Folk Boat "Kishmul", which he kept in Tarbert, Loch Fyne. He was a very proud member of the Royal Highland Yacht Club and a Mate with the Ocean Youth Club for a number of years after he retired. He was a huge believer in teaching children to sail and ski, describing these pastimes as the best character building sports, given the need to handle emergencies and changing conditions at very short notice.
Above all, Lockhart will be remembered for his superb paintings, his kindness, wonderful sense of humour, courtesy, generosity and humility and lastly but no less, for his compassion and gift of healing.
He is survived by his wife, Anne (née Cruikshank), whom he married in 1970, by his son, William and two grandchildren.