Obituary: Jim Haynes, co-founder of Scotland's visionary Traverse Theatre
James Almand Haynes, co-founder Traverse Theatre. Born: November 10 1933 in Louisiana, USA. Died: 6 January 6 2021 in Paris, France, aged 87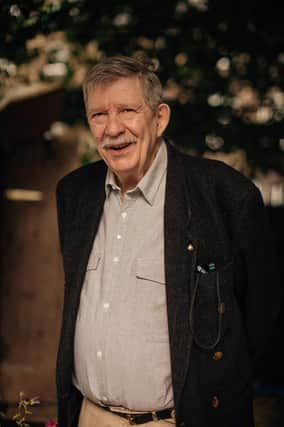 Born in Louisiana in the United States, Jim Haynes was destined for an artistically driven, international life. His precocious literary influences included Langston Hughes, Henry Miller and Dorothy Parker. During the Second World War, his family entertained a steady stream of international military guests who would later influence Haynes's Bohemian lifestyle of unlocked doors, universal friendships and creative ideas.
In 1956 Haynes joined the United States Air Force and was stationed at Kirknewton, West Lothian. He obtained permission to attend classes at Edinburgh University, and in 1957 attended his first Edinburgh International Festival, becoming friends with Richard and Ann Demarco. By 1959 he obtained an early release from the military, and opened The Paperback Bookshop in George Square, the first softback-only bookshop in the country. The shop attracted a litany of literary figures, including publisher John Calder. Along with the Demarcos, these friendships would change the face of British theatre and publishing.
The Paperback was a new mix of bookshop, coffee house and salon – mainstays of successful book retailing today – and became a hub for art and the avant-garde, supporting the blossoming Edinburgh Fringe Festival. Haynes hosted international readings by the likes of Marguerite Duras and Nathalie Sarraute. Artist Tom McGrath described the atmosphere as "an absolutely great feeling of what the art scene could be". The lively shop was frequented by Edinburgh University students and business people alike – as well as an angry church missionary who set fire to her copy of Lady Chatterley's Lover.
Haynes filled the shelves with mass-market titles as well as counter-culture imprints, such as American publisher Barney Rosset's Evergreen series –featuring such writers as Beckett, Ginsberg, Kerouac, Stoppard, Sontag and Malcolm X – a far cry from the other conservative Edinburgh bookshops. The eclectic shop was on a par with Ferlinghetti's City Lights Books in San Francisco and Godwin's Better Books in London; Scotland suddenly found itself hipped to a new beat.
In August 1962, Haynes, Calder and Sonia Orwell organised the first Edinburgh International Writers Conference. It featured a cacophony of literateurs such as William Burroughs, Arthur Geddes, Mary McCarthy, Hugh MacDiarmid, Henry Miller and Muriel Spark.
The event drew an unprecedented crowd and the writers debated East-West relations, South African Apartheid, censorship, sexuality, and how such issues transcended international borders. The conference was a triumph, attracting widespread coverage and furthering the debate on censorship. In contrast to today's festivals, the conference focused on ideas rather than book promotion.
Going from strength to strength, in 1963 Haynes and Calder, along with Demarco and others, founded the Traverse Theatre Club. The Traverse notoriously opened with the accidental stabbing of an actress during its second performance of Sartre's No Exit, and was under constant surveillance by authorities for open depictions of homosexuality and other progressive themes – illegal at the time in Calvinist Scotland.
Under a dark cloud of American anti-communism coupled with Frank Buchman's Moral Rearmament movement (which once praised Hitler and aligned with "Free and Wee" Church of Scotland extremists), The Traverse mounted a real challenge to the parochial status quo.
Drawing on the momentum of the writers conference, Haynes, Calder, Kenneth Tynan and others brought forth a 1963 International Drama Conference. This event saw even greater attendance and scandal when a "Happening" was performed featuring a nude onstage – routinely cited as the pinnacle of the event by tabloid historians; however, the conference saw a substantive cross-class discourse on the commitment to political change which contributed indirectly to the eventual dissolution of the Lord Chamberlain's censorship office.
Key to Jim Haynes's successful contributions was his ability to reach people en masse. Calder described Haynes's demeanour as a "casual and easy friendliness" with an "openness and charm that made him many friends". In The Traverse Theatre Story, Scotsman critic Joyce McMillan documents the thoughts of fellow founding member Tom Mitchell: "Jim would meet people at the door, and make them feel marvellous for being there" and drama critic Ronald Mavor: "Jim's greatest gift was to believe anything possible."
Under Haynes's 1964-66 artistic direction The Traverse brought forth enigmatic productions such as CP Taylor's Happy Days Are Here Again, Arrabal's Orisons, Bellow's The Wen and Orange Soufflé; with the British premieres of Brecht/Weil's Happy End, and Ableman's Green Julia quickly receiving London transfers. During the time, The Traverse boasted 30 world premieres and today the theatre thrives on Haynes's concept of bringing forth new voices.
In 1966 he left The Traverse, and Minister of the Arts Jennie Lee summoned him to the English capital to launch the "London Traverse". Despite ample funding and a West End transfer of Joe Orton's Loot, it didn't work. Haynes found the project stifling and felt more shopkeeper than producer.
Haynes opened the London Drury Lane Arts Lab in 1967 fuelled by a frenzied counterculture. David Bowie composed; Roelof Louw, John Lennon and Yoko Ono and Jeff Nuttall exhibited. Beat poet Ted Joans, Mama Cass, Leonard Cohen, the Rolling Stones, John "Hoppy" Hopkins, Kenneth Tynan and Barry Miles were among the milieu. Forbidden films, from Warhol's Chelsea Girls to Kubrick's Lolita debuted. The notorious Arts Lab delivered.
It held the first feminist show produced in London – Jane Arden's Vagina Rex, and Heathcote Williams's The Local Stigmatic, a BBC commission. Richard Crane – the National Theatre's first resident playwright – had a successful run of The Girl with No Arms. David Hare, Howard Brenton and Tony Bicât's Portable Theatre staged its first production, Inside Out; Steven Berkoff performed his first solo show; Jeff Nuttall and Mark Long's 'The People Show' was born at the Arts Lab.
The Lab received little or no funding, but the people came: it was a Sixties counterculture hotbed, driven by the Campaign for Nuclear Disarmament and anti-Vietnam War effort. The original lab sparked dozens of others and was a "sister" venue to LaMama in New York City.
In 1969, Haynes relocated to teach at the University of Paris, and founded two publishing companies. In addition, he wrote and published more than 14 books. He furthered his experimental pursuits with oddities such as the Wet Dream Film Festival in Amsterdam and SUCK Magazine, and was an outspoken supporter of women's equality.
Over the past 40 years, Haynes also became infamous for weekly Sunday dinners in Paris – catering to tens of thousands. They sparked numerous friendships, love affairs and long term relationships and were featured in an international After Eight dinner mints ad campaign. Over the years, Haynes was a regular correspondent at the Edinburgh Festivals, Frankfurt Book Fair, Cannes Film Festival and Prague Writers Festival, among others.
In August 2016, the Jim Haynes Living Archives were launched as a permanent collection at Edinburgh Napier University, and his last book, World Citizen At Home In Paris, was published. In 2018, he joined Calder in being awarded an honorary doctorate by the university. A series of commemorative and ongoing learning events are planned (details at jim-haynes.info).
Edinburgh Napier is committed to preserving and making the enormous legacy of Jim Haynes available to all in the way he lived: with an open door, a hug, smile and a "Thanks for Coming".