Bank of England faces pressure to halt rate hiking after inflation falls to 7.9%
Pressure is mounting on the Bank of England to pause or even abandon its rate-hiking policy and ease the pain for millions of borrowers after inflation fell back more sharply than expected to its lowest level for 15 months.
Most commentators still expect a further increase in interest rates next month despite the consumer prices index (CPI) measure of inflation easing to an annual rate of 7.9 per cent in June, down from 8.7 per cent in May and its lowest rate since March 2022. That rate had peaked at 11.1 per cent last autumn, prompting a series of 13 interest rate hikes from the central bank, culminating in last month's half-point rise to a base rate of 5 per cent, spelling mortgage and borrowing misery for millions of households and businesses.
The Bank of England's monetary policy committee (MPC) is due to meet in early August to decide the next move on interest rates, amid expectations that they may have to push above 6 per cent over the coming months, which would lead to even higher mortgage payments. At 7.9 per cent, the inflation rate remains almost four times above the central bank's 2 per cent target.
A majority of economists had expected the annual rate of inflation to fall back last month, but projections had hovered around the 8.2 per cent mark. The Office for National Statistics (ONS) said falling fuel prices was the biggest driver behind the drop, while food price inflation also pared back to 17.3 per cent from 18.7 per cent in May, though still painfully high.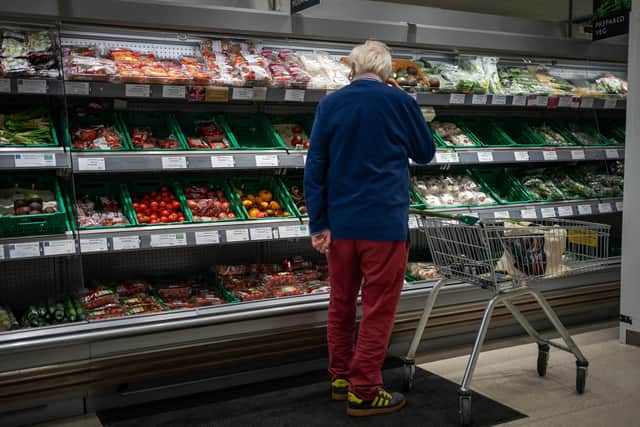 The UK's headline inflation rate of 7.9 per cent remains well above the US, at 3 per cent, and the 5.5 per cent recorded for the eurozone. Prime Minister Rishi Sunak has made halving inflation by the end of the year his "top priority", which given the timing of his pledge would point to a figure of just above 5 per cent.
Thomas Pugh, economist at audit, tax and consulting firm RSM UK, said the bigger-than-expected fall in inflation in June would give the MPC "something to smile about" and ease the pressure to go for another half-point rate hike. He added: "Encouragingly core inflation, which excludes volatile energy and food prices, and services inflation, which has been worryingly sticky, both fell to 6.9 per cent and 7.2 per cent respectively. We think [these] inflation numbers, combined with the first signs that the labour market is easing, mean the MPC can go with a quarter-point hike at its next meeting on August 3. We think inflation will continue to decline from here as lower energy and goods prices continue to feed through."
Professor Len Shackleton, editorial and research fellow at think-tank the Institute of Economic Affairs, said there were "no grounds" for further interest rate hikes despite continued inflationary pressures.
"Since these figures were tallied, Russia has ended a deal to allow grain exports from Ukraine, which will likely push up global and UK food prices. Mortgage rates have also gone up," he noted. "Nevertheless, since the extraordinary increases in the money supply that ultimately fuel inflation have ended, inflation is set to fall further. Rishi Sunak's pledge to halve inflation by the end of the year may still be optimistic, but at least there are no grounds for the Bank of England to raise interest rates further."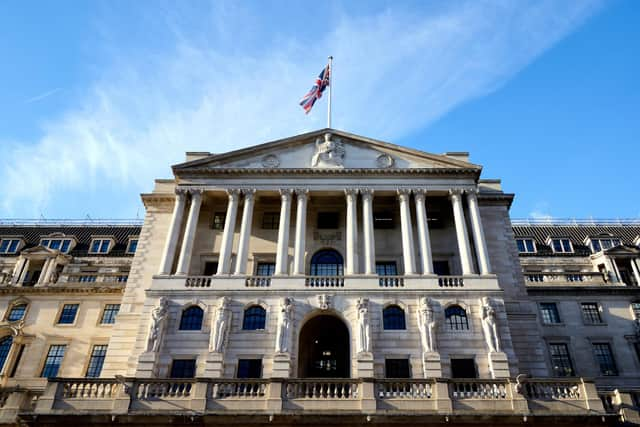 Financial markets recently forecast that interest rates would peak at 6.25 per cent by next March, but these projections could be revised downwards in light of the latest ONS data. The impact of higher interest rates is hitting homeowners who have a fixed-rate mortgage deal, typically for two or five years. The average household will see their monthly interest payments go up by about £220 if they are refinancing during the second half of this year and see their rate go up by about 3.25 percentage points, according to the Bank of England's recent Financial Stability Report. Nearly a million people could see repayments soar by £500 a month by the end of 2026, while less than half a million could face a monthly jump of more than £750.
Matthew Ryan, head of market strategy at global financial services firm Ebury, said markets were now eyeing a peak in interest rates below 6 per cent, even though the central bank's 2 per cent inflation target was a "long, long way" off. He said: "We expect the Bank of England to maintain its hawkish policy stance for a little while yet, though a return to a [quarter point] rate hike at the August meeting now appears increasingly likely. We suspect that the MPC will keep its options open to continue hiking rates beyond then, although for the first time in a while, markets are now eyeing a peak in rates below 6 per cent."
Derrick Dunne, chief executive of YOU Asset Management, said: "CPI inflation might have fallen sharply in the 12 months to June, but savers and investors should hold off celebrating just yet. With inflation still nearly four times the Bank of England's 2 per cent target - and with wage growth continuing to climb - we cannot rule out another interest rate hike come August. We know that rate rises are the main weapon for central banks to discourage consumer spending, however they are an extremely blunt tool and can take between 9-12 months to be fully integrated into an economy."
Comments
 0 comments
Want to join the conversation? Please or to comment on this article.