Weather Forecast: Scotland set to bask this week in UK's hottest day of 2023 on final day of spring
Scotland is set to scoop the record for the UK's hottest day of the year so far and the warmest day this spring.
Forecasters are predicting the mercury could shoot up to 25C in many parts of the country on Wednesday, the final day of meteorological spring.
This would beat the UK's hottest day of 2023 – a balmy 24.4C, set in Plymouth on Sunday.
England was considerably warmer than Scotland over the weekend, where top temperatures were 19.6C at Leuchars in Fife on Saturday and 18C in Glasgow on Sunday.
However, Scots are likely to get the best of the weather this week, as the last days of spring play out and summer begins.
Thermometers are expected to reach 22C to 24C in many places, and 25C in the hottest spots.
But there will be a distinctive east-west divide during the warm spell, according to the Met Office, with areas around Glasgow, Argyll, Renfrewshire, Ayrshire and the west Highlands expected to enjoy the highest heat.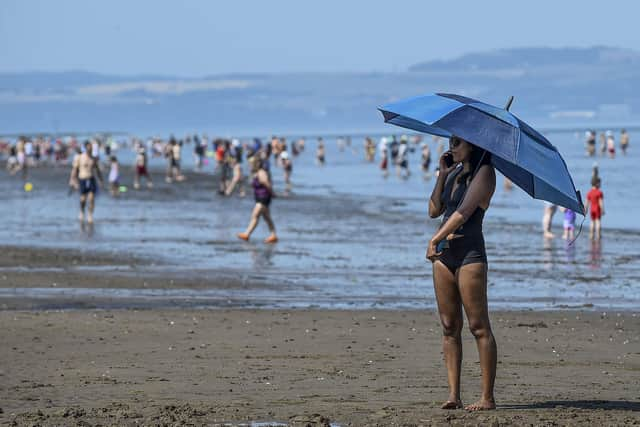 Those on the east side of the country can expect plenty of sunshine, but temperatures are likely to be considerably cooler – as much as 10C lower in places – with wind blowing in off the North Sea chilling coastal areas.
Meteorologist Tom Morgan said: "In the week ahead temperatures will be climbing quite widely across Scotland – it's a warm week to come. Temperatures may well peak at around 25C in a few spots in the middle part of this week, then coming down again to 22C or so on Friday.
"It'll be a lot colder for the Lothians and Fife and up the east coast towards Aberdeenshire, where it might well be around 14C on the coast. There will probably be a 10C difference between east and west in some places on some days this week, so a big west-east step."
The hottest temperatures are much higher than average for the time of year, when thermometers usually sit around 14C.
But despite the warmth, this week's highs will be nowhere close to Scotland's all-time hottest May day – a sizzling 30.9C, which was recorded at Inverailort in the west Highlands on May 25, 2012.
Mr Morgan explained this week's warmth.
He said: "The main reason for the high temperatures is because we've got high pressure sitting over Scotland and that's warming it up day by day at this time of the year, with the days still getting longer.
"Eastern areas are cooler because we've got winds coming in from the east, and the North Sea is chilly at this time of year, so that cool air is just drifting onto the coasts of eastern Scotland."
He said it was too early for an accurate summer forecast, but climate change raised the likelihood of high temperatures.
A scorching heatwave last summer smashed records across the UK, with the mercury shooting past 40C for the first time.
All-time highs were set in Scotland, England and Wales, helping seal 2022 as the UK's hottest ever year.
"There is a higher-than-average chance of heatwaves this summer, but it's probably unlikely we'll be breaking the temperature records we set last year," Mr Morgan said.
"That's not to say it's impossible. With a warming climate, you anticipate that records are more likely to be broken."
Comments
 0 comments
Want to join the conversation? Please or to comment on this article.