Climate emergency: Will 2023 see the world on track to tackle humankind's biggest existential crisis?
The past year has been one of extremes, with the impacts of climate change writ large across it.
Severe heatwaves, droughts and devastating flooding have affected millions of people across the globe and cost billions over the past 12 months. Europe sweltered in record-breaking temperatures, with a blistering 47C recorded in Portugal in July.
Massive wildfires raged across several countries and rivers and lakes dried up. According to the World Health Organisation, at least 15,000 people across the continent were estimated to have died specifically due to the heat in 2022.
The US was also afflicted by unprecedented high temperatures, with parts of California reaching 46.7C in September. Even the UK was baking. A blistering hot spell in the summer drove thermometers above 40C for the first time ever and an extended dry period saw water scarcity across much of the nation, including Scotland, which reached an all-time high of 34.8C.
Large swathes of Australia were also razed by wildfires, while the Horn of Africa has been enduring its longest and most severe drought ever known, threatening millions of people with starvation.
At the opposite end of the scale, catastrophic flooding has taken a deadly toll in countries including Pakistan, China, Thailand, Vietnam and Nigeria this year, with more than 1,000 killed in Pakistan alone.
At the same time there has been unprecedented melting of glaciers and sea ice in polar regions, driving sea level rise and increased coastal inundation.
These devastating events, which killed people and wildlife and destroyed massive tracts of the landscape, are yet more evidence – if any was needed – that climate change is affecting every part of the planet. And worryingly they are happening at a much lower level of warming than predicted.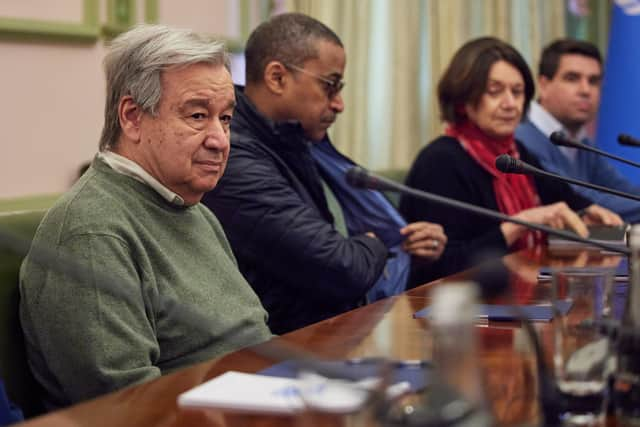 Provisional data suggests 2022 will tie as the fourth-warmest year, with the past eight years likely to be confirmed as the eight hottest ever known.
Scientists across the world have for decades been describing how rising levels of greenhouse gases in the atmosphere, mainly from burning fossil fuels, will cause the earth to heat up, unleashing a series of climatic changes. These include more frequent and intense droughts, storms and heatwaves, rising sea levels, warming oceans and melting glaciers, which will intensify as the temperature rises and eventually pass a point of no return.
The consensus was a temperature increase of 2C above the global average in pre-industrial times was the danger level, beyond which climate change would be catastrophic and irreversible.
In response, countries across the world signed up to the Paris Agreement, pledging to restrict temperature rise to "well below" 2C and ideally no more than 1.5C.
But the world is already at around 1.2C of warming, with 2022 the ninth year in succession that temperatures have been at least 1C hotter than in the late 1800s. And meteorologists are predicting 2023 will be warmer still. It's not good news.
What are the fundamental needs for survival of our species – and all life on earth? Air, water, food and shelter. Without any one of these we will perish. Climate change puts all of these at risk.
A few small gains were made at COP27, but promises will need to be turned into concrete actions if there is any hope of staving off total climate breakdown.
Research by the United Nations – published in October, just before the COP27 climate summit was due to get under way in Egypt – concluded the combined climate pledges of 193 parties under the Paris Agreement would fail to limit warming to 1.5C and could put the world on track a rise of 2.5C by the end of the century.
"The downward trend in emissions expected by 2030 shows that nations have made some progress this year," said Simon Stiell, executive secretary of UN Climate Change.
"But the science is clear and so are our climate goals under the Paris Agreement. We are still nowhere near the scale and pace of emission reductions required to put us on track toward a 1.5C world.
"To keep this goal alive, national governments need to strengthen their climate action plans now and implement them in the next eight years."
As we look ahead to 2023 and COP28, being held in Dubai, there has never been a more critical time for action. The window of opportunity has almost closed, but not quite.
Early in 2022, in response to a damning new report from the Intergovernmental Panel on Climate Change, UN secretary-general António Guterres warned the world was "on a fast track to climate disaster".
And at an end-of-year briefing in December, he admitted "good news can be hard to find" when it comes to climate change.
"We are still moving in the wrong direction," he said. "The global emissions gap is growing. The 1.5C goal is gasping for breath."
But he vowed the world would not retreat. "We are fighting back," he said.
Mr Guterres announced the UN would convene a new Climate Ambition Summit in September 2023, calling on world leaders to step up "with new, tangible and credible climate action to accelerate the pace of change".
He said: "The invitation is open. But there is a price of entry and the price of entry is non-negotiable – credible, serious and new climate action and nature-based solutions that will move the needle forward and respond to the urgency of the climate crisis must be presented.
"It will be a no-nonsense summit. No exceptions. No compromises. There will be no room for back-sliders, greenwashers, blame-shifters or repackaging of announcements of previous years."
Denial is defined as the refusal to acknowledge an unpleasant truth, used as a defence mechanism to protect from a reality that is too painful to accept.
Climate change is the biggest existential threat ever to face humankind. We can only hope that 2023 will go down as the year when denial was replaced by acceptance and action.
Comments
 0 comments
Want to join the conversation? Please or to comment on this article.