Jeremy Hunt mocked over video explaining high inflation
Jeremy Hunt's attempt to explain rising inflation with a stack of empty coffee cups has been mocked online – with others hitting out at the patronising message from the government amid the cost of living crisis.
The Chancellor held up a cup marked £2.56 and said a year ago a coffee cost "around £2.50", before holding up another with £2.86 on it, which he described as "nearly £3 a cup".
Factors contributing to inflation which is "about 10 per cent" – the latest figures for December put CPI inflation at 10.5% – included the supply chain squeeze after the pandemic, the war in Ukraine and persistently high energy prices.
High inflation means "unemployment going up, businesses failing, the pound in your pocket is worth less than it used to be".
The Government's aim to halve the inflation rate by the end of the year was listed as one of the "peoples (sic) priorities".
Ian Blackford called on the Conservatives to brush up on "politics for dummies" tweeting: "The public don't need patronising lessons on the Tory cost of living crisis from Jeremy Hunt - they need help from the UK government that caused it.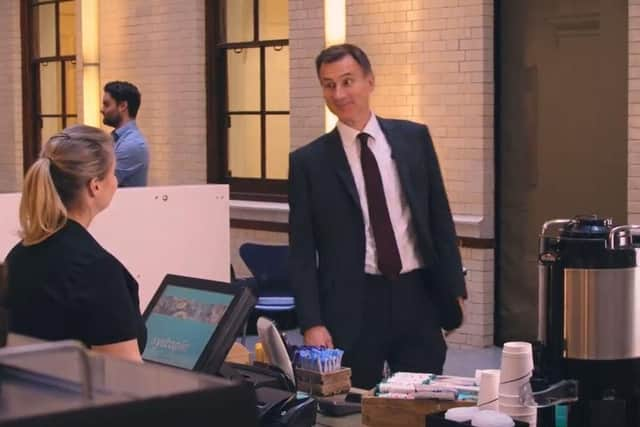 "If anyone should brush up on 'Economics for Dummies' - it's the Tory ministers who cost our economy billions and hammered incomes.
Liberal Democrat Treasury spokeswoman Sarah Olney said: "The last thing families need right now is a Mr Bean-esque video from the same clueless party that crashed the economy and sent mortgage bills spiralling.
"What's even more shocking is that Jeremy Hunt airbrushed one of the main causes of economic pain – Liz Truss's disastrous mini-budget that resulted in the biggest tax hike for a generation."
A SNP spokesman said: "Households in Scotland are lucky if they are able to turn the heating on to keep warm, never mind buy a coffee, all because of the economic incompetence of this UK Tory Government.
"Jeremy Hunt failed to address the massive elephant in the room which is the lasting damage Brexit has done to the UK economy, with exports from Scotland dropping by £2 billion since we were dragged out of the EU."
Tory former education secretary Kit Malthouse also questioned the content of the message with the comment: "Money supply?"
Politics professor Tim Bale, from Queen Mary University of London, said the video is "a classic of the genre".
In a tweet, he added: "I especially loved last year's cup of coffee, costing £2.56, being described 'as around £2.50' as opposed to this year's, costing £2.86, being described as 'nearly £3.00'. (PS while I'm on, 'Peoples Priorities' is missing an apostrophe)."
London School of Economics media professor Charlie Beckett said the Treasury-produced video is an example of the "Conservatives using public money to produce propaganda".
University of Nottingham politics emeritus professor Steven Fielding said: "I hope he recycled all those cups he wasted."