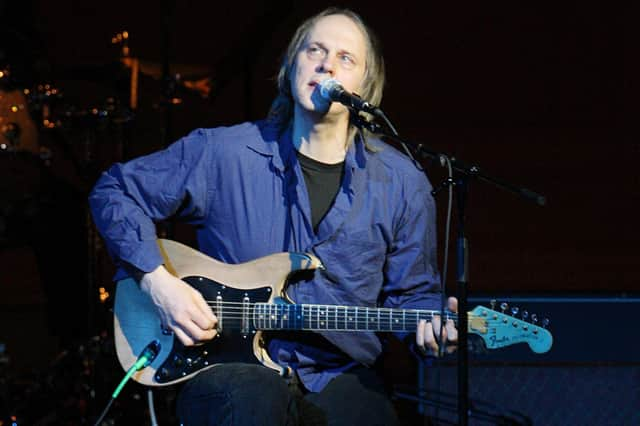 Tom Verlaine was one of a rare coterie of musicians with a genuine claim to changing the course of music with his band Television. Powered by his astonishing idiosyncratic guitar wrangling, their debut album, Marquee Moon, landed with nuclear impact in 1977, leaving all peers for dust. An instant classic, it was heralded with a 3,000-word review by NME scribe Nick Kent and still ranks favourably in All-time Greatest Albums lists.
Verlaine, who has died after a brief illness, aged 73, stood out even among the motley ranks of the New York punk scene, where he rubbed shoulders with the likes of Patti Smith, New York Dolls, The Ramones and Blondie at legendary venues such as CBGBs and Max's Kansas City.
He was an unlikely guitar hero, wiry, intense and sober in contrast to many of his partying peers. Verlaine understood he was doing himself no favours when he said "I like thinking of myself as invisible. I find it a very advantageous way to live. Unfortunately, it's not the way the music business works."
In contrast to the punk economy of The Ramones, Television belonged in the questing art rock camp with Talking Heads – as much as they belonged anywhere. Co-guitarist Richard Lloyd claimed they played "blues from another planet".
Dubbed "four cats with a passion" by film director Nicholas Ray, Television went on to influence U2, REM, Echo & the Bunnymen and Brian Eno, as well as next generation New Yorkers Sonic Youth and The Strokes.
David Bowie was a fan, calling them "the most original band I have seen in New York. They have it." He went on to cover a Verlaine song, Kingdom Come, on his Scary Monsters album
Verlaine's tremolo vibrations were felt in Scotland too. When news of his passing broke, Mike Scott of The Waterboys waxed lyrical, saying: "Tom Verlaine has passed over to the beyond that his guitar playing always hinted at. He was the best rock and roll guitarist of all time and like Hendrix could dance from the spheres of the cosmos to garage rock. That takes a special greatness."
Stuart Braithwaite of Mogwai hailed him as "a true great. His role in our culture and straight up awesomeness on the electric guitar was completely legendary. Name ten minutes of music as good as Marquee Moon. You can't. It's perfect."
Verlaine was born Thomas Joseph Miller, to Victor and Lillian Miller. The family relocated from New Jersey to Wilmington, Delaware when he was six. He studied piano before switching to saxophone, inspired by Stan Getz and John Coltrane. But ultimately he was seduced by the sound of the guitar in the hands of The Yardbirds and Rolling Stones. He developed his own style on Fender Jazzmaster – chosen for its affordability as much as its surf rock associations – favouring delay over distortion, and creativity over ostentation.
He and his twin brother John Peter Miller – who died suddenly in his thirties – were educated privately at the Sanford School, where he bonded with fellow student Richard Lester Meyers over poetry. Both dropped out and moved to New York where Miller adopted the surname Verlaine (after French poet Paul Verlaine) and Meyers manifested as Richard Hell.
Together, they formed a band, The Neon Boys, with drummer Billy Ficca but were stymied in their search for a second guitarist until the Stratocaster-toting Richard Lloyd got the gig and the band were reborn as Television. They hustled a residency at Bowery dive venue CBGBs where Patti Smith caught an early performance in April 1974. Recalling the encounter in The New Yorker, she said: "What we saw that night was kin, our future, a perfect merging of poetry and rock and roll. As I watched Tom play, I thought, had I been a boy, I would've been him."
Instead, she got with him, dating for a time, with Verlaine playing on Smith's classic albums Horses and Easter. Verlaine and Hell, meanwhile, were exposed as a mismatch – sobriety versus addiction, precision versus primitivism. Hell's services were dispensed with in 1975 – he took his punk standard Blank Generation to his next band The Heartbreakers, and Fred Smith joined Television, completing the classic line-up.
In a sign of audacity to come, their debut single, Little Johnny Jewel, was seven minutes long and said to be inspired by Iggy Pop (born James Newell Osterberg). A deal was struck with Elektra Records and Marquee Moon followed. Its mercurial blend of precise form and improvisational flourishes bamboozled engineer Andy Johns, more used to working with blues mavens The Rolling Stones and Led Zeppelin than the symbiotically duelling guitars of Verlaine and Lloyd.
Commercial performance could not hope to match critical adoration, though the album did chart in the UK. Follow-up Adventure could have suffered by comparison but the word was out and it reached the top ten of the UK album charts. Television also enjoyed a fearsome live reputation, with Verlaine unleashing ever bolder, more incendiary solos – and longer, more fastidious tuning breaks.
The band collapsed under the weight of such self-imposed creative pressures and Verlaine was able to please himself on a string of solo albums released through the Eighties. He continued to collaborate with Patti Smith and produced Jeff Buckley shortly before his premature death, before reforming Television in the early Nineties and adding a third, self-titled album to their canon.
Television reunited once again in the Noughties, plugging into the trend for touring classic albums, introducing Marquee Moon to subsequent generations of awestruck music fans. Appearances were sporadic but the band remained together and were reportedly working on a fourth album. It was never finished.
If you would like to submit an obituary (800-1000 words preferred, with jpeg image), or have a suggestion for a subject, contact [email protected]