Scotsman Obituaries: Michael Parkinson, undisputed king of the chat show hosts
Michael Parkinson, TV chat show host. Born: 28 March 1935 in Cudworth, Yorkshire. Died: 16 August 2023 in Bray, Berkshire, aged 88
The thing about Parky was he was one of us, a fan meeting his heroes, sometime almost starstruck by the encounter, but asking the questions we might ask.
Sir Michael Parkinson interviewed more than 2,000 guests on his TV chat show between 1971 and 2007, firstly on the BBC, and then on ITV, with an identical format and almost identical set. There were about 800 editions in total.
Billy Connolly holds the record for most appearances – 15 in all. On his first appearance on the show back in 1975 Connolly talked about the importance of his working-class Glasgow background to his act. A former shipyard worker, he came to comedy via the folk music scene and the show took him to a new audience and helped boost his career.
Paul McCartney finally fulfilled his promise to appear on Parkinson's show in 1999, 25 years after Parkinson appeared on the cover of McCartney's album Band on the Run.
Only a few big names evaded him, including Bob Dylan, though they did meet once by chance when they stayed in the same hotel. But Dylan did not realise who Parkinson was. He thought he was a waiter and told him what he would like for breakfast.
Parkinson was always there in my teens – on the TV on Saturday night, on the cover of that McCartney LP in my record collection, in my bookcase as one of the authors of A Pictorial History of Westerns.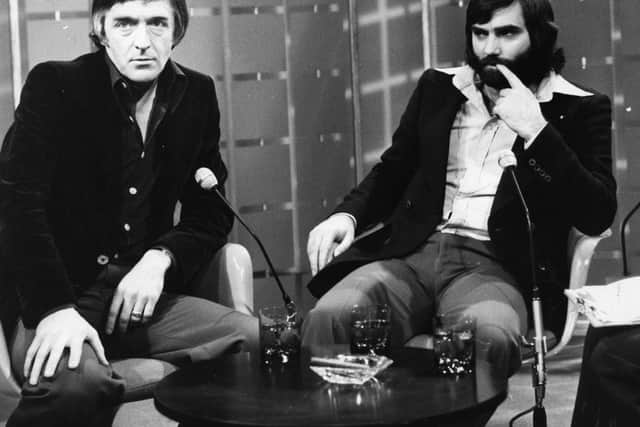 Parkinson loved old Hollywood and it showed in his sessions with the likes of John Wayne, James Stewart and Jimmy Cagney. He was similarly passionate about cricket and cricketers, including Fred Trueman and Geoff Boycott. For a while Parkinson was ranked above Boycott when it came to choosing the local Barnsley cricket team, but it did not last.
He was a fan, but he was also a very good interviewer, making his guests feel comfortable, taking his time and teasing stories out of them.
He developed a rapport that developed into a genuine off-screen friendship with some guests, including Billy Connolly and George Best, though his passion for the female form and seeming obsession with on-screen nudity might seem a little anachronistic, even sexist. It led to awkward interviews with a few actresses, including Helen Mirren and Meg Ryan, who he described as "monosyllabic". He rated her as his worst guest ever.
An interview with Rod Hull and his Emu puppet also proved uncomfortable, with the bird attacking Parkinson. An appearance on the show by Muppet Miss Piggy passed off much more amicably.
Parkinson always acknowledged that his job was to get the guests to tell the audience about themselves and their lives. He never gave the impression he was a bigger star than the star. They were not there as some sort of vehicle for his wit.
"People like Graham Norton and Jonathan Ross don't do talk shows. Theirs are comedy shows, which they are very good at, but their guests are foils for their humour," he said.
The son of a miner, Parkinson was born in the pit village of Cudworth, near Barnsley, in Yorkshire. He inherited his passion for cricket from his miner father who contemplated calling him Melbourne after a recent Test match win. Parkinson, Boycott and Dickie Bird, later the game's most famous umpire, all had trials for Yorkshire at the same time.
He went to Barnsley Grammar School, began his journalistic career on the South Yorkshire Times and did National Service in the Army, working as a press liaison officer in Egypt during the Suez Crisis in 1956.
He had spells with the Guardian, where snooty Oxbridge colleagues nicknamed him Clodpole, and the Daily Express, where he enjoyed lengthy liquid lunches. Moving into television, he worked in current affairs and then presented Granada TV's late-night film review programme Cinema.
His chat show, entitled Parkinson, began on BBC1 in 1971 and ran for 11 years. It was revived in 1998 and continued for another ten years on the BBC and latterly on ITV.
When television developed with new time slots and channels, he became one of the original "Famous Five" presenters on TV-am in 1983, along with David Frost, Angela Rippon, Anna Ford and Robert Kee.
He presented Going for a Song in the 1990s and on radio had a two-year stint as presenter of Desert Island Discs, though it was difficult taking over from its recently deceased creator Roy Plomley and he was never happy in the job. He also wrote books and in 2008 interviewed Nelson Mandela online.
In later years he bemoaned the rise of television shows hosted by celebrities. He was no fan of reality television, either. He could be very frank at times and was especially critical of the status of Jade Goody, who he described as "barely educated, ignorant and puerile".
He was knighted in the 2008 New Year honours list, remarking that these days they seemed to give knighthoods to anyone. In 2013 he revealed he had prostate cancer. A few years later he was given the all-clear.
At the time of the Scottish independence referendum in 2014 he was one of more than 200 public figures who sent a brief open letter to the Guardian imploring Scots to vote to remain within the UK.
He was married for more than 60 years to a woman he met on a Manchester bus. Mary Heneghan was a teacher who later also became a television presenter as Mary Parkinson.
He is survived by his wife and their three children.
Comments
 0 comments
Want to join the conversation? Please or to comment on this article.