It's no gravy train, but Aberdeen appeal shows landladies for young footballers are back in demand
Firstly, a confession. A little typo might have crept into some editions of Scotland on Sunday last weekend.
In a piece about the late Craig Brown, within a quote from former teammate Ian Ure, mention was made of Mrs Garvie, the "matriarchal" figure who fed, watered and housed Dundee FC players for years and could consider herself a vital part of the club's glory years in the 1960s. All well and good. Trouble was, the first rendering of her name came out as "Mrs Gravy".
So I certainly did not anticipate writing about landladies for a while, such was the shame. And I certainly had no desire to mention Mrs Garvie, for fear the same spell checker gremlin might strike.
But my attention was drawn by a tweet from Aberdeen a few days ago. The subject lent itself perfectly to a column. And that subject was … landladies, or at least, the issue of players' digs.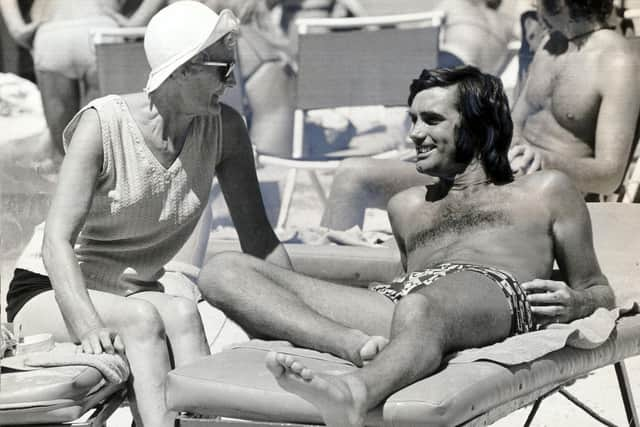 Aberdeen are on the lookout for Mrs Gravys – or, indeed, Mr Gravys. They've issued a plea for those living within Bisto aroma-smelling range of Cormack Park and who have a spare room – "ideally with a separate bath/shower room" – to get in touch, thereby re-establishing the glorious tradition of British footballers staying in digs near football grounds. Or out-of-town training academies, which is more likely to be the case nowadays.
That alone highlights one of the many changes since days when it was completely normal for often homesick young footballers to stay in another family's home. Mrs Fullaway, for example, became a celebrity in her own right for being George Best's landlady. Best stayed with her on and off for as long as ten years.
But the concept does seem slightly dated now. With all the money swilling about football these days, can clubs not just put young players up in hotels? Even the terms seem slightly antiquated. Lodgers, landladies. Now, as per the Aberdeen appeal, it's known as "host families" and "vetting procedures" are obviously involved given strict child protection laws.
Clearly nutrition is a major consideration now too. Gone are the days of Best sitting in Mrs Fullaway's kitchen with a bottle of HP sauce planted on the table in front of him, as one memorable picture from the time portrays him.
Just a quick trawl of autobiographies in my bookcase underlines the integral part landladies – and it was always landladies back then – played in the development of some of the finest footballers in the land. Graeme Souness had Phoebe while starting off at Middlesbrough, someone he describes as a "second mother". Writing in No Half Measures, his first autobiography, he attests that she "played a bigger part in shaping me into a true professional than most of the qualified coaches I came across". She wouldn't hesitate to tell Souness if he had been out too often "and it was time for a quiet night indoors".
As Ure explained to me last week, there were five of them in Mrs Garvie's house, which was just a corner kick away from Dens Park and within handy reach of Dundee's nights spots too. Expected to be the eyes and ears of the club, there were occasions when landladies went rogue. After all, why wouldn't they begin to feel a sense of loyalty towards their young charges?
The club want the players to become part of the families where they have been planted. Defending or even covering for them seems to be a natural extension of this arrangement.
Speaking of which, I can still hear the exasperation in Jim McLean's voice as he explained to me that Duncan Ferguson "was even able to get his landlady to tell fibs for him!". Few will be surprised to learn that the legendary Dundee United manager had a habit of phoning around the digs where United players were lodged on a Friday night to check they were where they were supposed to be. He often did this on the pretence he was calling to impart some crucial piece of tactical information.
On this occasion, he phoned Ferguson's landlady. "Can I speak to Duncan please?" She told McLean he was out at the shops and she would get him to phone him back as soon as he was back. "Right away I realise there could be a problem," McLean said. "About 20 minutes later the phone goes. It is Duncan. 'Hello Boss, what's the problem?'
"'I am just checking up, Duncan. You are at home in digs are you Duncan?' 'Yes,' he says. 'That's fine,' I said. 'See you tomorrow.' Then immediately I dialled the landlady back and said there were a few things I had forgotten to say, can you put him on the phone? She had to admit he was elsewhere."
As ever McLean was way ahead of his time. He arranged meetings between landladies and dieticians from Aberdeen University. "We hoped they would listen and do what the dieticians said," he said.
Bangers and mash certainly won't cut it now, something that will likely be spelled out to those responding to Aberdeen's request. Host families are expected to provide an evening meal throughout the week and at weekends, "but must remain flexible around this given the players' commitments". Players should be permitted to "prepare snacks and light meals and their own instance". A bacon rowie at 3am probably isn't what the club have in mind.
Apparently, Manchester United now send their own chefs into the homes of those who are hosting their young players.
It's good to see Aberdeen re-awaken this old tradition, though I know, after some research last week, that most top clubs still depend on local families for their player accommodation needs. Let's just hope the two stars on the Aberdeen crest doesn't equate to the standard of hospitality provided by those opening their homes – and fridges – to the Dons heroes of tomorrow.
Comments
 0 comments
Want to join the conversation? Please or to comment on this article.