Scotsman Obituaries: Hamish Carruthers, design consultant with a passion for Scottish textiles
Hamish Ian Carruthers MBE, design consultant. Born: 12 September 1944 in Hawick, Scottish Borders. Died 7 October 2023 in Melrose, aged 79​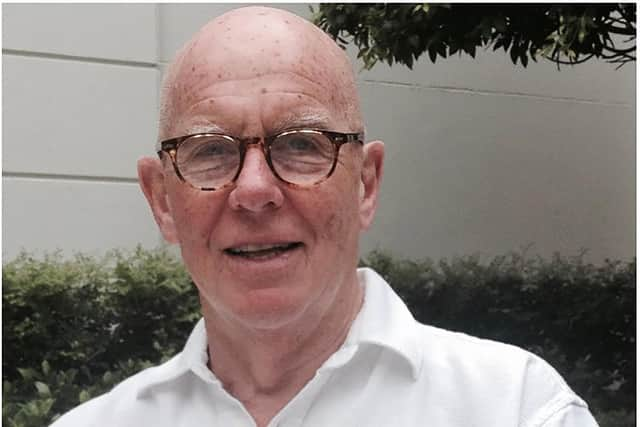 Hamish Carruthers was an international design consultant whose passion for Scottish textiles inspired many leading fashion houses to use the luxury cloth in their collections.
Hamish Ian Carruthers was born in Hawick on 12 September 1944, where he grew up with his parents and older sister and was educated at Hawick High School.
Hawick was becoming a globally acknowledged centre of luxury fabrics and knitwear and his father, a wool appraiser, gave young Hamish an insight into this world which lit a lifelong passion.
Dissuaded by his grandfather from joining the RAF, Hamish nevertheless managed to combine his twin loves of travel and textiles in a globetrotting career.
Graduating from the Scottish College of Textiles in Galashiels, his first job took him to a warp knit company in Suffolk, then to luxury fabric merchants Dormeuil in London.
Five years after marrying fellow designer Sheila-Mary Carruthers in 1973, John Claridge invited him to become the design marketing director at Claridge Mills in Selkirk where, by turning the company's business almost wholly export, multiple Queen's Awards were won.
At Claridge's Hamish cultivated many of the most prestigious fashion names of the day, introducing designers like Ralph Lauren, Donna Karan, Nino Cerruti, Giorgio Armani, Vivienne Westwood, Bruce Oldfield and Jasper Conran to the best of Scottish textiles.
On their return from London, the Carruthers' had bought acclaimed architect Peter Womersley's office in Gattonside and this modernistic light-filled property became their family base and design HQ decades before working from home became the norm.
In 1988, without the benefit of mobile phones or the internet, Hamish used his considerable charm and powers of persuasion to bring many internationally renowned designers to the Borders.
Audi and Land Rover lent cars, British Aerospace a helicopter and, most impressively, the Dukes of Buccleuch and Roxburghe their splendid homes.
Fashion 88 was a hugely successful marketing event showcasing the best of Scottish textiles and manufacturing skills against the gorgeous scenery.
Two years later, Fashion 90 was an equally successful venture which saw established designers being joined with emerging talents Michael Kors and Marc Jacobs.
This indefatigable drive to promote Scottish textiles led to Hamish being awarded the MBE.
In later years Hamish designed for many luxury fabric companies and became an expert in the Japanese and Chinese markets. For four and a half years Hamish commuted monthly to New York, becoming well versed in the North American fashion business.
For the Woolmark Company he developed free online education packages for the benefit of the next generation of designers.
He used his technical expertise to create a unique carding technique for Ralph Lauren and the resulting Navajo fabrics are now highly sought after. And he was thrilled to create a tartan for the St Andrew's Society of New York.
His design skills changed commodity products into something special and desirable and opened doors to the wider industry.
Hamish considered education vital. He was generous with his time, supporting emerging talent, mentoring students and connecting them to job opportunities, all of which made him a hugely respected name in the design world.
His lifelong passion for Scottish textiles saw him amass many archives but to his lasting regret neither local nor national governments could be persuaded to establish a Textile Centre which could be used for research, study and tourism.
Hamish, ever the stylish dresser and rarely seen without a beautiful piece of cashmere, was very active in his local community.
He supported Melrose rugby club, was an elder in the parish church for many years and took part in the town's annual Common Riding festival.
Hamish is survived by his wife Sheila-Mary, children and grandchildren.
If you would like to submit an obituary (800-1000 words preferred, with jpeg image), or have a suggestion for a subject, contact [email protected]