Passions: Knitwear, from Fair Isle to Aran sweaters, in cashmere and lambswool, will get me through autumn - Gaby Soutar
Forget mists and mellow fruitfulness, I hate autumn, and winter can get in the bin too. However, this is supposed to be a column about what one loves, and these seasons do have a saving grace. Knitwear.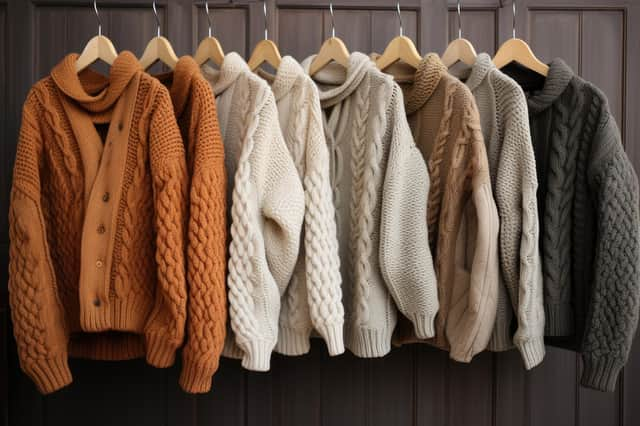 As the T-shirts and frocks get belatedly packed away, I slowly unearth my extensive jumper collection.
I start with the lighter pieces, then work my way up to the chunky sweaters.
Back in the spring, each was frozen for 24 hours in my small freezer, in individual bags beside the fish fingers and mini Magnums, before being safely stashed away in boxes. That's the only way to rid them of the moth larvae that turn woollen knits into doilies. I don't think cedar balls do anything, and sticky traps make me feel guilty.
I'm pleased to discover that most of my hibernating garments have been spared this year, apart from a silvery grey silk merino cardigan, which I accidentally left on a hanger.
Then there's a Johnstons Cashmere scarf that was a gift, now lacy. Sob.
I nearly cried when I deposited them in the textile recycling bin.
My favourite knitwear items are the precious cashmere ones. I love the softness of that fabric. Also, this may be TMI, but, in common with my merino or wool pieces, I never have to wash these garments and it's not just because I can't be bothered to do it by hand. They don't seem to get stinky, though those who stand too close to me might testify against that.
It's not a fabric that I can afford much of, so I take special care of those numbers, apart from the staple Uniqlo crew necks, which have been nibbled at the cuffs.
I haven't yet unpacked my Fair Isles. I'd love an Eribé one, like the Hebridean Baker wears in his new book. Mine aren't authentic, just high street copies that were probably made in China rather than on a remote Shetland island, but they still make me want to coorie down.
It'll take a few more drops in centigrade for the real chunks to get unwrapped.
I'm talking about the big triple-ply roll necks, the bum-covering lambswool, an Aran and a fisherman's sweater and my bulkiest cardigan. I can always layer them up, when it gets really cold in my home office. And it will.
Comments
Want to join the conversation? Please or to comment on this article.