Scotsman Obituaries: Federico Bahamontes, Spanish Tour de France winner considered best climber ever
Federico Bahamontes cyclist. Born: 9 July 1928 in Toledo, Spain. Died: 8 August 2023 in Valladolid, Spain, aged 95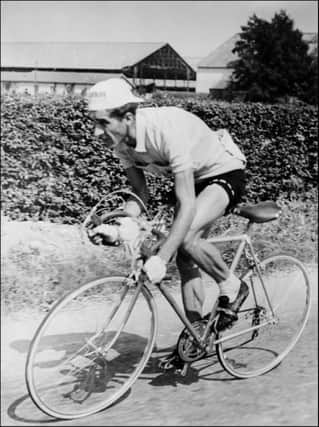 Federico Bahamontes was the oldest surviving winner of the Tour de France, the first Spaniard to win the race and one of the all-time greats in cycling history.
His speciality was climbing, giving rise to his nickname "El Aguila de Toledo" (Eagle of Toledo), a nod to both his exceptional ability in the high mountains and his origins.
For many he is considered the best climber ever, a claim given substance by his record of six wins in the Tour's prestigious King of the Mountains category, a feat only surpassed years later in 2004 when Frenchman Richard Virenque won his 7th title.
The ever challenging and single-minded Bahamontes did not accept graciously his successor's usurping him, saying: "He's no match for me, I hope he doesn't mind but if he's a climber, I'm Napoleon."
Support for the Spaniard's status came in 2013 when influential French sports newspaper L'Equipe voted him the best climber in the Tour's history in a poll of cycling celebrities.
His achievement in being the first to win the King of the Mountains title in each of the three "Grand Tours" – Tour de France, Giro d'Italia and Vuelta a Espana – further underlines his credentials and he remains one of only six riders to win the Tour and King of the Mountains category in the same race.
Top French cyclist Raymond Poulidor summed things up, declaring, "Trying to follow him up the mountains is like committing suicide!"
For all his success and glittering climbing record, the epochal event in Bahamontes' career undoubtedly was winning the Tour in 1959.
It was the most outstanding individual performance in Spanish sporting history, one achieved against the backdrop of a country still isolated and recovering from a crippling Civil War during what was popularly referred to as "The Hunger Years".
Indeed, Spanish cyclists then loved competing in France as the food was plentiful and much better than what was available at home.
Support for his Spanish team in terms of equipment, organisation and back-up was minimal. Despite those disadvantages, Bahamontes secured a memorable triumph and provided inspiration for the countrymen who followed in his tracks, such as Ocano, Delgado, Indurain and Contador, all Tour champions.
Previously his all-consuming motivation was success in the mountains at the expense of the overall title, whereas in 1959 under the guidance of legendary former Italian champion Fausto Coppi, the target was to be the yellow jersey via the tactic: "To attack, attack, from start to finish."
After completing an excellent stage over the 7,000ft high Tourmalet in the Pyrenees he was in 5th place before, two days later, winning the punishing mountain time trial stage up the Puy de Dome which inflicted huge damage on rivals, and left him 4 seconds behind the yellow jersey.
A 2nd place in the 17th stage ending in Grenoble saw him secure the yellow jersey for the final 6 days and reaching Paris in it, with some in-fighting among French rivals working to his advantage.
He received a rapturous welcome back in Spain, a tickertape procession in an open-top limousine in Toledo in front of a crowd of 25,000 while 14 military bands played. A main square in the town, the Plaza de la Magdelena, had his name added to it in his honour and when presented to the country's dictator, General Franco told him: "You have planted the Spanish flag higher than ever before."
Alejandro Martin Bahamontes was born to parents Julian Martin and Victoria Bahamontes in a small village near Toledo but soon became known as Federico after an uncle who was considered head of the family. He and three younger sisters were brought up in the village initially, and he attended a local charity school run by nuns.
His upbringing was hugely impacted by the outbreak of the Spanish Civil War in 1936; it lasted until 1939 although consequences continued thereafter.
The family lived as refugees in a camp in Madrid where conditions were abysmal and food extremely scarce.
Air raids meant another move to a village south of the capital and once hostilities ceased the family lived in Toledo in a small flat in primitive conditions.
Hunger was a constant as Federico worked long hours in a fruit market, eking out a meagre wage by stealing food for the family.
In 1946 he bought his first bike for 150 pesetas and soon was operating as a courier in the black market for food, distributing packages throughout the town.
His cycling ability saw him enter his first race locally where he finished 2nd, while in his second over 60km at nearby Menasalbas. He won and his career was under way.
An outstanding amateur CV which included wins in the Tours of Andalucia and Cadiz, King of the Mountains titles in the "Volta a Catalunya" and Tour of Asturias led to his turning professional.
He debuted in the 1954 Tour de France achieving his first King of the Mountains title, crossing the fearsome 8,500 feet Galibier in first, one of the highlights. Other "Kings" followed in 1958,'59,'62,'63 and '64. In addition to winning the 1959 Tour he also finished 2nd in 1963 and 3rd in '64 when aged 36.
In the "Vuelta" he was 'King' in 1957 and '58, and in the "Giro, 1956.
In retirement he ran his own cycle business and for a period managed cycling teams.
On 3 November 1956 he married Fermina Aguilar Sanchez in Toledo Cathedral.
Federico Bahamontes's singular contribution, thanks to his natural ability, unrelenting grit and determination despite his disadvantages, made Spain a major player on the world cycling map.
If you would like to submit an obituary (800-1000 words preferred, with jpeg image), or have a suggestion for a subject, contact [email protected]