Passions: How the drama of the Tour de France crashed into our living room
Professional cycling unexpectedly took over our summer this year
Nine weeks ago I would have stared blankly at anyone who mentioned names like Tadej Pogačar, Jonas Vingegaard or Wout van Aert.
I had zero interest in elite level cycling, or any kind of bike-related activity for that matter.
Like many Scots, football was the only spectator sport for me and always had been.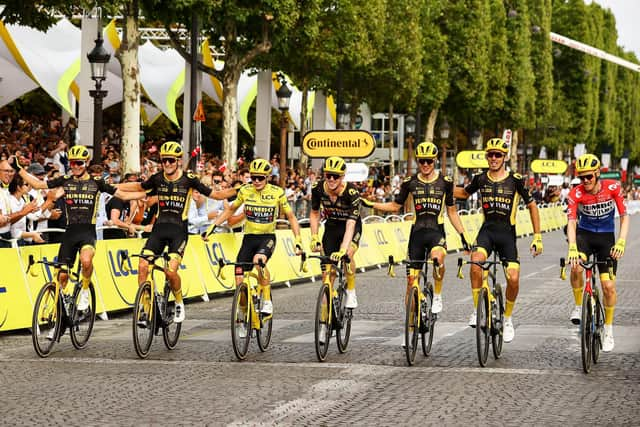 My wife, Amie, meanwhile, had never been interested in watching any sport on TV, other than the Olympics.
That all changed on June 24 when we were scrolling through Netflix looking for something to fill the only period of peace we get each day, after our young kids have gone to bed.
We took a chance on a new documentary about the 2022 Tour de France, and within minutes we were both hooked.
From crashes on the cobbles to tactics in the time-trials, the intensity and drama was captivating.
We learned a whole new language as we entered a world of pelotons and breakaways, leaders and domestiques, climbers and sprinters.
Then there are the different teams and jerseys to get to grips with – an array of yellow, green, polka-dot, white, and rainbow-coloured tops, each with their own meaning and history.
By the time we had witnessed the sprint down the Champs-Élysées on the final episode we had already pledged to watch the 2023 Tour, which was just about to get under way.
Sure enough, for the next three weeks we caught up with the highlights of le Tour every single night after the kids were in bed, as another instalment of the epic yellow jersey battle between Mr Pogačar and Mr Vingegaard unfolded.
After that, we followed it up with documentaries about Lance Armstrong and Mark Cavendish, as well as books such as David Millar's Racing Through the Dark, and David Walsh's Seven Deadly Sins: My Pursuit of Lance Armstrong.
Our only regret was that our new found interest in professional cycling arrived just slightly too late for us to fully appreciate the fact that many of the riders we had been watching and reading about were on their way to Scotland for the UCI World Cycling Championships.
Of course, we watched the highlights, and I saw two riders from Mauritius hurtle past me while on a work visit to Glasgow, but we wish we could have been able to see some of the main events live.
We will not make the same mistake again if the early stages of the Tour de France ever come to Scotland, as has been rumoured.
Calum Ross is Education Correspondent of The Scotsman
Comments
 0 comments
Want to join the conversation? Please or to comment on this article.