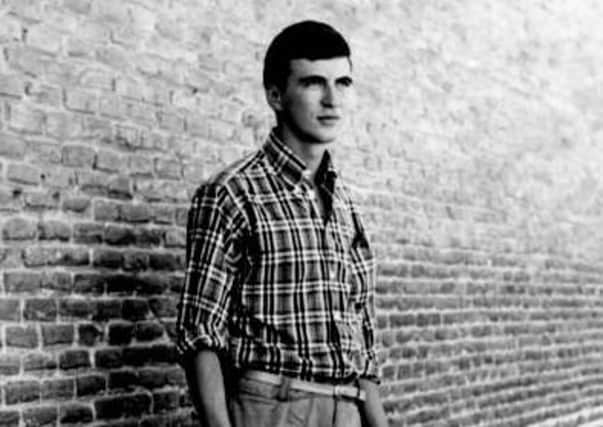 With typical self-deprecating understatement, Stuart Christie opened his memoir with a scene from his drumhead court martial and the dry observation: "It was a trying time."
He was in a military court in Madrid charged with banditry and terrorism, facing death at dawn by garrote-vil – 
gruesome, slow strangulation by an iron collar – for intending to blow up the Spanish dictator General Franco. "Trying" didn't begin to cover it.
Newly turned 18, he had been hitchhiking through Spain in his kilt when he was arrested with plastic explosives concealed under his woollen sweater. Less than three weeks later he was being tried by the authoritarian regime and pondering "how in the name of the 'wee man' " he had ended up there.
It had been an extraordinary journey for the boy from Partick who grew up to become an iconoclast with a social conscience, a charming and committed anarchist who, disgusted by Franco's repression and brutality, felt his mission to Spain was "the only honourable thing to do."
In the end he was sentenced to 20 years, released after three, but subsequently found himself on trial at the Old Bailey, accused of being a member of the Angry Brigade, a militant group behind a string of bombings in England in the early 1970s – another sensational episode in a life chronicled in his entertaining autobiography My Granny Made Me An Anarchist.
Born in Glasgow and brought up in a God-fearing family, he was raised in a tenement flat in Partick where, aged five or six, he had his tonsils removed on the kitchen table. He and his mum later moved to Blantyre where he attended Calder Street Secondary School.
His maternal granny, Agnes, who helped bring him up, was a huge influence on his boyhood, instilling a strong sense of right and wrong and introducing him to the concept that "we are not bystanders to life". She gave him a clear moral map and an inerasable ethical code, he said, which he felt led him to anarchism.
At 16 he joined the Anarchist Federation in Glasgow, became active in CND and campaigned to prevent US Polaris missiles being based in the Holy Loch. He also became a member of the Labour Party Young Socialists but was soon disillusioned with Labour and CND. It was after the Cuban missile crisis of 1962 that he focused on issues specifically from an anarchist perspective. He said he went to Spain in 1964 as a direct result of the death by garrote-vil of two young anarchists. Telling his family he was going grape-picking, he collected the explosives in Paris and hitchhiked to Madrid, but his cell had been infiltrated and he was arrested along with a Spanish accomplice. Christie, who had to watch his co-accused being tortured, told the court he thought he had been carrying leaflets – a blatant lie to save his skin. He served his sentence working as a printer and medical auxiliary at penitentiary workshops and Carabanchel Prison – a fact he proudly recorded on his Facebook profile.
Pressure from intellectuals Bertrand Russell and Jean-Paul Sartre helped to secure his freedom in 1967, though the Franco regime claimed much of the credit was due to the pleas of his mother, who sat through his court martial and lobbied Franco.
Back in the UK he worked in the bookshop of English anarchist and writer Albert Meltzer and helped to revive the Anarchist Black Cross prisoner support organisation. But just five months after Christie's return his flat was raided by police investigating a mortar device planted outside the Greek embassy. They found no explosives but discovered propaganda leaflets similar to fake dollar bills and he was charged with forgery and bound over in the sum of £300.
He went on to work as a gas conversion engineer and in 1972 was one of eight defendants accused of conspiracy to cause explosions as part of The Angry Brigade. After being held in Brixton prison for 18 months Christie was acquitted on all charges, including possession of two detonators which he claimed the police planted in his car.
By this time he was married to Brenda, another political activist he had met in London on Bastille Day 1968. Kept under surveillance for years, they were advised to move out of London following the 1974 kidnapping in Paris of a Francoist banker. They went firstly to Yorkshire and then, in 1976, to Sanday in Orkney where their daughter Branwen was born. The couple had founded anarchist publishing house Cienfuegos Press, and continued that work in Orkney. There he also edited and published a local newspaper, the Free-Winged Eagle.
They later moved to Cambridge, Hastings and Clacton, Essex. Over the years Christie had various jobs, including as editor of an unauthorised British edition of Pravda and as editor and publisher of the English-language version of the Russian weekly Argumenty i Fakty. He also edited the Hastings Trawler magazine under the pseudonym Francisco Ferrer I Guardia.
In addition he published, through Christie Books, his Pistoleros trilogy, an account of the life of a fictional Glaswegian anarchist Farquhar McHarg caught up in the Spanish Civil War.
Interviewed some years ago by the literary journal 3:AM Magazine (tagline: "Whatever it is, we're against it"), he reflected on the political situation three decades on from The Angry Brigade trial and observed that things which appeared possible 30 years ago – and the way to achieve those ends – would no longer work.
"The good thing is that new forms of anti-capitalist protest have emerged... The new kids on the block are finding more imaginative and exemplary ways to make the bad guys uncomfortable than blowing them, or their houses, up."
Christie, who was widowed last year, lived latterly in Chelmsford, where he died with Branwen by his side. He is survived by his daughter and granddaughters Merri and Mo.