Scotsman Obituaries: Dennis Buchan, Scottish artist whose fans included actor Vincent Price
Dennis Thorne Buchan RSA, artist and lecturer. Born: 25 April 1937 in Arbroath. Died: 22 June 2023 in Dundee, aged 86
Dennis Buchan was a somewhat undervalued Scottish artist yet his strikingly vibrant work is held in collections across the UK and America, notably in that of the legendary Hollywood actor Vincent Price.
A native of Arbroath, he studied under Alberto Morrocco, the celebrated artist and head of the School of Painting at Dundee's Duncan of Jordanstone College of Art, who encouraged Buchan's love of colour.
He then went on to embrace the American abstract expressionism movement which sprang up in New York City in the 1940s. Luxuriating in its painterly freedom, he fused the style with the Scottish Colourist tradition and Pop Art, taking his inspiration from landscapes and seascapes while simultaneously stimulated by an eclectic soundtrack of anything from jazz to classical music, Bob Dylan and Nat King Cole.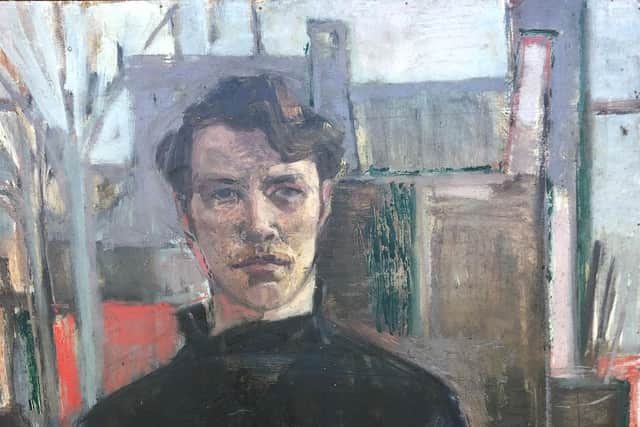 As he explained to the Royal Scottish Academy, of which he had been an associate since 1975 and full member since 1991, his paintings were about living: "Emotional responses to environments and situations, always more romantic in stimulus than intellectual. Colour relationships, inspired by music, movement and change of space all have their place in the development of the pictorial image… they are not stories, but evocative manifestations."
Dennis Thorne Buchan was born into a creative family. His father David, a bus driver, was also a musician who played saxophone, trumpet, piano and organ, while his mother May had been a competitive highland dancer and his cousin, the late Peter Mylles, was a musician and artist.
He was educated at a local primary and then at Arbroath High School before going to Duncan of Jordanstone in 1954 and completing a postgraduate degree at Hospitalfield, an art school in Arbroath in 1959. He staged his first one-man exhibition that year at a Dundee furnishing store.
Buchan taught briefly before undertaking his National Service with the Royal Army Educational Corps, returning to Duncan of Jordanstone as a full-time lecturer in 1965 in the Fine Art department where the job also came with some studio space.
In the interim he had become a professional member of the Society of Scottish Artists and had also won his first major awards – the Royal Scottish Academy's Keith Prize and Latimer Award in 1962 and 1963 respectively. He would later win A Scottish Arts Council Major Award.
Since 1968 he had had a long relationship with the New Charing Cross Gallery and Compass Gallery, Glasgow, the latter celebrating his life and work last year with a new solo exhibition Coastal Connections.
Buchan, who took part in numerous group shows across the UK and in cities including Geneva, continued to concentrate on abstract expressionism, with his energetic paintings becoming even more colourful throughout his career.
Writer, critic and artist Cordelia Oliver observed: "Energy, indeed, it seems to me, is the essence of Dennis Buchan's painting: energy that he sees, feels and hears all around him as he remains at the still centre of it all, sensing, perceiving, enjoying, appreciating and, in the end, recording his experience in remarkably apt visual terms."
A member of Dundee Group Artists Ltd from 1975-81, in the late 1970s he served on the Scottish Arts Council Awards Panel and in 1988 won the William J Macaulay Award for the most distinguished work in the annual RSA exhibition.
Although Buchan loved lecturing, and at one point his students included his daughter Wendy who he tutored in drawing and painting, in 1991 he was granted a period of study leave.
He used the opportunity to travel to New York, Holland, Belgium and Barcelona and in 1994 left Duncan of Jordanstone completely, to retire to paint full-time.
He produced a well-received Royal Scottish Academy Christmas card in 1995 and was convenor of the annual RSA exhibition in 2004, providing work for the poster and catalogue.
A humble man with huge talent and intellect and a dry wit, Buchan gave up painting a few years ago but continued to exhibit.
His work is held in national and international, private and public collections from the Edinburgh Hospital Group, Dundee College of Education, Leicester University and the Scottish Arts Council to Dundee Museum & Art Galleries and the Vincent Price Collection.
The actor and his wife donated 90 works from their personal collection to East Los Angeles College, California, in 1957 which renamed its art gallery the Vincent Price Art Museum in his honour.
For most of his working life Buchan lived in Arbroath and for a while had a flat on the shore where he would always have binoculars to hand, observing birds and the movement on the sea.
Divorced from his wife Elizabeth, over the last decade he was based in Carnoustie with his longterm partner Pam, who predeceased him.
Dennis Buchan is survived by his daughter Wendy, his son John and grandchildren Lana, Sarah, Kirsty, Cara and great grandson Jackson.
If you would like to submit an obituary (800-1000 words preferred, with jpeg image), or have a suggestion for a subject, contact [email protected]