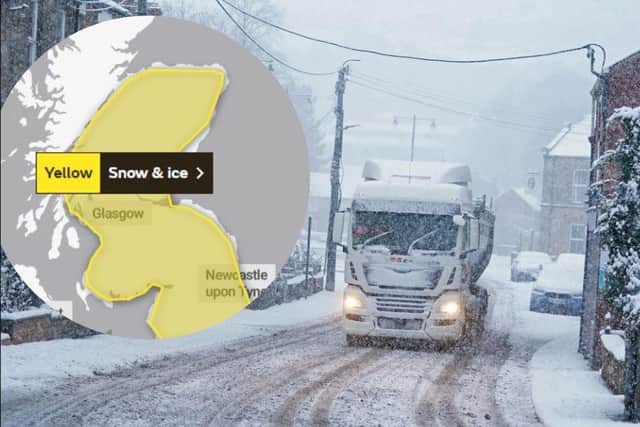 Warnings for snow and ice are also in place through the weekend until Sunday for much of Scotland except for the western Highlands, with snow of up to 5cm possible in low areas, and 10cm of snow in areas.
The further yellow snow and ice warning is in place in Scotland from 3pm on Saturday to 6am on Sunday.
Met Office meteorologist Alex Burkill said that a pocket of western Scotland covering Glasgow and the county of Argyll may be the only region untouched by heavy rain and snow over the next 24 hours.
He added: "There has been another yellow snow and ice warning issued for Scotland down into northern England for Saturday afternoon into Sunday morning where we could again see further snowfall building up throughout the weekend.
"And then it does look to remain unsettled as we move into the start of the new week as well."
Mr Burkill said that areas of the Highlands could see minus 17C, after this year's record low of minus 16C.
The temperature dropped to minus 16C at Altnaharra in the Highlands on Wednesday night, making it the coldest night of 2023 so far, the Met Office said.
It also marked the lowest minimum temperature recorded in the UK in the month of March since 2010, when Braemar in Aberdeenshire dropped to minus 18.6C.
The warning from the Met Office reads: "An area of low pressure moving in from the southwest through Saturday night into Sunday will bring a band of precipitation across much of the UK.
"The forward edge of this is expected to fall as a transient band of snow which may bring accumulations over higher ground, before turn increasingly to rain from the south through the night. However, for some places in the north of this area, this band may become slow-moving and snow may persist into Sunday morning.
"For much of the area, accumulations likely to be confined to elevations above 200m, with 2-5 cm possible, 5-10cm possible above 400m. These accumulations likely to begin melting with the onset of rain, although, during this transition freezing rain is possible giving icy conditions, mainly over higher ground.
"In the north, where the band of precipitation becomes slow-moving, similar accumulations are expected although this will not melt, with lying snow remaining through Sunday."
The snow comes as part of Storm Larissa, which has also brought 50mph winds and up to 40cm of snow in some parts of the country.
Amber weather warnings are in place in Yorkshire and North Wales, which is set to cause significant disruption.