The record store's key role in amplifying my love of music - Emma Newlands
This year's Record Store Day takes place this Saturday – 15 years since the first ever such event, and now a major global annual occasion that organisers say sees stores participate on every continent except Antarctica.
News of the forthcoming day, in which several independent Scottish outlets are taking place, has sent me on a nostalgic whirlwind back to the start of my own love of music, where by crossing the threshold of somewhere selling tunes and related paraphernalia I was entering a world of fandom I would never leave.
That, combined with a recent story I did about a music-focused tech start-up looking to merge the convenience of streaming and fan-friendly rare, collectible assets like images of hand-written song lyrics, has made me realise how different it is for youngsters now looking to find out and then listen to their favourite artists.
Anyone who grew up with the internet will be horrified by how little we had access to, music-wise, 30 years ago compared to now – the late, great pop music Bible that was the magazine Smash Hits, TV show Top of The Pops, and the radio being my main ways of discovering bands.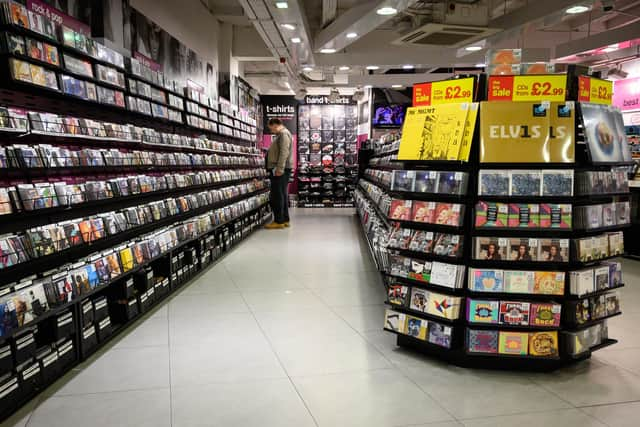 I would then head into, say, Our Price, and the huge Virgin Megastore on Edinburgh's Princes Street, among others including various independents, to get myself my very own copy of my new favourite artist's latest single or album – maybe even a poster.
And it was a real thrill handing over my pocket money to secure my own small-scale ownership, something to treasure. I would pore over sleeve notes and lyrics, which made you deeper entrenched in the artist's world. The copy I still own of the Manic Street Preachers' Life Becoming a Landslide EP, for example, and accompanying poster with various images of the band as a four-piece, a prime example.
Appeal
Being limited by what you could afford meant you would listen to albums again and again, and learnt to love songs whose appeal took longer to emerge – but was often longer-lasting. A very different picture to the current day, with Spotify's top-streaming artist alone last year notching up more than 18.5 billion streams. That said, vinyl's comeback, with sales in the UK in 2022 reaching a 30-year high of 5.5 million units, shows that not everyone is totally on board with your mobile phone and its instant but ephemeral access to virtually all music ever recorded.
The record store also proved a regular haunt and haven when I spent time abroad for my languages degree, much of which was at French and Spanish branches of the wonderful record/book/electronics shop Fnac. I listened to one of the first Belle & Sebastian records on one of its listening posts, giving me access to a slice of Scotland from another country, and on one occasion I decided on the spur of the moment to buy a copy of Mutations by Beck.
And I fell for it, playing it endlessly on my CD Walkman, and it sparked not just mentally signing up to Beck's fanclub forever (seeing him live twice last year alone). But it also taught me that sometimes it's worth trying something new – because it can be a song worth playing in every sense.
Comments
 0 comments
Want to join the conversation? Please or to comment on this article.