Peak vinyl? Why there's plenty of life left in music industry's oldest format
The past decade or so has seen, to the surprise of many, a vinyl revival. In this age of one-touch streaming and digital downloading the humble gramophone record, which can trace its roots back more than 140 years, has become the format of choice for growing numbers of music lovers.
While some of us have not stopped buying albums, even when their existence appeared threatened by the advent of the CD, and more recently, streaming services, the vinyl renaissance appears to have been underpinned by younger generations discovering the delights of spinning a 12-inch piece of plastic. Best sellers of the past year have included releases by the likes of Taylor Swift, Harry Styles and Wet Leg. Collecting "vinyls" has become the cool thing to do for Generation Z - so cool that, if some reports are to be believed, as many as half of those young folks don't actually possess a record player.
Clearly, people value the disc's physical properties - the sleeve's artwork and lyrics, the tactile delight of placing the record on the deck, cleaning it, dropping the needle into the groove. It's a ritual that connects the listener with the artist and their creation in a way that a remotely-hosted data file never will, and trumps minor irritations such as scratches, warps and hissing.
Last year saw vinyl record sales, by value, eclipse those of CDs for the first time in more than 30 years, having risen over a period of 15 years. Some of the world's biggest artists and bands, including Adele and Coldplay, had to queue up to have their records released on vinyl, because of global shortages in capacity and raw materials, including PVC.
Record buyers will have noticed prices rising, sharply in many cases. While a new release on CD has remained at around a tenner, the equivalent LP can often cost upwards of £30. Factor in the cost-of-living spending squeeze and the growing popularity of fixed-price monthly streaming services and smart speakers and observers are posing the question: have we reached peak vinyl?
Judging by recent activity in the record retailing market north of the Border the answer would be a pretty emphatic no. Edinburgh, for example, has seen the opening of Thorne Records in Bruntsfield, Assai Records in the shadow of the Capital's famous castle and the effective rebirth of city institution Avalanche, within its new home of Waverley Market. Fopp, meanwhile, has just reopened its doors, having relocated to the west end from Rose Street. Indeed, Fopp's parent company HMV recently returned to profit for the first time since it was rescued from administration in 2019 as vinyl sales surged. The clamour for new vinyl has also boosted interest in second-hand records, with demand for the latter likely to rise as consumer purse-strings are tightened.
Demand for turntables and associated paraphernalia has also been robust and looks set to continue if the number of new models still being launched is anything to go by. Rewind a couple of decades and hi-fi chain Richer Sounds, which has Scottish stores in Edinburgh and Glasgow, would struggle to sell you a record player amid the prospect of a digital-only future. Today, there are more than 100 to choose from, with prices ranging from little more than £100 to a wallet-busting £4,500.
Another audio retailer, Leith-based Loud & Clear, assures me that the turntable and vinyl markets remain "very buoyant". Business is being driven, in part, by younger music lovers discovering the limitations of the bargain-basement portable players that often cost less than a couple of full-price albums and seemingly make the ideal Christmas or birthday gift. Most will give a rather unfavourable impression of analogue reproduction while chiselling away at the lacquer. In fact, played on equipment of half-decent quality, and handled with care, most records are capable of reproducing sound as accurately as a high-definition pure digital file, and with arguably greater enjoyment.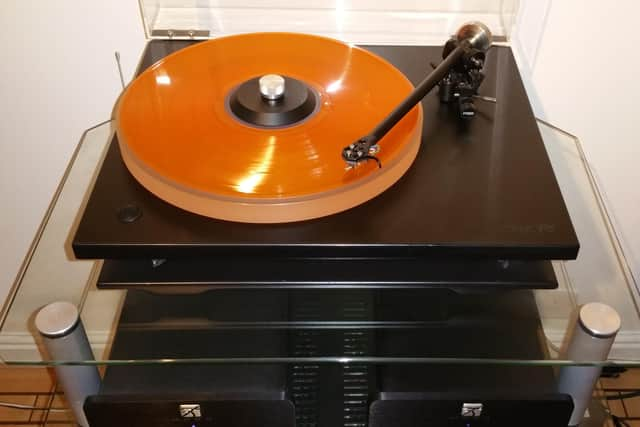 Loud & Clear is currently doing a steady trade in needles, or rather styli, and cartridges - the bigger bit on the end of the turntable tonearm that houses the stylus - to replace damaged items, noting: "As we can all guess it's the newbie users who tend to have accidents during their formative time with decks and vinyl."
So what of that peak vinyl assertion? The term has also been uttered in relation to sectors as diverse as oil and gin, and forecasting tends to be all over the place. Karen Emanuel, founder and chief executive of Key Production Group, which specialises in making vinyl records, CDs, DVDs and cassettes, as well as bespoke packaging for music products, believes the music landscape is going to see significant changes in 2023 in regard to the consumption and product balance within physical music formats. Factors are likely to include the cost-of-living crisis, meaning lower disposable incomes among consumers, as well as higher energy costs for manufacturers and distributors.
"This may sound controversial, but we may have reached 'peak vinyl', which means new trends will play out in 2023," she says. "We're hearing from some experts that records won't be released in so many format variants this year - so fewer colours of vinyl, and maybe no super-deluxe option. Who knows, we may even return to liking the sound of the CD."
Pushed for a prediction, I can see record sales, by volume rather than value, plateauing after several years of rapid growth. However, once discovered, people may find it very hard to kick the vinyl habit.
Comments
 0 comments
Want to join the conversation? Please or to comment on this article.