Spring general election might be best for the Conservatives (and worst for SNP) – John McLellan
With nearly three-quarters of the public wanting a general election before the end of May, growing impatience may only worsen the Tories' electoral chances
Some Scotsman readers, well I'll guess quite a few, might not appreciate more references to 1966 and all that after Sir Bobby Charlton's death on Saturday, but Kenneth Wolstenholme's famous words as the final whistle approached might well apply to triumphant Labour supporters after last week's double by-election victory.
They certainly seemed to think it was all over as they celebrated at Tamworth's football ground with Sir Keir Starmer ─ in Mid Bedfordshire, Labour's biggest overturning of a Conservative majority since 1945 tells its own story, low turnout or not ─ but of course, there is a lot longer to go before the leader lifts the trophy than it took for Sir Geoff Hurst to put the World Cup result beyond doubt.
Some Conservatives might hope a political VAR will intervene to chalk off Labour's commanding lead and bring the sides level just before full time on this parliament, but that's almost as likely as Sir Geoff's third goal being retrospectively disallowed for not crossing the line. I can well remember Rishi Sunak's determined optimism as every measure of Conservative opinion pointed to a Liz Truss victory in last year's leadership election, so a repeat of the glass-half-full approach to the situation he now faces is only to be expected. But as by-election after by-election confirms the Labour resurgence the polls are predicting, the glass is three-quarters empty and only the deluded will honestly believe it's all still to play for, unless some unimaginable scandal engulfs Labour's starting XI.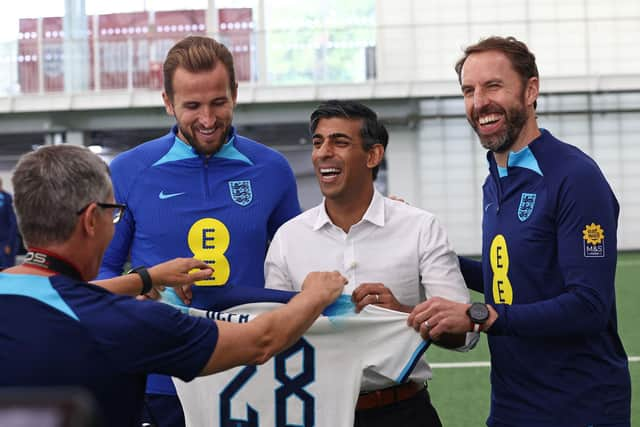 If there was ever any chance of the public buying the strategy of transforming Mr Sunak into a change candidate, with policies like the smoking ban and the abolition of A levels unveiled at the Manchester Conference no one was demanding, it has surely been swept away by the by-election drubbings, if there was ever any possibility of success in the first place. As ex-Chancellor George Osborne told the Sunday Times, "he's not a rabble-rousing populist who can somehow present himself as an outsider to Westminster". Besides, it's hard to distance Mr Sunak from the Johnson era while also associating Sir Keir with Jeremy Corbyn.
Equally, it's deluded to expect Mr Sunak just to chuck it. With polling showing a consistent Labour lead of around 45/27, the question for him is how to prepare for the long term if defeat is all but inevitable. A new survey from political researchers More in Common indicates 73 per cent of voters want an election by the end of May, but only 15 per cent support the Conservative preference for autumn. Maybe there's a small chance of a scraped victory if Labour's prospectus is subjected to sustained scrutiny, as Mr Osborne argued, but that presumes their current approach of giving virtually nothing away will succumb to pressure. It also banks on any revelation producing a big enough reaction to counter growing impatience if there isn't a spring vote.
That wages are now rising faster than prices might discourage the Bank of England monetary committee from making further cuts in interest rates, and it's a huge gamble if Mr Sunak's team thinks there might be a wages-driven feelgood factor next summer which will generate enough momentum to reverse the mood for change. Hanging on in quiet desperation might, as Pink Floyd sang, be the English way, but it could just increase voter frustration and widen the gap. Delay beyond summer also risks illegal immigrant Channel crossings pushing more far-right voters to Reform UK.
But the best reason for going to the country sooner than later is that despite claims to the contrary, Labour needs as much time as possible for the economy to recover to give more room for manoeuvre. It's therefore in Conservative interests to limit their scope for immediate populist gestures, like those in which the SNP indulged in 2007 before the financial world imploded. An early call forces Sir Keir to show his hand, if indeed he is ready to play it, without which the proper scrutiny Gorge Osborne wants is all but impossible. The longer the wait, the more time Labour has to prepare, tour the boardrooms as they have been doing, and attract more high-profile support from ex-Conservative backers.
In Scotland, there is an even more compelling case because of the disarray in which the SNP is now mired. There was much initial praise for Humza Yousaf's conference speech last week, but it quickly unravelled amidst a damaging row with local authorities over his arbitrary council tax freeze, as the lack of funds for his pre-election sweeteners became clear, and the potential expense of his Scottish bond "kilts" gimmick was exposed. There are also suggestions that proposals removed from September's Programme for Government after civil servants could not sign off the budgetary implications were given a re-tread for a party-political speech over which they had less control. Mr Yousaf now faces very tough choices when setting his budget at the end of the year, as will councils when they must confirm their spending in February. Spring will inevitably be dominated by bitter disputes over cuts to essential services.
If, as is being spun, Mr Yousaf is undergoing the same conversion to a pro-business agenda as Labour, and is waking up to what has been glaringly obvious for months, that jacking up taxes is incompatible with cost-of-living pressures, then he might find himself unable to remember exactly what it is he believes in, apart from independence which polls repeatedly show is not a priority for most voters. Then there is the police investigation into SNP finances simmering away on the back burner. And as for the deal with the Greens, it's the gift that just keeps giving for every party except the SNP.
As Rutherglen demonstrated, the SNP is not fit to face an election campaign, and Scottish Conservatives could benefit in key seats too. If they think it's all over for Mr Sunak, it could be for Mr Yousaf too.
Comments
 0 comments
Want to join the conversation? Please or to comment on this article.