Rishi Sunak speech: Prime Minister axes HS2 extension and pledges road upgrades for Scotland, as 'every penny' diverted into hundreds of transport projects
Rishi Sunak has confirmed the rest of the HS2 rail link will be scrapped in his first Tory party conference speech as Prime Minister – with some of the money saved diverted to projects helping Scotland
Rishi Sunak has officially confirmed HS2 link to Manchester has been axed, as he pledged the money would instead be diverted into "hundreds" of new transport projects.
Dubbed "Network North", the Prime Minister told the Tory party conference that "every penny" of the £36 billion in funding saved from axing the high-speed rail line north of Birmingham would be spent on expanding transport infrastructure in the UK's north and Midlands.
And he pledged some of that money would go directly towards improving Scotland, saying the Tory Government would "connect our Union with the A75, boosting links between Scotland and Northern Ireland".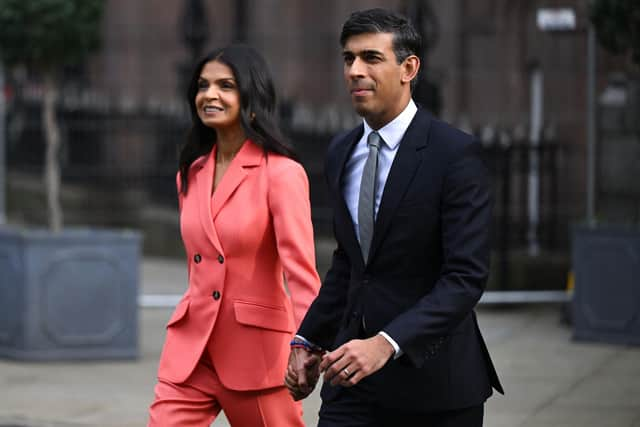 Mr Sunak said: "With our new Network North, you will be able to get from Manchester to the new station in Bradford in 30 minutes. Sheffield in 42 minutes, and to Hull in 84 minutes on a fully, electrified line."
In explaining his reasoning for the decision, Mr Sunak said: "The facts have changed."
The pledges were delivered after his wife Akshata Murty said she sometimes reminded Mr Sunak he is "fighting for his values" and for "this party's values".
She told the Tory party conference: "Sometimes when the going gets tough, I remind Rishi that he's fighting for his values, that he's fighting for this party's values, knowing that it's a hard road ahead. That success is hard won.
"Rishi you know this, you know that doing the right thing for the long-term, even when it's hard, is the right thing to do. And I hope you also know how proud you make our girls and me every single day."
As he opened his speech on the main stage, the Prime Minister told his wife: "Thank you Akshata for that introduction, and thank you for always being there for me. My wife. Truly the best long-term decision for a brighter future I ever made."
Comments
 0 comments
Want to join the conversation? Please or to comment on this article.