Fantastic resurfaced towpath by Scottish Canals and Sustrans throws down the gauntlet for pothole-free cycling – Alastair Dalton
Forth & Clyde Canal improvements an exemplar that others should follow
Looking for a pothole-free route to ride where you also don't have to contend with other vehicles? I've just found a new cycling superhighway in Glasgow – and disappointingly, it's no thanks to the road improvements for last month's UCI Cycling World Championships.
In fact, what I came across was only pretty cursory improvements. And although some stretches of the route have been completely resurfaced – such as a section of Great Western Road near Byres Road – in others it looks like just dobs of tarmac have been added to the worst bits.
However, my doubts about how much those involved really cared about using the event to encourage more everyday cycling in Scotland rather than just using it to showcase the sport's elite talent seemed to be confirmed when the race route re-opened to us ordinary riders.
To my astonishment, half of an advanced stop line at a traffic light junction on the route, which is designed to improve cyclists' safety, had been covered by patching work. The repair, which Glasgow City Council described as a "patch", obscured the stop lines and half the cycle symbol that mark the box on Fitzroy Place, on part of Sauchiehall Street west of Charing Cross.
In my experience, where such lines and symbols are clearly visible, motorists are more likely to comply with them. Where they are faded, they are often occupied by stationary vehicles, perhaps because drivers have failed to spot them, which can cause a hazard, especially for cyclists waiting to turn right.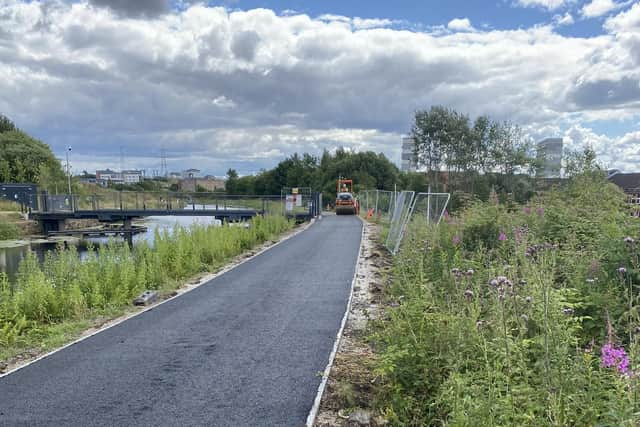 What a contrast then, when I tried an alternative route into the city centre from the west, via the Forth & Clyde Canal. A section of the towpath had been closed for months during the construction of a bridge over the Stockingfield junction between two arms of the canal in Maryhill. But it's now open – and what a transformation.
A newly-resurfaced stretch over nearly two miles between Scottish Canals' headquarters in Applecross Street, just north of the city centre, and the new bridge, is the epitome of smooth running. It also has the added benefit of being away from other traffic – although cyclists should always be respectful of walkers – and affording some lovely views.
It forms part of a continuous off-road path on the national cycle network between Bowling, on the Clyde at the canal's west end, and Edinburgh at the east end of the Union Canal. The work included £965,000 funding from path developers Sustrans Scotland.
It even has solar-powered LED lighting embedded in the towpath, which is like cycling along a runway at night. As well as enjoying the novelty, I found it a vital guide for negotiating the canal's sharp bends so I didn't end up in the water.
Comments
 0 comments
Want to join the conversation? Please or to comment on this article.