Bikepacking on the Cateran Trail in Perthshire and Angus: It's all about travelling light – Alastair Dalton
The exhilaration of climbing 4,000ft – and down again – on the Lezyne Cateran Dirt Dash
It's camping by bike – but not as you know it. Welcome to my baptism of fire into the world of bikepacking.
Forget cycling with heavily-laden panniers either side of each wheel, as I was soon to discover after being invited to take the plunge by joining a 53-mile trek over the circular Cateran Trail in Perthshire and Angus at the weekend.
This is an entirely different approach, where minimum kit is carried on mountain bikes in several smaller bags slung across the top of the frame for optimum weight distribution while tackling rugged terrain.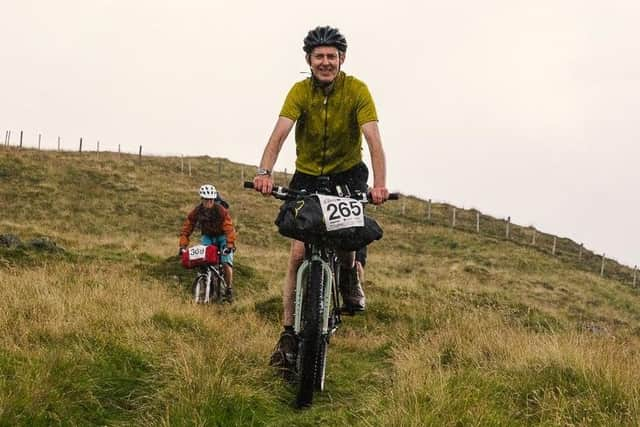 Effectively micro-camping, it came as a eye-opener as I struggled to stuff my regular-size gear into the bags while my fellow riders had specialised, ultralight gear that compressed to virtually nothing.
I particularly marvelled at the tent I was kindly lent by co-organiser and Bikepacking Scotland founder Markus Stitz. Reminiscent of a large poncho when unwrapped – but providing plenty of room and keeping me dry – it folded up smaller than the sleeping bag I had brought along.
The Lezyne Cateran Dirt Dash (sponsored by a cycle accessories firm) that I had signed up to join was in fact a "reliability trial", not a race. However, I would describe it as an amazing, exhilarating two-day adventure over pretty much every type of terrain Scotland has to offer, which produced many unexpected sights in a part of the country I thought I knew pretty well.
It was all down to the entirely different experience of touring by bike than by car, as taking quieter routes and travelling slower makes for a far better appreciation of the views. If seeing the landscape through your windscreen is like a TV screen, from the saddle, the panorama is IMAX plus.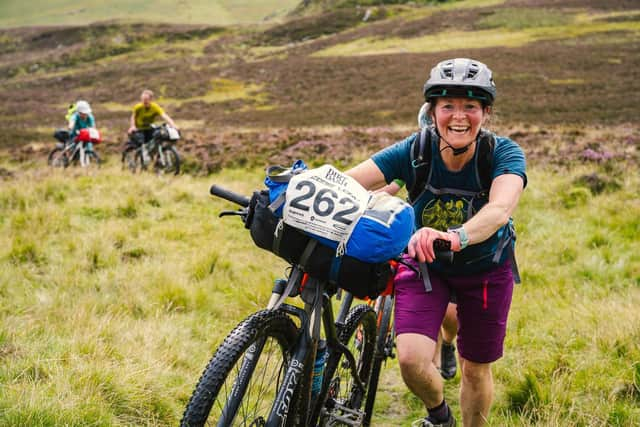 Taking part in the event with some 50 other riders also confirmed for me that the key attraction of cycling is that it can be immense fun, which is often overlooked in its promotion as a green and healthy way to get around. The camaraderie among those I met as we pedalled was also like the sociability of hillwalking, striking up random conversations that are welcome distractions on the steeper sections.
Of course, the route we took can also enjoyed on foot, but the sheer variety of scenery is that much more vivid on a bike than the only incremental changes perceptible while walking. But best of all is being able to drink in the vista while freewheeling for miles down a gently-sloping, empty road – an amazing, life-affirming thrill.
Starting and finishing in the beautiful town of Alyth, with the final leg through the stunning Den of Alyth woodland along the Alyth Burn, the Dirt Dash took in Bridge of Cally and Kirkmichael, with an overnight stop at Spittal of Glenshee before returning through the parallel Glen Isla to the east.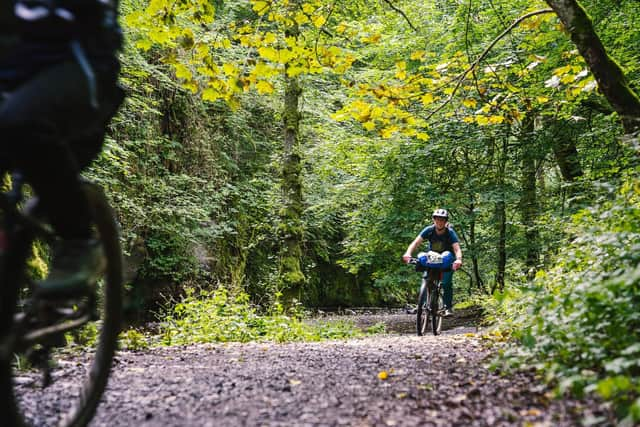 I rode over grassland, footpaths and farm, forestry and open moorland tracks to reach nearly 2,200ft – many of us pushing our bikes – before a heart-stopping 1,000ft descent to our campsite.
However, my limited mountain bike training instantly kicked in, transferring my weight uphill by hanging right back beyond the back of my saddle. The alarming bit was starting to skid – before a fellow rider helpfully advised that you had to have the confidence to ease off on the brakes just enough to maintain traction. It's a fabulous way to build your self-belief.
Central to my enjoyment was my steed itself – a £2,000 Surly Grappler (it is an American company) trail bike kindly loaned by Edinburgh bike shop Projektride – whose big tyres enabled me to handle everything I encountered bar the rockiest sections and massive quagmires, which only my novice's caution prevented me attempting.
For the most part, though, the route was a delight, with many of the roads and tracks deserted save for sheep, pheasants and a couple of tiny kittens. Meantime, Highland cows, donkeys and even llamas in roadside fields gazed at us nonchalantly as we passed.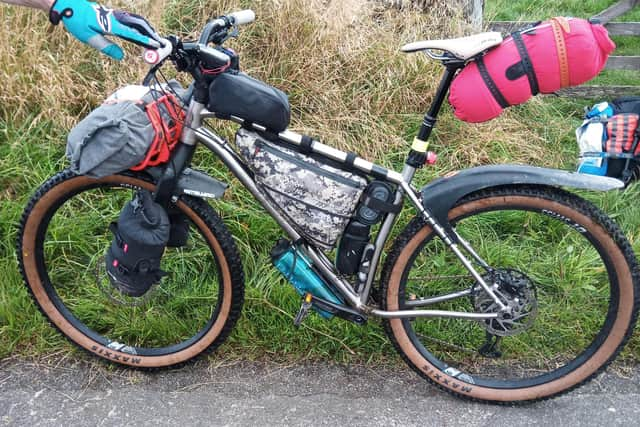 Honesty boxes at farm gates offered eggs and honey for sale – only the latter, alas, suitable bounty for cyclists – while the most unexpected sight was to ride over an ornate 19th-century covered bridge across the River Ardle beside Blackcraig Castle, which is now holiday accommodation.
With no markers on the route, the Komoot navigation app kept me on track, whose audio directions warned me, rather grandly I thought, that I had "left the tour" when I took a wrong turning.
The event was the first to be staged on the Cateran Trail following similar events in Dunoon based on the first in Dorset ten years ago, launched by former bike shop owner Charlie Hobbs, co-organiser of the Cateran dash. The next Dunoon event is on September 23-24, with another Cateran one planned for next May.
Mr Stitz, who is also a round-the-world cyclist and film-maker, was delighted at its improved gender balance compared to the previous events, with a third of the riders female. He said: "The first event attracted skinny males who sawed down their toothbrushes to save weight, but now it has become much more inclusive."
Among the women taking part was an engineer turned physiotherapist and a 67-year-old from Derby who competes in cycling races across the Arctic.
The Cateran Trail, which was named after cattle rustlers and originally designed as a five-day walk, has been hailed as topping better-known routes such as the West Highland Way (WHW), according to one of its founders, Bob Ellis.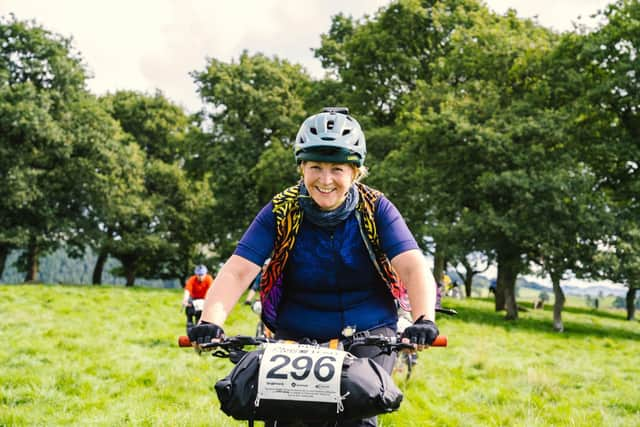 Mr Ellis said: "Many walkers who have done both have said that the Cateran Trail is much more scenic and that you will walk through forests, fields of cattle and sheep. Whereas the WHW is very busy, sometimes on the Cateran Trail, because it is circular and you can start anywhere, you may not see anyone."
Comments
 0 comments
Want to join the conversation? Please or to comment on this article.