David Cameron in, Suella Braverman out is definitely an improvement but it won't save Rishi Sunak – Euan McColm
Enduring another year of Conservative government will be easier after Cabinet reshuffle
Even the most optimistic member of the Conservative party must surely be struggling to believe Rishi Sunak's dramatic Cabinet reshuffle will save his government. The damage was done long ago; defeat to Labour at the next election remains all but inevitable.
The Prime Minister indulged Braverman's divisive, sometimes downright dangerous, rhetoric for far too long for him to convince that he wasn't – at the very least – willing to let her pander to the hard right on the grounds he thought it might save his job. And Sunak cannot escape the truth that, in Cameron, he has appointed to one of the great offices of state a man whose premiership ended in failure and humiliation. Cameron's decision to call an EU referendum he didn't want – in a bid to placate the crank right of the Conservatives – and then end up on the losing side is a legacy he will never escape.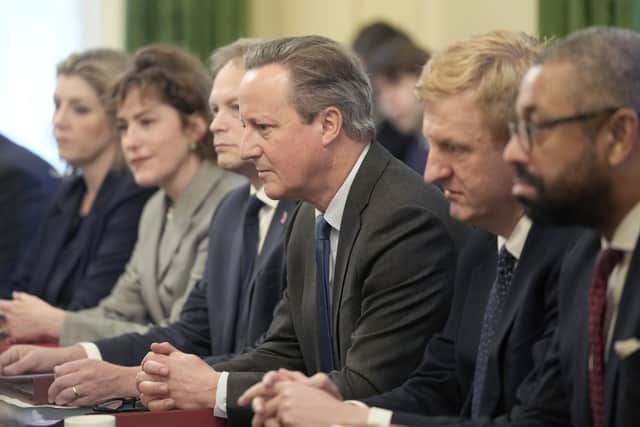 The removal of Braverman and resurrection of Cameron underline what we already knew: Sunak is a leader without focus or vision. Just a few weeks ago, he addressed a Tory conference dominated by the right, where Braverman's hateful rhetoric was hailed as the clear articulation of what "ordinary people" think. It seemed clear the Prime Minister had decided that populist rabble-rousing was the way to go. But no matter how low his party went, Sunak couldn't dent Labour's poll lead.
Some have said the Prime Minister's reshuffle is an attempt to move the Conservatives back onto the political centre-ground, where he feels most comfortable. I'll have to take their word for the idea of Sunak as centrist – I'm not sure I've seen him commit to any ideological position for long enough that I could confidently say what brand of Conservatism he represents.
Regardless of what Sunak believes in – if, indeed, he believes in anything at all – there is no question that the Tory government today should be more palatable to those who believe in liberal, pragmatic politics than the Tory government of a week ago.
New Home Secretary James Cleverly may not be an especially distinguished political figure but he is not Braverman and that, alone, is enough to mark him as an improvement. If he can refrain from picking fights with the police and avoid demonising the poorest in society then he'll do for now.
As for Cameron, well, there is no point in pretending that he doesn't bring something to his new job. He has well-established relationships internationally which, at a time of such intense global turmoil, should be useful. What's more, he knows only too well the damage caused by Brexit. Anyone who believes the UK's departure from the European Union to have been a mistake must surely prefer him as Foreign Secretary to a hardline Brexiteer who views our European neighbours with contempt.
If we are to endure another year of Conservative government at Westminster, better it's this iteration than the one that preceded it.
Comments
 0 comments
Want to join the conversation? Please or to comment on this article.