David Cameron's return shows Sunak knows general election will be fought on the centre ground – John McLellan
Sacked Home Secretary Suella Braverman is wrong to think that playing to the right wing is the road to electoral success
It didn't take a political genius to work out that if Rishi Sunak ever had serious plans to stand as the change candidate for Number 10 in the next general election, they went in the bucket the moment he decided to make David Cameron Foreign Secretary. Wowsers, said BBC political editor Chris Mason, and with Fleet Street's finest crawling over sacked Home Secretary Suella Braverman's future, it is a tribute to the Prime Minister's new-found media control that there was not a whiff of Dave's astonishing return in the Sunday papers. Compared to the inability to manage Mrs Braverman's increasingly confrontational communications, that's a development in itself.
It was quite the rabbit to pull out of the hat and it looks like any notion of arguing Mr Sunak's Conservative party represents a break from the previous iterations, always for the birds, has been abandoned. Instead, it aims to frame the Johnson/Truss era as an aberration, and the Sunak administration as continuity, common sense, one-nation Conservatism. It is the last chance to reset the party's direction and focus his whole administration on the glaringly obvious reality that ceding the centre ground will gift Labour a landslide victory next year.
Once it was clear that Mrs Braverman had defied Downing Street's instructions to tone down her Times article attacking the Metropolitan Police for "a perception that senior police officers play favourites when it comes to protesters", she left Mr Sunak with no choice but to sack her and it was only a question of when. Unless Mrs Braverman is monumentally stupid, which I doubt given her Cambridge and Sorbonne education, she will have known that such open defiance was not survivable, and now it's a lot clearer why it took time for Mr Sunak to action his plan.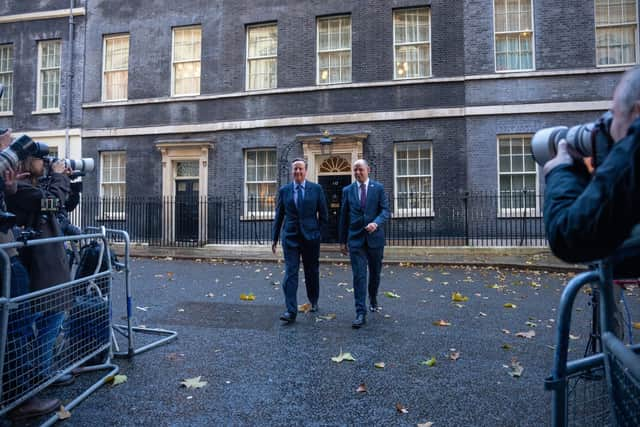 Where Mrs Braverman's judgment is questionable to say the least is thinking that playing to the right wing was the road to electoral success. It has taken Labour eight years to relearn the lesson that elections are won in the middle, something of which her fellow travellers seem to have lost sight, if they ever had it in the first place. Even her assertion that some homeless people were making a lifestyle choice would not necessarily chime with the far right, because of the high number of long-serving ex-armed forces personnel amongst their ranks, people unable to cope without a strict routine and their every need provided.
Just because people in Red Wall seats like Hartlepool were patriotic Brexiteers does not mean the overwhelming 2019 victory was won by right-wing rhetoric, rather than a combination of exasperation with the Brexit saga and the unelectability of a Labour party led by a perceived serial supporter of terrorist causes.
The stream of revelations coming from the pandemic inquiry is not helping Mr Sunak move on from the chaos of the Johnson administration, and a Conservative defeat next year still looks almost inevitable, but Mrs Braverman's increasingly confrontational language was more likely to push moderate voters in comfortable and previously safe Blue Wall seats to the Lib Dems or moderate Labour candidates. And these are the seats which will make all the difference between a humiliating rout and solid base on which to build a recovery during what strategists will hope is a short spell in opposition.
While Mr Cameron's return has dominated headlines for the last 24 hours, attention tomorrow will shift to the Supreme Court's ruling on the legality of the Rwanda deportation scheme, and weekend reports suggested the government is not confident of victory. In that case, the aim of stopping illegal immigrants crossing the English Channel in small boats will rely on continuing to improve cooperation with France, which with Mr Cameron at the Foreign Office, the affable James Cleverly at the Home Office, and without Mrs Braverman shooting from the lip has a greater chance of progress. Dialling down the rhetoric on immigration at a time when the crisis is mounting in the EU should also help with a new appeal to moderate voters.
When voters will get their say is moot, and must have been part of Mr Sunak's offer to Mr Cameron, and a spring election now looks less likely than autumn, unless it's all part of a big bluff to lull the opposition into believing they still have time to prepare. Maybe Mr Sunak is keeping his cards as close to his chest as he has done over the past week, but "Come on Dave, it will only be for six months max" would hardly have been the most attractive offer. The danger of such a high-profile appointment of an ex-Prime Minister is being repeatedly overshadowed by the Foreign Secretary at a time when international affairs ─ Gaza, Ukraine, China and war-driven emigration from Africa and the Middle East, and climate change ─ dominate the news agenda.
Here, Mrs Braverman's sacking and the return of Mr Cameron should be good news for the Scottish Conservatives precisely because it removes a negative voice and shores up the centre, and although a promotion for Michael Gove would have done the same thing, at least there is someone at the heart of the UK Government with a firm grasp of Scottish politics. Despite an excitable claim from the SNP's Westminster deputy leader, Mhairi Black, that Scots would be "appalled" at the return of "the architect of 13 years of Tory austerity cuts, and the disastrous Brexit referendum", he delivered the 2014 independence referendum and established both the Strathclyde and Smith Commissions which delivered more power to the Scottish Parliament. How ironic then, that David Cameron delivered more power for Scotland than the SNP has achieved in 16 years. And for that some Scottish Conservatives might argue they have less for which to thank him than the SNP.
The return of the Dave is unlikely to save Mr Sunak, but at least Labour know the fight for the centre is on.
Comments
 0 comments
Want to join the conversation? Please or to comment on this article.