Suella Braverman: Who is Suella Braverman? Why was she sacked? Why is she being discussed for leadership?
Suella Braverman had defied Rishi Sunak by publishing an explosive article
Rishi Sunak had faced mounting calls to sack Suella Braverman after the now former home secretary accused police of "playing favourites" with pro-Palestinian protesters.
Her comments were branded "divisive" and "inflammatory", while other ministers have declined to back her language and Northern Irish politicians have objected to her use of the country as a comparison while referring to protests as "hate marches".
The furore over Mrs Braverman's comments is just the latest in a long line of rows centred on a minister who has often appeared to be a loose cannon.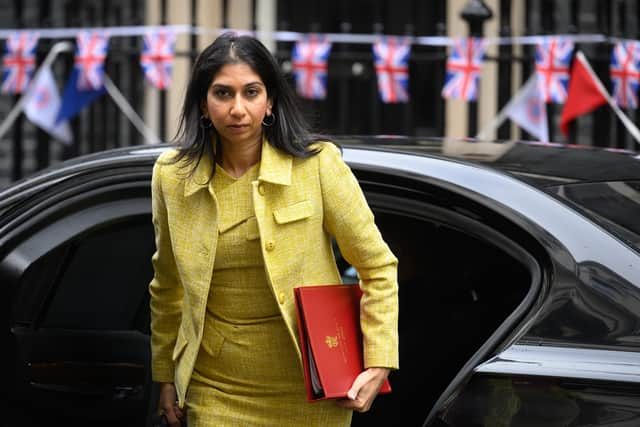 Who is Suella Braverman, and what is her professional background?
A lawyer by training, Mrs Braverman – originally named Sue-Ellen after a character in the American TV show Dallas – practised as a barrister for ten years before she was elected as MP for Fareham, in Hampshire, in 2015 at the age of 35.
She proved to be a fervent Brexiteer, serving briefly as chair of the European Research Group of Tory MPs, and it was the ructions caused by the 2016 referendum that provided her route to ministerial office.
Theresa May appointed her as a junior minister in the Department for Exiting the EU in January 2018, where she served less than a year before resigning in protest at Mrs May's draft Brexit deal.
After a period on the back benches, she was made attorney general by Boris Johnson, where she was criticised by leading barristers for backing the Internal Market Bill that was described as breaking international law in a "specific and limited way".
She also made history in 2021 as the first Cabinet minister to take maternity leave, following the passage of a new law to make an allowance for new mothers to take paid time off from their cabinet roles.
Does Suella Braverman have leadership ambitions?
She was eliminated in the second round, but left an impression as an anti-"woke" campaigner who wanted to leave the European Convention on Human Rights in order to stop small boat crossings in the Channel.
That impression saw her elevated to home secretary by Liz Truss, but high office did not always mean that Mrs Braverman observed party discipline and the principle of collective cabinet responsibility, which requires ministers to toe the government line or quit.
What has Suella Braverman done and said as home secretary?
At the Conservative Party Conference in 2022, she criticised the U-turn on scrapping the 45p tax rate and reiterated her belief that the UK should leave the ECHR, contrary to government policy at the time.
Her first spell as home secretary culminated in her effective dismissal for leaking confidential Cabinet papers to right-wing backbencher Sir John Hayes, a long-serving MP reported to have significant sway with Mrs Braverman.
A subsequent inquiry found she had leaked information on a number of occasions, but by this time she had become the standard bearer of the Conservative right, thanks to her tough stance on immigration and willingness to attack "wokeness".
She was brought back as home secretary by Mr Sunak just days after she left office in what was reported to be a deal to ensure she would support his leadership campaign following Ms Truss's resignation.
Back at the Home Office, Mrs Braverman proved a thorn in Mr Sunak's side, with the Prime Minister forced to distance himself from her language on several occasions.
Most recently, he has declined to back her comments saying multiculturalism has "failed", likening immigration to a "hurricane" and describing rough sleeping as a "lifestyle choice".
Is Suella Braverman working against Rishi Sunak?
Behind the scenes, Mrs Braverman is reported to have waged a war with Mr Sunak and Chancellor Jeremy Hunt over visas, with the latter wanting a more liberal scheme to boost economic growth while the Home Secretary has argued for a reduction in visas to curb migration.
She has also been accused of secretly backing amendments to the Illegal Migration Bill from right-wing MPs in an effort to toughen up the legislation, accusations sources close to her denied.
Privately, MPs and advisers alike have raised questions about her competence with some saying she has "lost control" of her department and budget due in part to a single-minded focus on immigration.
Others have accused her of running a leadership campaign, pointing to speeches at right-wing events such as the National Conservatism conference in May.
But Mr Sunak has at times appeared unwilling to rein in his home secretary, despite distancing himself from her language, possibly fearing outright rebellion from the Conservative right if he takes action against her.
After Number 10 confirmed on Thursday that it did not sign off on her latest attack on the Metropolitan Police, questions about Mrs Braverman's future as a minister once again engulfed Westminster.
Comments
Want to join the conversation? Please or to comment on this article.