At this time of year, the difference between Grinches and Christmas lovers becomes clear - Gaby Soutar
The last thing this messed-up world needs is more division. However, such is human nature that I'm going to attempt to sow some. It's at this time of year - mid-November-ish - that we're split into two factions. I'd say that the population is divided at roughly 50:50. There are those who're like a reindeer chomping at the bit to get going with Christmas, and the others who are in complete denial.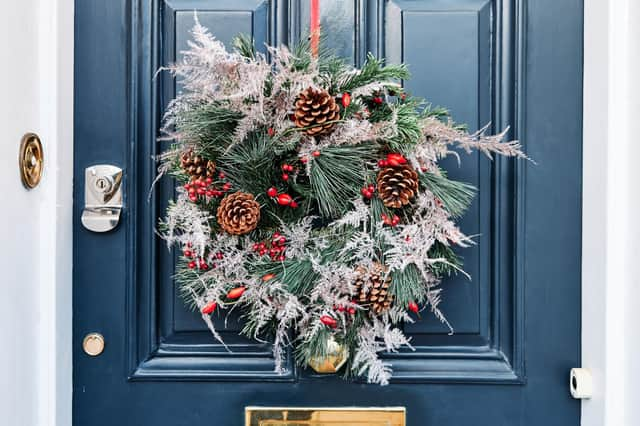 I know fans who are already sipping Baileys, and someone who flew to Munich to visit the markets, only to discover that they hadn't opened yet. I have spotted a couple of festive jumper and bobble hat wearers out there, and a smattering of premature sparkle.
They are ready for it, and refuse to wait any longer.
The only problem is that they want to drag us along with them.
I was speaking to a middle-aged man recently, and he told me that his wife had put the tree up at the beginning of November. "It's not my decision," he said, sadly.
It's so early that we haven't even had a chance to dispose of all the Halloween pumpkins.
I saw one sitting on a wall outside a house the other day.
Its face was all saggy and it looked depressed. It smelt funny. We acknowledged each other. If it had owned hands, it would've given me the thumbs up.
As you can probably guess, I have traditionally been in the festive denial camp.
Put the brakes on the sleigh, I say.
In the same way as I don't want to eat Easter eggs in January, I don't want Christmas yet.
There is something to be said for delayed gratification. It is a last-minute sprint, not a marathon.
As many magazine publications work months in advance, us journalists tend to get festive press releases from June onwards. By now, I'm totally sick of it.
My heart always drops with the first one in the summer. Not. This. Again. I forward it to all my colleagues, and there is hollow laughter. (It doesn't sound like 'ho, ho, ho' though, that's too Christmassy). Also, I can only assume that's the noise my colleagues still make, as we're all working from home and I haven't seen some of them since March 2019.
This early onset of the season gives me existential angst.
Every year of my life is a bauble, smashing onto the living room floor.
The press releases start to snowball, and by now I'm getting multiple frantic messages.
In the last hour alone, I've been informed about the Barbie pink tree trend, the most Instagrammable markets, how much exercise it takes to burn off your Christmas dinner (the pigs in blankets just aren't worth it) and the quantity of sugar in a festive coffee.
I take after my late dad, when it comes to my cynicism.
He was a party-pooper who always warned me against 'wishing my life away', and did so to spoil the run-ups to various special occasions. Thus, I try not to do the festive countdown, though I know it's only 36 sleeps until Christmas, and 388 until the next one.
I'm also trying to hold off, because there's nothing wrong with a bit of delayed gratification.
I understand that winter is long and depressing, but you can't spend three months eating mince pies on the countdown to a day that involves eating yet more of them.
It is sometimes difficult to pace yourself, as the shops are SO desperate for us to get spending.
It's going to be a tight one this year and I just don't feel ready, so I've been avoiding their adverts. However, for the purposes of writing this piece, I did succumb to the John Lewis one, with the sentient Venus flytrap. As always, I felt hugely resentful about the sentimental feelings that it piqued. I don't want to be their puppet, but whatever they're trying to sell, I'll take three from the carnivorous plants section.
Despite all this protesting, I must admit that I did put a holly wreath on my door yesterday, but that's only because it would've wilted otherwise, and I made it in a workshop that I was invited to against my will.
To any neighbours who spot it, I haven't gone over to the other side. I will not be inviting you in for mince pies and gluhwein anytime soon. Yes, I know that you kindly had me over a few years ago, and I never returned the favour but it's time you got over it.
There will be no tree until December 1, and it will be reassembled reluctantly. I will not be applying the baubles, wearing two as earrings, while watching Elf on the telly.
In our household, we are the opposite of the local enthusiast. I know the exact window, at the end of the street. Their tree is always the first. It's probably up now. Let me have a twitch of my curtains. Yes, it's there.
It will remain in that spot probably until March, before its body is dragged out to the bins.
I do feel that the only solution to all these premature festivities is to have something else, to fit in the lean period between Halloween and Christmas.
The Americans have Thanksgiving to keep them occupied. We only have St Andrew's Day and we already popped our 2023 haggis way back on Burns Night, so this celebration is always a bit of a damp squib.
To keep everyone happy, and repair festive divisions, I'd like to propose an Anti-Christmas Day. Let's do it tomorrow.
We can eat all the non-festive goodies, spend no money and celebrate bad cheer. We'll play Bing Crosby's song backwards.
Comments
 0 comments
Want to join the conversation? Please or to comment on this article.