Ever since I heard the news, I've been hankering after a snowball.
Unless you've been living in an igloo, you'll be familiar with these marshmallow puffs, which have a feathery coating of coconut. They're gone in two bites, stick to your gums like a dental impression, are cheap and taste it, yet I'm still a fan.
Their anatomy includes a thin shell of nondescript-tasting chocolate, which is thick enough to allow them to preserve their shape, unless you mistakenly try to transport them. Then you will excitedly pull them from the bottom of your bag and find something akin to a puffball mushroom that's been stamped to death.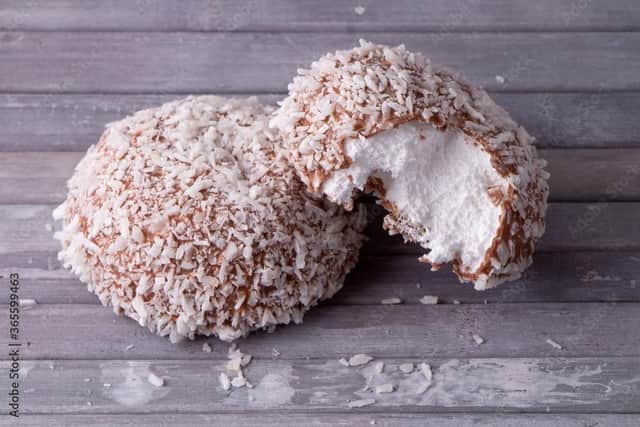 You'll eat it anyway. They taste better flat.
I hope the new owners, Finsbury Food, don't tinker with the recipe too much. Or make a mess of this brand's other low-rent delights.
I would notice, as I'm very familiar with their portfolio.
It includes Teacakes, not to be confused with the Tunnock's jam-free version, as well as the surprisingly weighty and solid Jaffa Orange and Mint Bars, which, strung together, could double as nunchucks.
There's also the deity that is the Macaroon Bar.
Unlike other versions of this sweet, the Lees take on the genre doesn't contain the surprise but standard addition of potato. They've left it out, in the same way as they seem to have forgotten an apostrophe in their brand name. That's probably just as well, as once you know about the tuber ingredient, it's hard to ignore. (Same for the punctuation).
Presumably it has been replaced by yet more of the white powder.
That's fine with me. This may be time to admit to My Sugar Shame. I have never been sweet enough already. I always wanted more.
There are those who say that they're glad they weren't born before the advent of modern medicine. Fair enough, I don't enjoy the pox, consumption or scurvy anymore than the next woman, but I would've hated to be around pre-sugar, or at least at a time when it was in short supply.
I like to imagine that I would've been a Victorian lady, with all the blancmanges, jellies and bonbons that I wanted, but more likely I would've been eating unsweetened gruel in a workhouse.
I'm happy to live in an age of lavish sweetness. Don't worry about my burgeoning diabetes and potential tooth decay, I have some modicum of self control, though I think I do creep over the recommendation, which is to have no more than the equivalent of seven sugar cubes per day.
I try to ration my addiction. Just a little bite here and there. Something the size of a matchbox, to keep my spirits from sagging at 4pm.
My friend's grandad used to keep a Mars Bar in a drawer. Whenever she and her brother went to visit him, he'd cut them a couple of slices. He is my life inspiration.
I'd say that my all-time favourite is tablet, not to be confused with the slightly squishy and inferior US import that is fudge. It's my one true love, especially when you have a cube – preferably perched on the saucer alongside a strong black coffee – which is slightly powdery round the edges and vertices. It's the mouth-coating richness that makes the magic happen.
I could say that this love of sugar is a Scottish thing, but that would only be anecdotal. I'm surrounded by savoury-loving friends and family, whose guilty pleasures are crisps and cheese.
They're the sorts who'll complain that things are "too sweet" and don't believe me when I say that's impossible. I'm glad, as they don't try to steal my treasures.
I've never been interested in soft drinks, like Irn-Bru or Vimto, and I feel that ruin may lie in that direction.
When I was a kid, I loved the tang of my mum's Moffat Toffee and her slabs of Kendal Mint Cake, as well as the newsagent treats of Opal Fruits, flying saucers, Fruit Salads, Refreshers and Wham bars. I even enjoyed the Black Jacks, soapy Parma violets and Liquorice Allsorts that everyone else, apart from my dad, hated.
My enthusiasm hasn't waned.
Of course, as The Scotsman's restaurant reviewer for the last 15 years, I feel some responsibility to be discerning and sophisticated. I'm not going to start downing Tate & Lyle straight out of the bag. That's for emergencies only.
I do appreciate a beautiful dessert. The work that has gone into that ganache, praline and gelato. It's wonderful.
I am also wowed by boxes of gorgeous shiny chocolates with matcha tea or salted caramel fillings and illustrations on top, like Moroccan tiles. There is artistry and magic there.
The taste, too, is wonderful. However, sometimes I find the fancy ones at the back of the cupboard, unfinished, and a decade out of date. I'll unearth three squares of mahogany-coloured chocolate, made by a small artisan producer and with 99.9 per cent cocoa solids and a touch of sea salt, and have to bin it. So sorry.
When it comes down to it, I'm ashamed to crave the cheap stuff.
My preferred sugar delivery system is basic. I'm not proud of my love of Creme Eggs, tablet, Whams and, yes snowballs.
Now, I wonder if seven sugar cubes can fit in a matchbox?