Passions: I'm in love with my new Samsung Galaxy Watch, though I'm not sleeping with it yet
This gadget was a birthday gift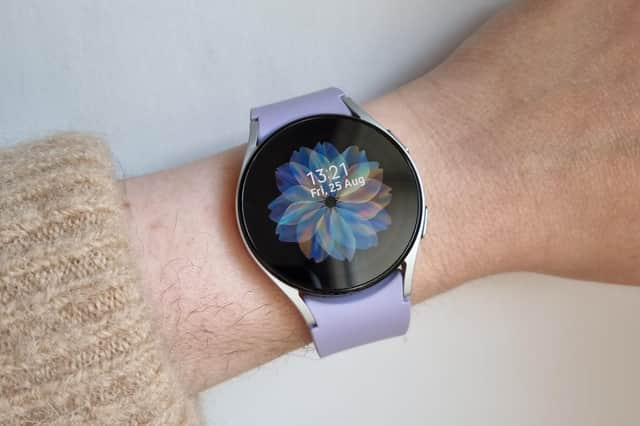 So far, my Samsung Galaxy Watch has fat-shamed and constantly nagged me.
Still, I find that I am addicted to this new gadget, which I got for my birthday. I'm excited to see it in the morning and have willingly surrendered all my data. Its so attractive, with a soft silicone strap that's a fetching shade of lavender and I enjoy touching its smooth wide face.
I swipe left for my smartwatch notifications, and the right to monitor my daily activity levels. I go up to find all the apps, including the Google Wallet for contactless payments. That works most of the time, though there are a few glitches.
For example, last night, it randomly stopped working when I tried to pay on the last bus home. The driver was relatively patient. He's seen the middle-aged struggle with technology before. The passengers were the ones who withered me with death stares. I shrunk like a salted slug.
In the end, I got my old-fashioned bank card out and used that instead. My watch and I sat in huffy silence for the whole ride home.
Well, we're getting to know each other. I haven't got to grips with all its features.
I've worked out the ECG, so I can confirm that I still have a heart.
I did the body composition test, and discovered that, like a clootie dumping, I consist of over 30 per cent fat and am considered in the red zone.
Since the watch came into my life, I've not done less than 6,000 a day. It buzzes and there's a virtual confetti shower when you make it past that hurdle. It also prompts you when you haven't moved for a while. So, usually when I'm on deadline, it'll tell me to stir my stumps, and I grudgingly oblige.
It also records and monitors my exercise classes, and tells me how high my heart rate goes and the calories burned by this clootie dumpling of a body. If I forget to take it along to these sessions, it feels like they never happened.
So far, I've resisted its requests to monitor my sleep. I'm not ready for it to join me in bed. I enjoy the sensation of unbuckling it at night, and feeling the weight leave my wrist.
Comments
Want to join the conversation? Please or to comment on this article.