Rupert Murdoch has a new fiancee, but age gap relationships aren't for me - Gaby Soutar
Whatever happened to Jerry Hall?
I missed the news that media magnate and executive chairman of News Corp, Rupert Murdoch, had split from the former model.
But now, I Google it, and am assaulted by a holiday picture of him striding through the sea in swim-wear, along with his new fiancée, Ann Lesley Smith.
Murdoch reportedly dumped his former beloved by email last year. That's worse than doing it over Zoom, which they're now calling Zumping. I suppose if you ditch someone over Pinterest… well, you get the picture.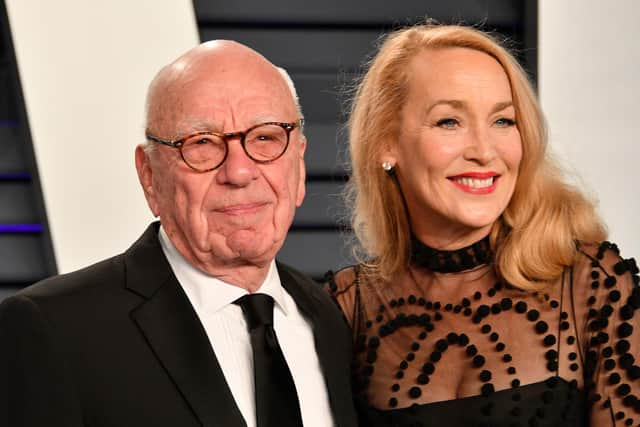 If Hall were mine, I'd never let her go. I'd just pleat her hair, as if she was a My Little Pony, and listen to her talk. We'd laugh about Mick's silly dancing.
This next marriage will be Murdoch's fifth. He is 92 and she is 66.
It reminds me of the classic Mrs Merton interview with Debbie McGee, when the comedian asked her guest; "So, Debbie, what first attracted you to the millionaire Paul Daniels?" (How I miss Caroline Aherne).
Not that I'd ever suggest that former police chaplain Smith is in it for the cash. She's a successful woman in her own right.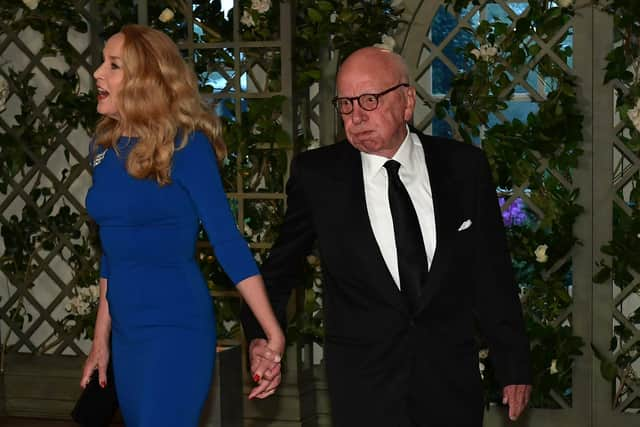 Perhaps Murdoch has an animal magnetism that's not evident in 2D. He might give new meaning to the phrase "hot off the press".
Anyway, I may be skint and unsuccessful, but I've done alright in the world of monogamy.
My secret is to choose someone of my own age. I've never had a partner who's been more than a couple of years older or younger. That's in common with the vast majority of the population, even men, for whom it is more socially acceptable to choose a younger spouse.
I remember someone telling me that the perfect age for his potential wife would be half his, plus seven. Apparently, he didn't invent this equation, as it comes from French author Max O'Rell's 1901 love manual. Slightly dated, perhaps.
If someone had ever wooed yours truly based on those calculations, the chance of me speaking to them again would be, let's see, I'll just get my calculator, yes, zero. Especially as I've just reversed the sums and discovered that the result could pair me with Murdoch's peers. I might potentially conceive of myself with, say, Jon Snow, who is 75, and just had a baby with his 48-year-old partner, but I'd have less in common with a ninety-something.
Until now, I've only ever found myself attracted to fellow Generation X-ers. We are an excellent vintage – cynical, low maintenance and with the best music taste. I prefer to be with someone who gets my Vic & Bob references and remembers when Snickers were called Marathons. I want to have in-depth discussions about The Word, Monkey Magic and recognise whose catchphrase was, "You'll like this, not a lot… but you'll like it".
My husband knows, and we both have an equal number of wrinkles and sags.
Our deterioration runs parallel and it's reassuring to age at the same rate. I'm sure that there is some silver fox or young otter out there who could make what we have completely irrelevant, but I'm yet to meet them.
True, as women tend to live longer than men, it might be practical for me to trade him in after another couple of decades, for a Joan Collins and Percy-style age gap, but I wouldn't be so cruel. I'll hold on to him, until he drops off his perch. As he is the household cook, I will make sure he fills a few freezers with dinners before he slips, beak first, into the sawdust.
While age-gap relationships may not be my preference, I'm definitely in the market for platonic friendships with those of varying generations. I just don't have any right now. Currently, my small assemblage of pals are all in their late forties, more or less. I have one random Boomer and a Millennial, but they're outliers.
I find it tricky to befriend much younger people. Despite that, I feel that it is good for you psychologically. It's invigorating, as their thoughts seem more elastic.
They can also help you when your computer is broken, and explain the difference between hardware and software. They'll laugh when you tell them you still have a Hotmail account. What fun.
However, they're a bit too bouncy for an introvert like me. I don't want to be in their TikTok videos. I struck up an affinity with a lovely twenty-something the other day and thought she was absolutely brilliant, but I needed to lie down afterwards. There was so much enthusing and I had to pretend that I was down with the kids. I'm really not.
It's different when it comes to seniors. They're more my speed.
In middle age, you tend to find you have fewer family elders. Thus, I find myself gravitating towards those who are thirty or so years older. I'll sit near them on the bus and chat to them at the stop. They'll clutch their handbags a little tighter. If an older woman calls me "hen" or "dear", I find it very comforting. Maybe I'm looking for a wise auntie figure in my life, although I'm sure the last thing they want is an adoptive niece.
Still, I've made the calculations and I'm pretty sure my ideal friend is twice my age (minus twenty).
Comments
 0 comments
Want to join the conversation? Please or to comment on this article.