Royal Highland Show: Can it convert this city mouse into a country girl? - Gaby Soutar
Remembering a shocking incident at a preview show and looking forward to ferrets, shearing and free food
While you read this, I'll probably be perusing ferrets. I believe they may be on parade, going up trouser legs, being shampooed or whatever else these skinny mammals enjoy doing, as part of this weekend's Royal Highland Show.
I will also be tracking down free food samples, before sniffing out any potential bake sales. The chef demos will be viewed from afar, then I'll crowd surf in order to try whatever they've created. It'll be like a rock gig, but with scallops.
If I follow the sound of baa-ing, I'm sure I'll stumble on the final rounds of the Golden Shears competition. I imagine this will be similar to watching Giles Brandreth being pinned down and forcibly wrestled out of one of his novelty jumpers. Fun!
The tractors? Or track-ers, as is the appropriate West Country pronunciation. I can take or leave them.
Instead, I'm planning to create Johnny Morris narratives for the livestock.
The Highland coos will be admiring each other's horns and asking if the shine was achieved with Irn-Bru and a soft cloth, while the sheep will say it's way too warm to be wearing a fleece. I'll give the ferrets names - The Artful Dodger, Skinny, Bitey, Will Ferret, Ferret Bueller's Day Off etc.
The nieces and nephew will look unimpressed.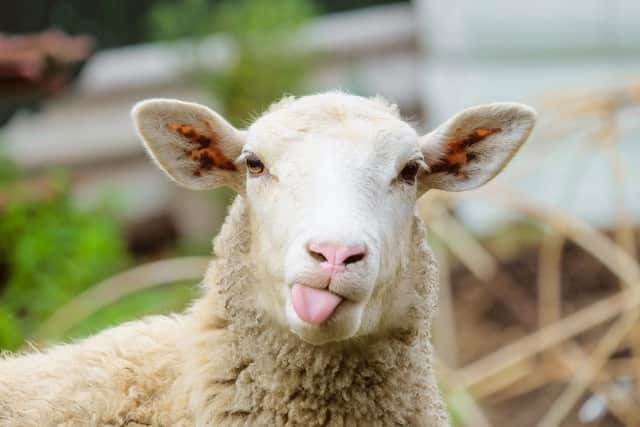 We are really there for the middle child, since she's a horse fan.
I am an interloper. A city girl, taking a brief peek into the country world.
In part, I know my place because I'm not into equine things. I did a few riding lessons when I was a child, but on one formative occasion ended up being dragged, with a foot stuck in the stirrup, shouting "help" as all the other tiny kids on ponies confidently cantered off. It took about 15 minutes for anyone to hear my feeble cries and rescue me. In the handful of sessions I tried, I'd either come sliding off, or my steed would be wild-eyed and food obsessed. These animals know, when you're an urban mouse. Then it's buckaroo bye-bye time.
At the show, I won't be particularly drawn to the Border collie display, as working dogs are too thrawn for me. If there were a few miniature dachshunds, responding to whistles by doing high-fives, I'd be cheering them on.
The last time I was at this event, I was around ten years old.
My only memory is reaching into a horse box, to stroke a Clydesdale on the nose, and getting an electric shock from the live wire which ran around the inside. I think this incident has worked as some kind of Clockwork Orange-esque aversion therapy, since I haven't been back.
I've written a preview almost every year for over two decades at The Scotsman, but some invisible force-field stopped me from actually making it out to Ingliston.
This will be an overdue return, though I don't think they'll convert me into a country person. I am surrounded by those leafy types and they always tell me what an urbanite I am.
My mum, who grew up in a Dumfriesshire town and went to the Royal Highland Show every year, used to say this all the time while my sister and I were growing up. Usually in reference to our ability to get everywhere by bus.
I don't drive, and still rely on public transport to get wherever I need to be. You can't get away with that in the countryside.
Also, my husband is a bucolic boy, and he's always trying to persuade me to move to the sticks.
So far, it's a firm no, though he pines for the peace of his Speyside childhood home.
Our differences are based on the location of our upbringings.
For instance, I navigate by buildings. In Edinburgh, that's easy. I plan where I'm going by using architectural landmarks, or work out which shops and restaurants my destination is near. I know the texture of pavements, and all the shortcuts. It's easy to retrace my steps.
He gets easily lost in any city, even the one he's lived in for nearly three decades. I am the map reader, if we have a mini-break to somewhere like Rome or Barcelona.
To him, the stone and concrete blend into one mass. His route-finding mnemonics are trees, hills, stars and the sky. I'm sure if he got lost in a forest, a red squirrel would come to gently lead him to safety. In contrast, a herd of grey ones would descend to munch my remains.
Before that sticky end, my sense of not belonging will have been exacerbated by a bout of severe hayfever, which is like the countryside's master weapon to keep me away. It doesn't want my dirty lungs to pollute the trees.
If we're in a rural area, my beloved laughs at my wardrobe choices. Personally, I don't see what's wrong with carrying a handbag up a Munro. As long as he doesn't come crying to me when he needs tinted lip-balm and Tic Tacs at the summit.
Then there is the sense of anonymity in a city. I feel invisible, among the shoals of humans. My other half imagines that he's conspicuous while navigating a busy street. It's while I'm in the countryside that I sense someone sinister is out there, it's just that I can't see them.
Oh wait, I can, there they are. It's only Will Ferret.
Comments
 0 comments
Want to join the conversation? Please or to comment on this article.