Worrying fall in July GDP stokes fears of shallow recession this year
The risk of the UK entering a shallow recession this year has increased after news of a sharper-than-expected decline in economic output during July.
The pound also weakened against the euro and the dollar as fresh data from the Office for National Statistics (ONS) showed that gross domestic product (GDP) contracted by 0.5 per cent in July. It is the heaviest decline since last December and comes amid concerns recent interest hikes and persistent inflation could stifle economic growth. Economists had forecast a fall of just 0.2 per cent for July.
ONS director of economic statistics Darren Morgan said: "Our initial estimate for July shows that GDP fell; however, the broader picture looks more positive, with the economy growing across the services, production and construction sectors in the last three months. In July, industrial action by healthcare workers and teachers negatively impacted services, and it was a weaker month for construction and retail due to the poor weather."
The figures come just a week ahead of the release of inflation data for August and the latest Bank of England decision on interest rates, with a further quarter-point hike widely anticipated.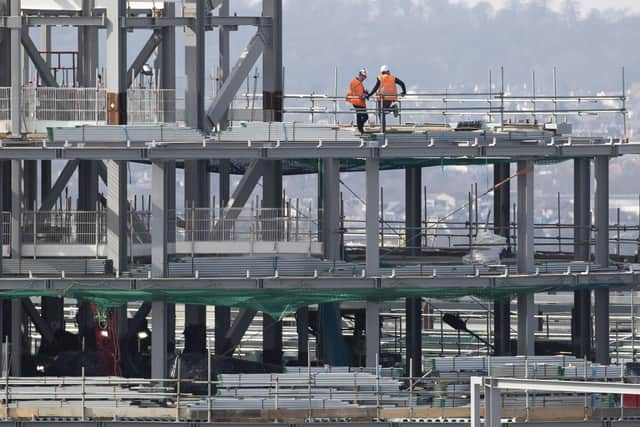 Victoria Scholar, head of investment at Interactive Investor, described the slump in GDP as a "harsh reality check" and said central bank policymakers would be weighing up cooling inflation and strong wage growth on the plus side, against an uptick in the unemployment rate, disappointing purchasing managers' readings and sluggish retail sales on the downside.
She added: "As a general election looms, Chancellor Jeremy Hunt is trying to paint an optimistic picture, saying there are 'many reasons to be confident about the future'. However, many are feeling less rosy as ongoing inflationary pressures and rising interest rates raise the risk of a shallow recession this year."
James Smith, developed markets economist at ING, said a recession - meaning two consecutive quarters of decline - "can't be ruled out". He noted: "Cutting through the noise, the economy seems to be still growing, albeit fractionally. The change in activity over the past three months relative to the three months before is still slightly positive. We think the economy is likely to more or less flatline over coming quarters - and a mild recession can't be ruled out."
Ben Laidler, an analyst at trading and investment platform eToro, added: "The economy is stagnant, narrowly skirting recession and up just 0.2 per cent over the past three months, but still facing strong inflation headwinds. This leaves the Bank of England in a tough position as it considers hiking interest rates further."
Next week's Bank of England meeting will see members of the monetary policy committee vote on interests. They are widely tipped to increase rates from the current level of 5.25 per cent to 5.5 per cent in their efforts to grapple inflation, which is proving stickier than expected. Official data on Tuesday showed that average regular weekly earnings growth remained at a record high of 7.8 per cent in the three months to July, matching consumer price inflation over the same period.
Comments
 0 comments
Want to join the conversation? Please or to comment on this article.