Interest rates: Hike inevitable next week amid fears over 'dreaded' wage/price spiral
Britain's economy faces a wage/price spiral and the prospect of further hikes in interest rates, with one likely next week, after wage growth caught up with inflation for the first time in more than a year.
Analysts said the Bank of England was almost certain to push up rates by a further quarter point at its next meeting on September 21, leading to further financial pain for millions of borrowers and businesses. The prediction came after the Office for National Statistics (ONS) said average regular weekly earnings growth remained at a record high of 7.8 per cent in the three months to July, matching consumer price inflation - a measure of how fast prices of goods and services are rising - over the same period. That rate of average pay inflation had been expected to ease back by a couple of percentage points.
Meanwhile, total pay including bonuses jumped by 8.5 per cent, year on year, meaning that it exceeded inflation for the first time since March 2022. That total pay rate will be used to factor the state pension increase under the "triple lock" guarantee. The latest ONS data also showed that the rate of UK unemployment lifted to its highest level for nearly two years, at 4.3 per cent in the three months to July, up from 4.2 per cent in the previous three months.
Derrick Dunne, chief executive of You Asset Management, said: "On the face of it, the labour market continues to loosen, with the unemployment rate rising to 4.3 per cent in the three months to July. However, average pay inflation held at 7.8 per cent - against market expectations of a two-percentage point fall - further fuelling fears of a dreaded wage/price spiral.
"Today's release is extremely bad news for the Bank of England, making another interest rate hike come September 21 almost inevitable."
Figures last month showed that the annual rate of consumer price inflation cooled to 6.8 per cent in July, down from 7.9 per cent in June, and well below last autumn's peak of 11.1 per cent. However, food inflation remains in double digits and increases in fuel prices and alcohol duties in recent weeks could stoke August's inflation rate, which is due to be published on the eve of next week's interest rate decision.
Kevin Brown, savings specialist at Glasgow mutual Scottish Friendly, said that although there was now some parity between the growth in pay and the rate of inflation there was a "long way to go" before workers see a material difference in their living standards.
"Households have been fighting a losing battle for more than a year as household incomes have been falling in real terms due to the speed at which prices have been rising," he noted. "That struggle is over for now, but how long will it last? Wage growth increased by 7.8 per cent over the past three months, the highest level since records began in 2021.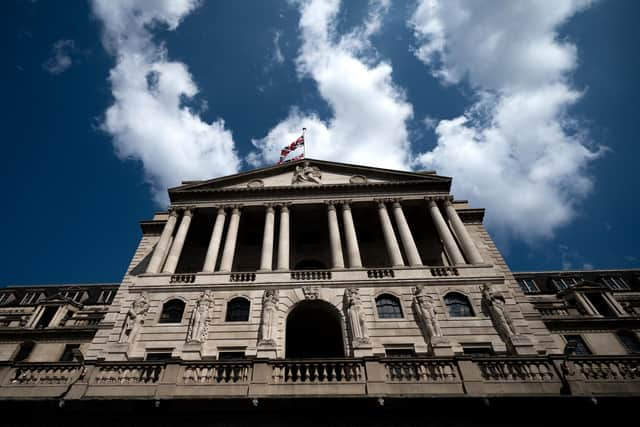 "However, despite inflation falling in recent months, the outlook remains uncertain. Rising fuel prices in August could push the latest official reading back up, which would once again eat into workers pay. For households to see a material difference in their finances, inflation will need to fall much closer to the Bank of England's 2 per cent target."
Martin Beck, chief economic adviser to the EY Item Club think-tank, said the jobs market was "clearly on the turn". But he said that, given the ongoing strength in pay growth, "the latest numbers don't change the likelihood of the [Bank of England's] monetary policy committee opting for another rate rise next week".
It is thought that the central bank may increase interest rates from 5.25 per cent to 5.5 per cent at its September 21 meeting, having already voted for 14 rises in a row. However, Beck added that "growing evidence of the adverse effect of policy tightening on the labour market is one factor which means interest rates should soon peak".
Business leaders called on the Bank of England to halt its cycle of fiscal tightening as firms struggle with higher costs and the fallout from the cost-of-living crisis. Kitty Ussher, chief economist at the Institute of Directors, said: "With the data showing a weakening labour market, it is now time for the Bank of England to keep interest rates on hold when it next meets. Our own data shows that the large interest rate rise in June led to a worsening in the way that business leaders considered the outlook for the economy. The Bank of England should now give its medicine time to work."
The latest wage growth numbers are important as the total pay and bonuses rise of 8.5 per cent is used to determine the triple lock guarantee for the state pension - which increases every April in line with the highest of three possible measures - the average earnings growth in the year from May to July of the previous year, consumer inflation in September of the previous year, or a flat 2.5 per cent. This means that state earnings are set to jump by 8.5 per cent next April, although the ONS stressed the wage growth figures are subject to possible revisions.
Helen Morrissey, head of retirement analysis at investment platform Hargreaves Lansdown, said: "We always thought inflation would be the key factor when it came to the triple lock, but soaring wages look set to outstrip it. This has the potential of delivering a bumper state pension increase next year."
Comments
 0 comments
Want to join the conversation? Please or to comment on this article.