Retail bosses pray for Black Friday madness as Scottish sales slide for fourth consecutive month
Retail industry leaders are pinning their hopes on a spot of Black Friday madness after stormy weather and "lingering cost-of-living concerns" put a dampener on Scottish sales last month.
Releasing its latest sales monitor today, the Scottish Retail Consortium (SRC) said total sales by value fell by 2.3 per cent in October, once adjusted for the effects of inflation, compared with the same month last year. It marks the poorest monthly performance since July 2023 and means that retail sales north of the Border have now fallen for four months in a row, measured in real terms.
David Lonsdale, director of the Scottish Retail Consortium (SRC), said October marked a "miserable start" to the retail sector's so-called golden quarter, when most high street businesses expect to generate their strongest sales and profits in the lead up to Christmas.
"Severe storms and repeated deluges and disruptions combined with lingering cost-of-living concerns to put a real dampener on Scottish retail sales last month," he said. "The significant weakening was the poorest monthly performance since July and a fourth consecutive month of real terms decline in the value of retail sales. The downturn was seen across all categories but was particularly pronounced in non-food, which saw its first decline since May."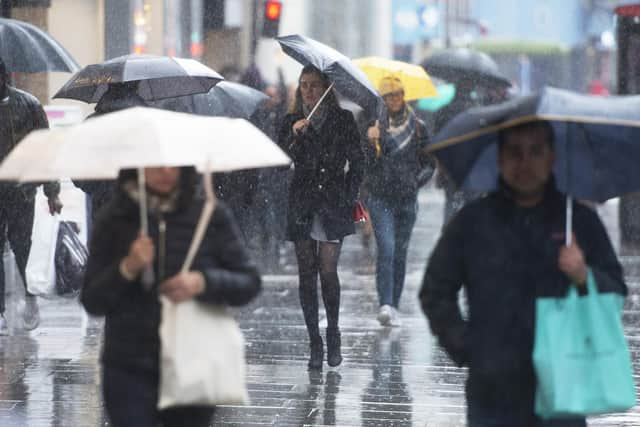 The latest report shows that total non-food sales fell by 1 per cent last month, compared with October 2022, when they had increased by 2.4 per cent. This was below the three-month average increase of 2 per cent and the 12-month average of 4.9 per cent. Adjusted for the estimated effect of online sales, total non-food takings decreased by 1.9 per cent in October versus a year earlier.
Total food sales by value increased by 7.5 per cent versus October 2022, when they had increased by 10.9 per cent, stoked by soaring rates of inflation. However, October was below the three-month average growth of 8.5 per cent and the 12-month average growth rate of 12.1 per cent. The three-month average was below the UK level of 7.9 per cent.
Lonsdale noted: "The growth in grocery sales continued to reduce, mirroring the fall in food price inflation. Lower-priced indulgences such as cosmetics and fragrances fared well, as did sales of Wellington boots and cold and flu remedies perhaps unsurprisingly given the drookit conditions. Formalwear was a bright spot as people returned to corporate events and prepared for the looming party season, but clothing overall suffered as did sales of larger ticket items including white goods, electricals and furniture."
He added: "Hopefully, the downturn in sales is only temporary. That said, it may continue for a little while yet as indications are that households are delaying Christmas-related spending in the hope of grabbing a bargain during Black Friday discounting."
Paul Martin, partner and UK head of retail at KPMG, which helps to produce the monthly sales monitor, said: "Online sales continued to struggle compared to the same period last year, which could herald the most competitive Black Friday period that we've seen in a while. Despite a decrease in inflation compared to last October's peak of over 11 per cent, the past 12 months have impacted consumer confidence and spending ability. With higher interest rates, diminished Covid savings, and increased heating costs, consumers are now cautious about their expenditures. This has led to a decline in the strong demand that sustained some retailers over the past 18 months.
"The upcoming Christmas season poses challenges for retailers as they compete for a shrinking share of consumer spending through promotions, further squeezing already tight margins. Anticipated lower spending levels make this Christmas season potentially the most challenging since before the pandemic."
Lonsdale said that with consumers so price-sensitive it was critical that the Chancellor and Scottish finance secretary in their upcoming Budgets looked to support consumer confidence while helping retailers to keep down prices at the tills. He added: "The marked deceleration in shop price inflation should assist, as should the temporary discounts to peak rail fares and mooted council tax freeze. However, we need to see ministers rule out a hike in the business rate which would add significantly to shopkeepers' outgoings and put upward pressure on prices for consumers."
Meanwhile, an initiative to encourage people to shop locally has unveiled its festive campaign as it closes in on a key milestone. The Scotland Loves Local Gift Card is an extension of the wider Scotland Loves Local campaign, spearheaded by Scotland's Towns Partnership (STP) and delivered by Miconex. The gift cards can be redeemed with all types and sizes of local businesses, keeping spend locked into local communities.
The scheme has unveiled its festive Win Your Dream Christmas campaign as it nears a milestone of £15 million loaded onto the cards. Entrants in the festive campaign are being asked "what is your dream Christmas" for a chance to win a £1,000 Scotland Loves Local Gift Card for their chosen Scottish region.
Colin Munro, managing director of Miconex, said: "Our research showed a strong understanding of the need to shop local and the impact that it has, namely keeping businesses open and communities vibrant. Not only that, the majority of respondents said that shopping locally offers a better experience. People want to buy and receive gift cards and Scotland Loves Local Gift Cards offer both choice and support for local businesses."
Comments
Want to join the conversation? Please or to comment on this article.