Morton Fraser MacRoberts: Biggest Scottish legal merger in decade creates new top tier challenger
Scotland's legal sector has seen one of its biggest mergers in more than a decade leading to the creation of a new "big four" pack of heavyweight indigenous firms.
The combination of Morton Fraser and MacRoberts is largely a merger of equals and brings together two of the most established and familiar names in the market. The combined practices, which will trade, at least initially, under the Morton Fraser MacRoberts LLP banner, have delivered revenue growth of almost 20 per cent since 2021, with total annual revenues in the region of £46 million. The merged entity will be about 30 per cent larger by turnover than its nearest rival.
The move combines two mid-tier players to create a new major "independent" firm in Scotland, and places it in a top-tier ranking, based on revenues, below Shepherd and Wedderburn (£66.7m), Burness Paull (£83.2m) and Brodies (£106.3m), based on their most recent accounts. In name, Shepherd and Wedderburn is the remaining constituent of a former big four grouping that also included Dundas & Wilson, McGrigors and Maclay Murray & Spens - three Scottish heavyweights that merged in a series of deals to become part of global majors CMS, Pinsent Masons and Dentons, respectively.
Morton Fraser MacRoberts will have some 480 staff (Morton Fraser with 260 people and MacRoberts 220) including about 250 solicitors across operations in Edinburgh and Glasgow. Chris Harte, currently chief executive of Morton Fraser, will take up the same role at the newly merged business. Neil Kennedy, managing partner of MacRoberts, is to become chief operating officer.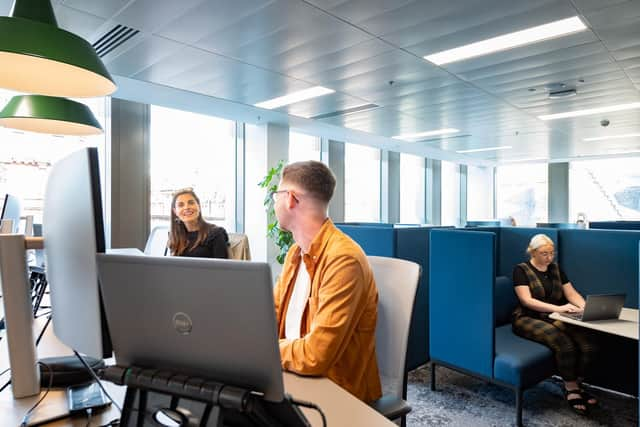 Harte said the time had come for a "new style of law firm offering something truly unique" within Scotland's top tier. "We see this as a genuine merger," he said. "Maybe some observers would think these are two similar sized firms doing similar things but in actual fact we are really quite complementary with quite different strengths.
"This is not something that has ever been driven by an idea of cost savings or the bottom line. It is being driven by a desire to be doing more in a lot of areas, for example looking at what AI might bring to professional services. It would be normal to bring the teams together and look at what would be the optimal fit for everything but we also think there will be new roles created. We want to bring our people with us."
He said it was being "left open" as to what the brand might look like in the future, adding: "There is a lot of work to be done to bring all this to life."
Kennedy said: "We are really excited about this and I'm bursting to get going. I don't think the Scottish legal marketplace has seen something like this for over a decade. This is a massive opportunity to deliver for our people and our clients. We will be focusing heavily on how our newly merged business can invest in talent and technology."
He said the plan was to colocate the various teams "as soon as possible" and added: "In due course we will take a look at the office footprints. Both firms had a similar experience [during the pandemic] and implemented hybrid working early doors. We don't see that changing."
Subject to regulatory and other approvals, the merger is projected to go live on November 1. Morton Fraser, which has links internationally to some 160 law firms, represents a wide breadth of clients covering the public and private sectors, including the Scottish and UK governments, whisky giant Diageo, Royal Mail Group and Transport Scotland. It was placed 21st in the 2022 "Top Companies to Work For in Scotland" listing. MacRoberts works with large private and public organisations, small and medium-sized enterprises (SMEs), entrepreneurs and charities. Its clients include Cala Homes, SSE and the Student Loans Company.
One of the last big mergers between two Scottish legal firms was sealed just over a decade ago when Burness and Paull and Williamsons tied the knot to form Burness Paull. Last week, Burness Paull reported a dip in annual profits despite revenues rising 6 per cent in the face of what its chairman said were "challenging market dynamics". Unveiling a "positive set of results" for the year to the end of July, Peter Lawson said the partnership would continue to invest in its "people, technology and facilities" in line with its strategic plan.
The number of partners now stands at 89, up from 86 last year, and total headcount across the firm's offices in Edinburgh, Glasgow and Aberdeen is more than 670. Annual turnover was up 6 per cent to £83.2m, from £78.6m a year earlier, but headline profit eased slightly to £35.5m, compared with £35.7m in the previous 12-month period.
In July, Brodies saw its revenues push through £100m after announcing its 13th consecutive year of growth. During the year, the firm's headcount grew from 771 to 794. All eligible colleagues received a bonus of 6 per cent in June, adding to bonuses paid in January, June and November 2022. Managing partner Nick Scott pointed to record income across each of the firm's main areas of practice - banking and finance, corporate and commercial, litigation, personal and family and real estate - against a "constantly changing backdrop". Overall revenues for the financial year to April 30 amounted to just under £106.3m, up 8 per cent from the year before. Operating profit rose by 6 per cent to £48.6m.
Comments
 0 comments
Want to join the conversation? Please or to comment on this article.