Mixed numbers as upbeat Burness Paull wraps up results for Scottish legal heavyweights
Scottish legal heavyweight Burness Paull has reported a dip in annual profits despite revenues rising 6 per cent in the face of what its chairman said were "challenging market dynamics".
Unveiling a "positive set of results" for the year to the end of July, Peter Lawson said the partnership would continue to invest in its "people, technology and facilities" in line with its strategic plan. The number of partners now stands at 89, up from 86 last year, and total headcount across the firm's offices in Edinburgh, Glasgow and Aberdeen is more than 670, making it one of the country's largest legal players.
Annual turnover was up 6 per cent to £83.2 million, from £78.6m a year earlier, but headline profit eased slightly to £35.5m, compared with £35.7m in the previous 12-month period. The firm said revenue continued to be underpinned by its strengths in corporate finance, property, banking and funds, dispute resolution and employment. It added that it was seeing benefits from its diversification strategy, with newer and recently strengthened teams across technology, restructuring and insolvency, public law, financial services regulation, cyber and data security, family, private client, and immigration delivering "double-digit" percentage increases in fee income.
The accounts complete a series of annual results from Scotland's major law firms, including the likes of Brodies, whose revenues exceed £100m, and Shepherd and Wedderburn, which span different financial reporting periods. Burness Paull said its 2023/24 financial year would be an abbreviated eight-month reporting period (August 1 to March 31) as it has made the decision to change its year-end as a result of HM Revenue & Customs' reforms.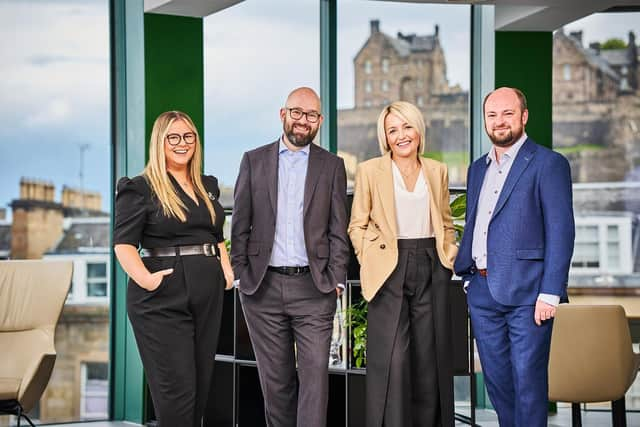 Lawson said: "This is a positive set of results, which is testament to the hard work of our people and their commitment to ensuring the best possible outcomes for our clients in a complex and changing landscape. To increase turnover and largely maintain profitability in the context of a quieter property and M&A [mergers and acquisitions] market is a good outcome.
"Our divisions have performed well in the face of challenging market dynamics and we continued to invest in our people, technology and facilities in line with our strategic plan. In particular, we seek to attract and retain the very best talent and we are confident that our regular salary reviews and remuneration levels support this aim."
He added: "We have very intentionally prioritised long-term reward, retention and sustainable growth as this is key to delivering the evolving breadth of services and specialist expertise our clients are looking for and ensures the future success of the firm."
The firm highlighted several deals undertaken during the period including advising life and pensions consolidator Chesnara on the acquisition of 47,000 life insurance and critical illness policies from Canada Life, advising Cairngorm Capital on the financing of Verso Group and the acquisition of a number of wealth management businesses, and providing advice for housebuilders on the sale of more than 2,000 homes in Scotland with a combined value in excess of £650m.
In a year that saw five lateral partner hires, including Mark Kirke as the new head of the firm's construction and projects division, there were also moves to new offices in Glasgow and Aberdeen. Bosses described those offices as "significantly more sustainable" and would support the firm's commitment to achieving net zero status by 2030. There have also been four internal partner promotions effective from the start of the new financial year on August 1 as the firm "continues to develop homegrown talent" alongside the lateral hires.
Community links were maintained through the work of the Burness Paull Foundation, including the longstanding partnership with Street Soccer Scotland that saw support for Team Scotland at July's Homeless World Cup held in Sacramento.
Lawson added: "Looking ahead, there is little doubt that challenges remain for the business community. However, we are well-placed to help our clients navigate this environment. We see opportunities in a range of sectors, not least the growing renewables industry which plays to many of our strengths in areas such as project finance and development, planning, construction, regulatory issues, commercial contracts, and sale and purchase agreements. As a firm, we remain optimistic but not complacent in our outlook."
The previous year's results showed that turnover had risen 9 per cent to £78.6m while overall profit increased 7 per cent to £35.7m. That triggered an all-staff bonus that, in addition to performance-related bonuses, saw employees receive an additional payment worth the higher of 5 per cent of their annual salary or £2,500.
Last month, rival Brodies saw its revenues push through £100m after announcing its 13th consecutive year of growth. During the year, the firm's headcount grew from 771 to 794. All eligible colleagues received a bonus of 6 per cent in June, adding to bonuses paid in January, June and November 2022.
Managing partner Nick Scott pointed to record income across each of the firm's main areas of practice - banking and finance, corporate and commercial, litigation, personal and family and real estate - against a "constantly changing backdrop". He added: "To record our 13th straight year of growth, and to become the first Scottish headquartered law firm to report income over £100m, underpins our continuous focus on our firm's strategic plans."
Earlier this month, Shepherd and Wedderburn notched up its sixth year of consecutive growth, after reporting a 7 per cent rise in revenues to £66.7 million, with net profits, before partner distributions, growing by 3 per cent to £27.1m.
Comments
 0 comments
Want to join the conversation? Please or to comment on this article.