Interview: Doug Mutter, director of Edinburgh-based vaping retailer VPZ on targeting further growth in a highly scrutinised sector
Doug Mutter is the director of VPZ, which is based at Newbridge on the outskirts of Edinburgh and says it is the UK's largest vaping retailer.
VPZ recently announced plans to open 15 more UK stores by the end of 2023, bringing your network to more than 160. Can you explain more about this?
At VPZ we are firmly focused on helping adult smokers take the first steps on their smoke-free journey, with specialist staff providing education and support to quit smoking for good. We are seeing huge demand for our services, and our strategy has been very much about opening in localised communities to provide stop-smoking support and ensure that smokers are given the suitable support to transform their health.
You've also launched a vape recycling service in partnership with WasteCare, and have called for both tighter controls and licencing for selling vaping products and an outright ban on smoking. Can you give more details on these and your approach to VPZ's contribution to society?
Latest insight shows that vaping is the most effective way to help people quit smoking, which remains the nation's number one killer. Vaping represents a huge public health opportunity and will be vital in helping the country meet its smoke-free ambitions. But we fully recognise that there is a problem with access where many imported, unregulated, disposable vapes are readily available to underaged people at local convenience stores and other general retailers with no age verification control.
This issue has extended to online retailing where products are accessible and available to young people with limited or no age restrictions. We are supportive of a ban, but fundamentally it needs to operate alongside a licencing and control scheme to ensure that it is policed effectively, and we that don't unintentionally fuel the further growth of an already-emerging black market.
We have had the foresight to identify the problems of access and for the past two years we have called on the Scottish Government to introduce licencing and controls. However, despite our efforts to develop positive dialogue, it has yet to engage.
Our innovative recycling scheme is a further commitment to local communities, and is something VPZ is extremely passionate about. We fundamentally support a ban on disposables, and have engaged with the best and leading operator to develop a pioneering service that is a definitive step in cleaning up local spaces throughout the country. Our instore teams also educate adult vapers on being responsible and the benefits of using more sustainable vaping products.
Vaping is also under increased scrutiny over its potential impact on lung health, what is your view on this?
We are in the midst of a significant public health debate and vaping is a relatively new smoking cessation tool – however leading authorities are telling us that vaping is significantly healthier than smoking.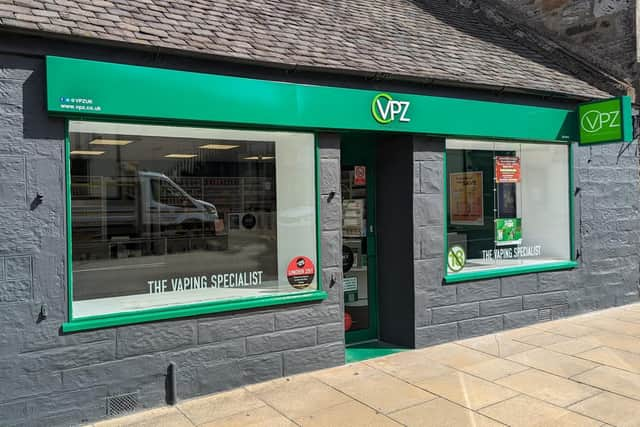 The Royal College of Physicians Tobacco Advisory Group has backed vaping as an effective treatment for tobacco dependency and recommends that it should be included and encouraged in all treatment pathways. The report also found that the long-term impact of vaping is 95 per cent less harmful than smoking cigarettes.
England's chief medical officer, Professor Chris Witty, has also acknowledged that vaping can be a "route out of smoking" for adult smokers and that "vaping has an important role as a public health tool to help smokers who are addicted … to come off smoking".
What have been the most key milestones to date for VPZ – you say you have already helped 700,000 people stop smoking, for example…?
VPZ has been driven by a huge public health opportunity, and we are proud to have helped more than 700,000 people quit smoking. We are focused on touching communities throughout the country and filling a void left by the cuts in stop-smoking services.
From this standpoint, reaching 160 stores during September has been a huge landmark for the business. As the UK's leading vaping retailer, we are also very proud to be leading the public health debate and doing our best to offer our insight and expertise to help the Scottish Government shape a progressive stop-smoking policy. It has a huge opportunity to be bold, brave, and pioneering – and we only hope they don't miss this once-in-a-generation opportunity to transform the health of the nation.
You previously outlined plans to grow your store footprint to 300 by 2021 – when do you think you will reach this target, are you considering international growth (having previously seen potential in Europe), and what are your hopes more broadly for the future of the business?
Our expansion plans are on target and we are aiming for 250 stores by the end of 2024, with further additions continuing at an aggressive rate on an ongoing basis. The UK is our main focus for expansion as there is still a huge population of smokers that are in need of access and education to make a successful transition away from smoking.
Comments
 0 comments
Want to join the conversation? Please or to comment on this article.