Vaping ban: Scotland to explore ban on disposable vapes following health and environmental concerns
Scotland is set to explore a ban on single-use vaping products, as experts warn they lead children and young people onto smoking.
Gillian Mackay, the Scottish Green MSP who has been campaigning for a ban, said it would prevent millions of disposable vapes from ending up as litter and save children from a life of nicotine addiction.
Ms Mackay said: "Single-use-vapes, particularly those deliberately targeted at young people, are the scourge of a generation and risk creating a health and environmental catastrophe very, very quickly.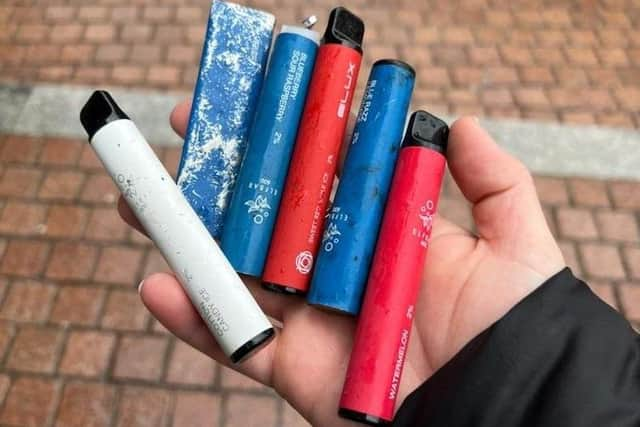 "There will be a likely faux outcry from those in the tobacco industry and potentially even the UK Government, which likes nothing better than to meddle in decisions taken by our Parliament, but this is too important for political games.
"Experts across the medical world and environmental campaigners agree there is an urgent and growing need for action. I am very proud that it is a government with Scottish Greens at its heart who are taking those bold steps."
Zero Waste Scotland estimates up to 26 million disposable vapes were consumed and thrown away in Scotland in the past year, with 10 per cent being littered and more than half disposed of incorrectly.
Following a request of Scottish ministers, the circular economy minister and public health minister will meet with counterparts in the UK Government, Welsh Government and Northern Ireland Executive to discuss the findings of recent research and potential policy responses.
First Minister Humza Yousaf said disposable vapes were a threat to "both public health and the environment". "We know that the bright colours and sweet flavours catch the eye of children and young people in particular," he said.
"The World Health Organisation has said there is evidence to suggest that young people who have never smoked but use e-cigarettes double their chance of starting to smoke tobacco cigarettes in later life.
"Last year we consulted on restrictions on the advertising and promotion of vaping products. Any action we seek to take will build on the regulations already in place to restrict the marketing, promotion and sale of vaping products to under-18s and the findings will be used to inform the refreshed Tobacco Action Plan.
"On the environment, the evidence is undeniable – from litter on our streets, to the risk of fires in waste facilities, there are issues which demand action."
The move has also been welcomed in medical circles. Dr Susan Pound, vice-president of the Royal College of Physicians of Edinburgh, said her college welcomed the decision. She called on the Scottish Government "to protect children and young people from the very real and potentially very dangerous impacts" of vaping.
"Harmful chemical substances, sometimes toxic, have been found in some vapes," she said.
"The college also recognises that the environmental impact of around 1.3 million disposable vapes being thrown away each week in the UK is severe. We would urge individuals with concerns about vaping use in young people and other health experts and organisations to respond to the consultation and we look forward to giving our views as part of that process."
Comments
 0 comments
Want to join the conversation? Please or to comment on this article.