Shops to face restrictions on vape sales under Scottish Government plans
Shops selling sweet-flavoured vapes would be forced to remove the products from displays in a bid to reduce their appeal to children under plans being considered by the Scottish Government.
Health secretary Michael Matheson is considering a ban on tempting displays, and bringing in sting operations to catch retailers selling vaping products to children.
Mr Matheson said children in Scotland were "readily walking around schools using e-cigarettes" and that he hopes his proposals will curb the usage of vapes in teens.
A review published by the Government found there were 543,000 vapers in the country, including 51,000 under the age of 16.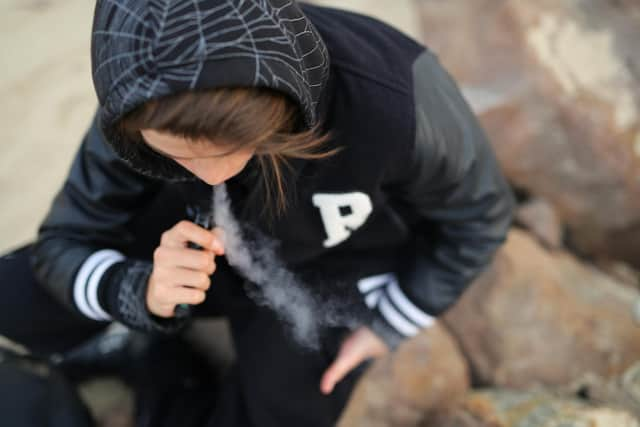 Mr Matheson said: "When I speak to my own kids, I am struck by the number of school-aged kids that are vaping on a regular basis. Tobacco displays have been largely replaced by vapes, old-style tobacco shops have been replaced by vaping shops."
The minister added: "Kids are quite readily walking around schools vaping, in a way they never have with cigarettes."
Both the Scottish and UK governments are already considering banning disposable vapes because of their impact on the environment.
Mr Matheson recognised that while e-cigarettes prevent smokers from using tobacco and could help people quit cigarettes, he was concerned there was a perception the products were less harmful than cigarettes and therefore underage sales were less of a problem.
Sheila Duffy, chief executive of health charity ASH Scotland, said the surge in children using e-cigarettes was a "major public health concern".
She said: "We share the health secretary's concerns about young people using health-harming, addictive, recreational products, which are age-restricted for good reason. And he knows from hard experience how the tobacco and related products industries operate with their drive for profit at the expense of health.
"The huge upsurge of children across Scotland using e-cigarettes is a major public health concern, with cheap disposable vaping products that have sweet flavours and vibrant colouring mainly being used.
"Nicotine is highly addictive and e-cigarettes contain toxic chemicals that are inflaming lungs – this is especially worrying for young people as damage is likely to lead to magnified harms in later life.
"We urge the Scottish Government to act urgently to reduce the retail promotion and visibility of recreational vaping products – including at points of sale – on our high streets and in our communities to protect children and future generations."
Dr Mike McKean, Royal College of Paediatrics and Child Health vice-president for policy, said: "Vapes are still a relatively new product; they aren't risk free and their long-term impacts are not known."
He added: "As a college, we want to protect young people from any known and unknown risks of vaping, while also making sure that adult smokers have access to the products; they need to quit smoking. Ultimately, Government action is needed. We cannot rely on the vaping industry to regulate itself and protect children and young people."
Comments
 0 comments
Want to join the conversation? Please or to comment on this article.