Glasgow meat substitute firm Enough tucking into bumper £34m funding boost
A Scottish-registered food technology start-up behind an eco-friendly meat alternative has raised more than £30 million from parties including Scottish Enterprise, helping it boost its Glasgow workforce, for example.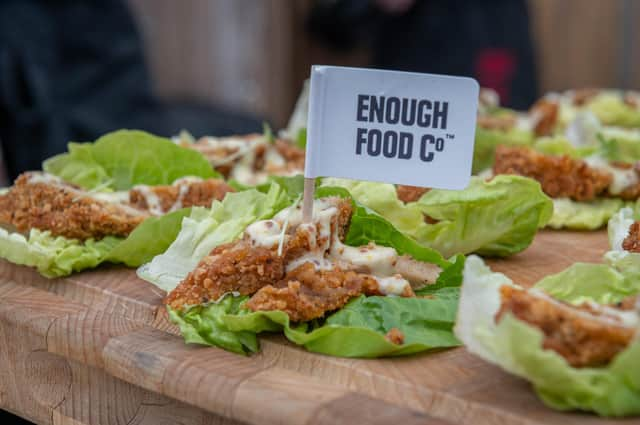 The firm, Enough, says the €40m (£34m) growth funding was co-led by World Fund, billed as Europe's leading climate tech venture capital (VC) firm, and food tech investor CPT Capital that continued its backing. Other previous investors, including AXA IM Alts through the Axa Impact Fund, Hal Investments through 280ppm, Onassis Group through Olympic Investments Inc, Tailored Solutions, and Scottish Enterprise, also took part. The new growth funding brings the total capital raised by Enough to more than €95m.
Enough explains that it was founded in 2015, and has developed a "pioneering" technology that enables large-scale sustainable protein production by creating a core protein ingredient to power alternative meat products across the world. It says its signature mycoprotein is created by feeding fungi with sugars from sustainably sourced grain and then fermented in a similar production to beer or wine.
This, it explains, creates its product Abunda, a food high in protein and fibre with a meat-like texture that can be used to create plant-based meat, fish and dairy products, and using up to 93 per cent less water, 97 per cent less feed, and causing 97 per cent fewer carbon dioxide emissions than protein from beef. Enough adds that the global meat industry accounts for nearly 15 per cent of all greenhouse gas emissions.
The start-up additionally says its "transformative ingredient will be used in alternative meat and dairy products sold in leading supermarkets and fast-food brands around the world through an array of partnerships, such as with M&S and Unilever", with European poultry processor Plukon Food Group, which is developing non-animal chicken and meat products, keen on its offering.
Enough recently opened a first-of-its-kind protein factory in Sas van Gent in the Netherlands to create Abunda at scale. The facility will initially produce 10,000 metric tonnes of the product per year, with plans to scale up to produce more than six times that amount. It believes the new funding boost will enable it to scale up capacity and staff numbers at its factory in the Netherlands to serve growing customer demand for Abunda, whilst also growing its teams across its offices in Glasgow and London.
Jim Laird, founder and chief executive of Enough, and former boss of plant-based food firm Quorn said: "[We have] made great strides in the past few years to launch our new factory in the Netherlands and scale up to work with customers across the UK and Europe. With this new funding, we will accelerate that growth. We're excited to welcome our new investors World Fund and look forward to working closely with them on the next phase of growth for Enough."
Craig Douglas, founding partner at World Fund, said: "We're delighted to be supporting Enough as they scale up to become the global leader in sustainable protein."
Comments
 0 comments
Want to join the conversation? Please or to comment on this article.