CGT Catapult debuting labs at Edinburgh BioQuarter to advance cell and gene therapies
An organisation specialising in advancing cell and gene therapies is to today officially open its first site in Scotland, at the Edinburgh BioQuarter, in a move expected to enhance the city's standing in this field.
Cell and Gene Therapy Catapult (CGT Catapult), an independent innovation and technology initiative, is debuting the new laboratory space spanning 350 square metres altogether, and home to team of technical and clinical adoption specialists, located in the University of Edinburgh's Institute of Regeneration and Repair. It says the Scottish capital has become a "world-leading" hub for stem cell research, and believes the new facility will build on and support the region's academic strength, helping attract further international companies to the area.
The organisation, which works with national innovation agency Innovate UK, adds that the new facility will help accelerate the development of "potentially life-saving" cell therapies, providing expertise, resources and technology to help cell therapy developers improve their manufacturing processes and navigate complicated regulatory requirements involved in bringing their therapies to market.
CGT Catapult explains that the laboratory space is equipped with "state-of-the-art" technologies to help cell therapy developers establish robust manufacturing processes for their therapies – which it explains are treatments that repair or replace cells and tissues to either restore normal function or enhance their ability to fight diseases, such as cancer.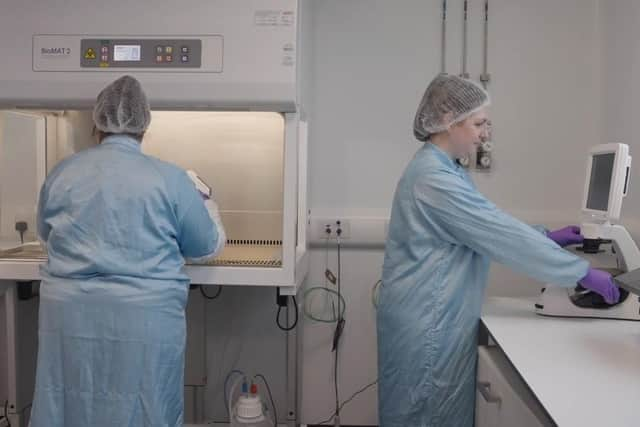 The space also includes a Universal Design Lab, which is billed as having been designed for scientists with and without disabilities to work side by side, and the UK's first specifically designed accessible laboratory for the cell and gene therapy industry. "CGT Catapult hopes this laboratory will help widen participation in the industry and increase opportunities for more scientists living with disabilities to take up a career in cell and gene therapies," it adds.
CGT Catapult adds that the investment in Scotland builds on its existing work supporting emerging advanced therapy clusters in the UK, with its Manufacturing Innovation Centres in Hertfordshire and Essex.
Preparation
Michael Matheson, Scottish Secretary for NHS Recovery, Health and Social Care, was set to officially launch the new facility today, and said he was "thrilled" to be doing do. "[CGT Catapult's] innovative work is not solely focused on industry and research, but with working closely with the NHS and academic partners, to ensure our health care systems are prepared for the future."
Professor David Argyle, vice-principal and head of college of medicine and veterinary medicine at the University of Edinburgh, said: "Collaboration is at the core of successful research and innovation. This new facility will support Edinburgh's thriving cell and gene therapy sector, working in partnership with the University's clinicians and scientists to translate world-class stem cell research into the clinic and bring new therapies to patients."
Also commenting was CGT Catapult boss Matthew Durdy, who said: "Edinburgh is home to a thriving life sciences cluster, with leading academics, clinicians and therapy developers all working in close proximity. By joining the Edinburgh BioQuarter, we hope to accelerate the continued growth and success of this cluster by providing access to the resources and knowledge needed to bring new cell therapies to the market."
Comments
 0 comments
Want to join the conversation? Please or to comment on this article.